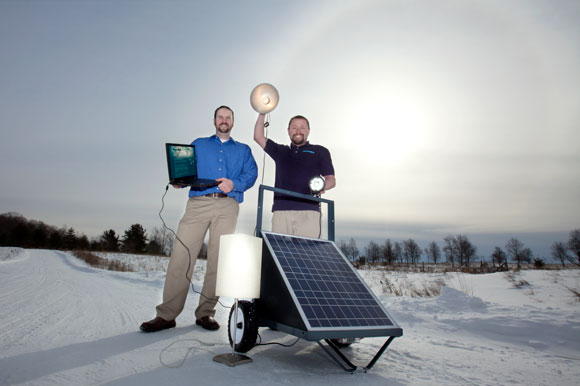 Alum Dustin Denkins and his wife Jill are growing their advanced technology business right here in the Upper Peninsula.  Suburb Solar, which was founded in 2009 during Dustin's graduate work here at Michigan Tech, was formally incorporated in early 2011. Sam Eggleston of Upper Pennisula's Second Wave, an online magazine devoted to reporting trends in technology, business, and growth in Michigan's UP, featured the story in their January 2012 edition.
Suburb Solar builds portable solar generators, making it simple for anyone to use it in everyday applications. "Basically, when I decided to make this, I wanted to make something so easy that my grandmother could use it," says Dustin Denkins of the EasySun Solar Generator.
While an MBA student at Michigan Tech, Denkins won first place in the first annual Business Plan Competition (founded by the late Bob Mark), and walked away with $4,100 in prize money and consulting services to help get the company off the ground. The Business Plan Competition, now the New Venture Competition, has partnered with Central Michigan University to offer a top prize of $30,000 on March 31st down in Mt. Pleasant. Michigan Tech expects to be well represented, learn more about the competition.
The solar generator–built right here in the Upper Peninsula and with many components constructed here as well–is portable, sporting two heavy-duty wheels that allows the 125-pound device to be transported wherever it needs to go.
The School of Business and Economics wishes Superb Solar future success and thanks Dustin for being a great inspiration to other students.