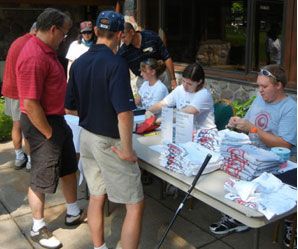 Twenty teams teed off at the second annual MBAA golf outing during reunion. The team of Alex Macleod, Evan Witt, Daniel Holmberg, and Cole Cook took first prize with a great score of 58 in the four-person scramble.
David Fritz, Chris Cooney, Matt Augustine and John Sandell took second, and John Moyer, Ed Knoch, Caleb Wendel, and Steve Viznko took third. The first place team also took the skin on 17 with a birdie, and McLeod won longest drive and Cook won longest putt. Eldon Johnson took closest to the pin.
Golfers experienced hot temps for the first nine and a blessed breeze and cloud cover for the second nine with lunch in between.
The amount of golfers was double the previous year and plans are to double it again for Alumni Reunion 2012.
Pierre Bekwone '08 was in charge of the event for the MBAA and thanked his team of volunteers: Katie O'Connell, Alexandra Kitchen, Amanda Gagne, Pye Yuan, Qike Hu, Thomas Merz, Jaspreet Virdi, Andrew Musselman, and Jason Yang.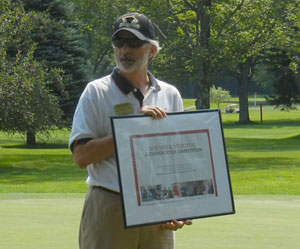 Dean Darrell Radson remembered the late Professor Bob Mark during the event. The second place team donated their winnings to the Bob Mark Memorial Elevator Pitch Competition.