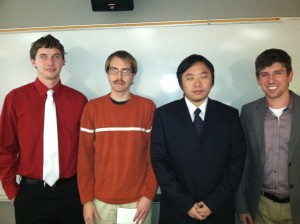 Everywhere you turn there are computer solutions for everyday tasks. The slogan, "there's an app for that" is heard around the Michigan Tech campus regularly and upper-level students in the management information systems capstone course have taken the idea to heart. During finals week, three teams presented projects that showcased practical information systems applications.
The course applies information system practices and artifacts as solutions to business problems using project teams and faculty project manager supervision. Haiyan Huang, Assistant Professor in Management Information Systems, and professor of this course added, "This class is a great opportunity for our management information students to showcase things they have learned in class and apply these ideas in a real business setting. In the professional world, our students could work on projects very similar to those showcased today."
The three projects are summarized below.
Linking Calendars of Friends
Alex Saari, Derek Thurman, John Carter, and Olivia Wills presented a calendar event system called the Over Merge Calendar System. This mock system allows friends to link calendars and compare schedules based on shared users. The group focused their presentation on the functional and non-functional requirements of the system with the hopes of making it easy to use and simple to learn.
Upper Peninsula Tourist Photo Database
Aaron Schroeder, Christopher Capo, and Nick Lyon had a mission to compose a photo database with a focus on Upper Peninsula tourist attractions. The website they created would generate interest in the multiple attractions by allowing users to browse photos and upload individual pictures with tags such as location, landmark, season, time of day, etc.
Social Technology at Local Businesses
Jon Bray, John Laplant, Chen Lin, and Spencer Shandonay developed Drinkster, a website that affects the way people interact and spend money at local bars and restaurants. They used real data from the Houghton/Hancock area to showcase deals at several local restaurants and bars with notifications to indicate specials and discounts. People who register with the website can write comments, rate and share their experiences, and find out where friends hang out and what they would recommend. Their website also integrates social media including Facebook and Twitter. Check out Drinkster for yourself!