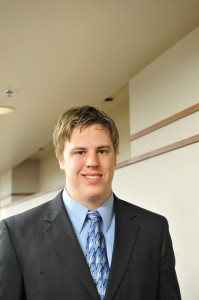 School of Business and Economics student, Todd Storm tackles classes and handles being the Huskies defensive end. Storm was named GLIAC Defensive Lineman of the Year for the second straight year after finishing second in the league with 7.5 sacks. Storm was third in the GLIAC in tackles for loss (14.5), and posted 68 tackles on the season – fourth most on the team.
In addition to Todd's athletic accomplishments, he is also a member of the Applied Portfolio Management Program (APMP). Associate Professor Dean Johnson and director of APMP, added,  "While the path to sack the quarterback is challenging, Todd has also taken the challenging path in his academic studies. Although a marketing major, Todd has elected to enroll in our demanding portfolio management program. I appreciate his dedication both on and off the field."
The senior finished his career with 18.5 sacks – third most all-time at Michigan Tech, and earned All-GLIAC First Team honors along with three other seniors. Thirteen Huskies in total gained accolades from GLIAC, and six Huskies were named All-GLIAC Honorable Mention.
The Michigan Tech football team compiled a 7-4 overall record and 6-4 GLIAC slate in 2011.