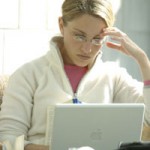 Heard anything about the new Tech MBA Online program? Now is your chance to find out what it's all about! Michigan Tech's School of Business and Economics will welcome the first student cohort in the accredited online program this Fall and we still have spots open! On Thursday, February 18th at 7pm the first of four webinars will be held, to provide information and answer questions focused on the new program.
Ruth Archer, director of graduate business programs, will explain why an MBA is the right choice in today's economy and why the Tech MBA Online is your best option. A brief presentation followed by a question and answer session will provide all curious minds the information they seek. Not sure about the admissions process? Next steps to be enrolled for August 2010 will be explained. And an answer to getting those pesky prerequisite classes unveiled! Get more information or register now!
Upcoming Webinars about the Tech MBA Online
Thursday, February 18, at 7:00 P.M.
Thursday, March 11, at 8:00 P.M.
Tuesday, March 30, at 12 P.M.
Monday, April 19, at 7:00P.M.
If you're a thinking about an MBA, now is the time to get your questions answered!