On Wednesday, November 3rd at 7pm in Fisher 129 the School of Business and Economics, the Entrepreneurs Club, and the Institute for Leadership and Innovation are holding the third Extreme Entrepreneurship Virtual Speaker Series for the 2010-2011 academic year. The Virtual Speaker Series is designed to inspire students and community members by hearing stories and learning the secrets behind the success of the world's top entrepreneurs who are still in their 20's. View the complete schedule for the Virtual Speaker Series.
Jason Duff speaks on Top Tools

Join us on Wednesday, November 3 at 7:00 pm-8:30 pm. in Fisher 129.
Jason Duff is an acclaimed speaker, real estate developer and award winning Entrepreneur. Jason has been recognized for his contributions as a real estate developer and his role in spearheading revitalization efforts contributing to millions of dollars in new growth, appreciation, and community investment. In 2005, he was awarded the prestigious Global Student Entrepreneurship Social Impact Award and has been featured in numerous magazines, television and radio programs. Follow him on twitter.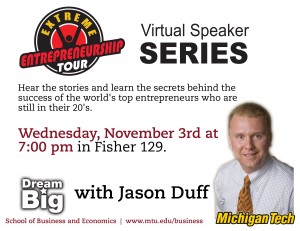 Click to view the poster a full-size.