Sooraj Rehan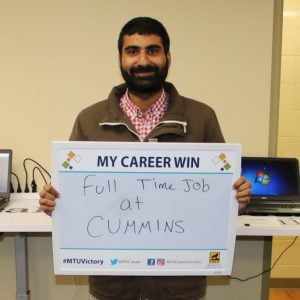 is a mechanical engineer heading to Cummins, Inc. to pursue a full-time position.
Sooraj created a clear career path for himself to find success. Sooraj focused on the kind of career he wanted and the companies he was interested in working for. He chose relevant classes and coursework, worked hard to get good grades, and completed an internship.  Sooraj applied for hundreds of jobs before landing an offer from Cummins, Inc.
Part of Sooraj's personal career journey was to take advantage of CareerFEST resources at Michigan Tech. Sooraj attended employer meet and greets, a mock interview, and an advising appointment.
Sooraj's advice to other students is, "Have a clear goal and do not be distracted by anything else. Hard work is life."
Written by Morgan Laajala, Communications Intern, Career Services