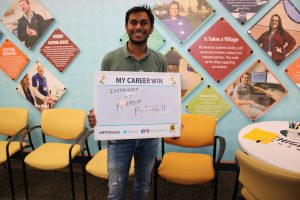 "Once I got the telephone interview, it was all on me. I had to rely on my own capabilities to convert this opportunity into an offer," says Sai Rajeeve Davaragudi after landing a summer internship at Faraday Future in Los Angeles, California.
Sai Rajeeve Devaragudi is a tenacious graduate student at Michigan Technological University studying mechanical engineering-engineering mechanics.
Before attending Michigan Tech, Sia completed a mechanical engineering degree at Manipal Academy of Higher Education, formerly known as Manipal University, in India in 2017.
As an undergrad, Sia gained design, powertrain, and structural engineering experience through a Formula SAE vehicle project and a summer internship at Mahindra Susten.
Sai developed increased career readiness and job search skills at Michigan Tech by attending Career Services' events and meeting individually with a career advisor. "I worked on my resume a lot. I had several meetings with a career advisor at career services to polish my resume, cover letter, and LinkedIn profile."
Sai credits his updated LinkedIn profile for helping him attract recruiters and for finding relevant job postings.
Sai is currently working as an intern at Faraday Future, an American company based in Southern California that focuses on the development of intelligent electric vehicles.  "It was all on me, and I knew I could do it."