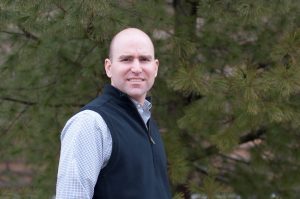 This week's Humans of Career Services is our new Associate Director of Career Services,  Career Advisor and Coordinator of Career Development Programming, Chris Hohnholt!
As a Career Advisor, Chris helps students by providing best practices and tailored recommendations for resumes, CVs, and LinkedIn profiles. He advises students on majors and careers, offers opportunities for mock interviews, and insight on the best practices for salary and job negotiations.
As the Coordinator of Career Development Programming, Chris offers life design and career focused outreach to Michigan Tech students through classroom discussions here at the Career Services office, as well as guest presentations for courses, professional society meetings, and student leadership and involvement functions. 
Chris came back to Houghton after three and a half years of working for the Department of the Navy. He wants to be a part of the professional development of the amazing students here; helping to bridge their academic and professional lives.
His favorite memories involve all of the career events that lead up to Fall Career Fair as it was "fast paced and we were able to assist a lot of students," says Hohnholt.
We are very happy to have Chris on the team as we are excited to see what he does as he helps students with their journey into their professional lives!