Today's Humans of Career Services Spotlight is Melissa Michaelson. Melissa is the Assistant Director of Career Development Education, and she supervises the amazing team that organizes the Career Events, Workshops and the one-on-one career advising appointments that are available to students.
Melissa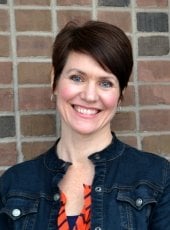 obtained her bachelor's degree in anthropology from Michigan Tech in 2016; during her time as a student, she worked for the university, and found that she loved working with students. She knows first-hand the stress of finding work post-graduation. Because of this, she loves to work in Career Services as it allows her to help students find work that is satisfying and meaningful!
When asking Melissa what her favorite memory is while working for Career Services, she said, "Everytime a student emails me or comes to visit me in our office to tell me that they got the job/internship/co-op/interview/salary they worked so hard to get! It's especially rewarding when they say thank you for all your help!"
Looking towards the future, Melissa is excited to expand the reach of Career Services, and implement more tools, like videos, so that more resources can be available to all students across campus.
We would like to thank Melissa for all she does, and we are excited to see what she'll do in the future.