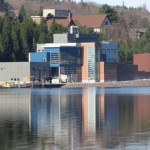 More than 200 teachers and students from Michigan, Wisconsin, Minnesota and Ontario came to Michigan Technological University for the 10th Biennial Lake Superior Youth Symposium. Students and teachers from 24 schools in three Great Lakes states and Canada spent four days at the symposium, Thursday to Sunday, May 16-19, 2013.
Read more in Michigan Tech News Article
Click here for photos and all of the information, booklet list of Field Trip and Presentation Descriptions, etc.