Four Michigan Tech Chemical Engineering students placed in the annual Minerals Processing division undergraduate and graduate poster competition during the Society of Mining, Metallurgy and Exploration (SME) Annual meeting in Denver on February 27. This annual poster competition showcases research from the top mining and mineral processing programs across the nation and is judged by some of the top engineers and scientists in industry and academia. It involved a five-minute oral presentation in a special session as well as a public poster display at a large SME gathering.
In the graduate student competition, Brett Spigarelli, a chemical engineering PhD candidate, took first place with his poster entitled "Increased Carbon Dioxide Absorption Rates in Alkali Solution by Addition of Surfactant." Howard Haselhuhn, a chemical engineering PhD candidate, took second place with his poster entitled "Dispersant Adsorption and Effectiveness during Iron Ore Beneficiation Operations." Both Spigarelli's and Haselhuhn's work have been locally, nationally and internationally recognized at many conferences over the past three years. Extended abstracts accompanying these two posters will be published in a special issue Minerals and Metallurgical Processing Journal this spring.
---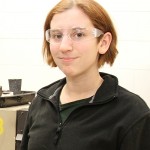 In the undergraduate student competition, Katrina Swanson, a fourth year chemical engineering undergraduate on an accelerated master's track, took first place with her poster entitled "Biomass as a Renewable Alternative to Coal Fuel Sources in Iron Oxide Reduction."
---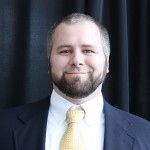 Paul Hagadone, a third-year chemical engineering undergraduate, took second place with his poster entitled "Effects of Scrubber Column Shell Geometry on Carbon Dioxide Removal Efficiency." All four students are currently advised by S. Komar Kawatra, "I am very proud of my students," he said. "They all have a bright future, and I am confident that they will succeed in all of their future endeavors." Michigan Tech would like to congratulate these four students for their phenomenal success at this poster competition at SME this year.
---
Photos of students and poster from a previous poster presentation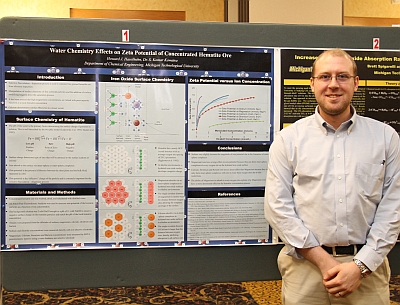 Howard Haselhuhn – Water Chemistry Effects on Zeta Potential of Concentrated Hematite Ore
---

Brett Spigarelli – Surfactant Addition to Alkali Solutions for Increased Carbon Dioxide Absorption Rates
---