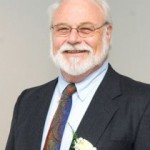 Edward Fisher, whose visionary leadership helped lay the foundation for the modern Department of Chemical Engineering, passed away Saturday, Aug. 2, at Aspirus Keweenaw Hospital. He was 76.
Fisher came to the University in 1985 as head of what was then the Department of Chemistry and Chemical Engineering. When a separate Department of Chemistry was formed in the College of Sciences and Arts, he continued as chair of chemical engineering. In 1995, Fisher served as interim dean of engineering and then, after a final year as chair, returned to the faculty in 1997. He retired in 2003.
"Ed hired me, and he hired about half our department," said Associate Professor Tony Rogers. "He left a big imprint. He had a very clear vision of where he wanted the department to go. We wouldn't have our Unit Operations Lab in its current form without him, and he initiated the PhD program."
"Although he did not conceive of the Process Simulation and Control Center—department's showpiece Unit Operations Laboratory—he spearheaded the drive to get it funded," drawing on alumni affiliated with Dow Chemical, Dow Corning, 3M and other corporations, said Professor Faith Morrison. "He also brought into the department the key staff members who built and operated the PSCC."
The facility has stood the test of time. "Twenty years later and its still state of the art," said Professor Emeritus Bruce Barna. "People are still amazed when they see it. I don't know that there's anything like it elsewhere, and without Ed, it wouldn't have happened."
"He also hired and recruited many of us and helped draw up our master plan," Barna added. "We were lucky to have him come up here. He made his mark."
Rogers remembers Fisher as the penultimate department chair. "Ed was always confident and had a serenity about him that was contagious," he said. "I never heard him raise his voice, and that's quite an accomplishment for a chair. He was very sharp and highly respected."
Fisher also enjoyed socializing and was a good friend as well as a respected colleague.
"Ed was a great guy," said Morrison. "He recruited both me and my husband, [chemical engineering professor Tom Co] in 1989. He was so enthusiastic about Michigan Tech that it was impossible not to catch the fever.
"He took us to lunch on the deck of the Downtowner and pointed across the Canal to the marina and said he had his boat there. It was a beautiful summer day—Keweenaw gold. And so we came, and we were immediately happy and have remained so for 25 years.
"Ed and Nancy entertained the department and made us all family," she said. "Their home in Lake Linden was open to us all for so many events and gatherings."
Barna has similar memories. "He and Nancy used to have gatherings several times a year, and they were masters of fine cooking. It was always fun to be over there, and of course, the swimming pool was often involved," he said. Barna also joined Fisher on fishing excursions, including several big-game trips to Costa Rica and Guatemala, where they angled for sailfish.
They also sailed to and from Isle Royale, but probably the most memorable trip was from Kenosha, Wis., through the Soo Locks to Houghon. "We got to where the Fitzgerald went down and got into some legitimate 12- and 14-foot waves," Barna said. "Ed might have had some white knuckles, but he never complained."
Fisher earned a BS in Chemical Engineering from the University of California, Berkeley and a PhD in Chemical Engineering Science from Johns Hopkins University. He worked in industry and then joined the faculty of Wayne State University in 1968.
He was named 1982 Chemical Engineer of the Year by the Detroit Section of the American Institute of Chemical Engineers, and in 2006 he was inducted into the chemical engineering department's Distinguished Academy, in part for his exceptional efforts on behalf of the department. David Caspary, manager of lab facilities, was among those Fisher hired to staff the groundbreaking Process Simulation Control Center.
"Ed Fisher was a visionary and a blessing to Michigan Tech," Caspary said. "His efforts, his charisma, his leadership and his relationships with our friends in the chemical industry have had a lasting impact on the department and on the quality of our undergraduate chemical engineering program. He will be missed."
Fisher is survived by his wife, Nancy; five children, Anna (Steve) Brown, Erik (Kiera) Fisher, Ted Fisher, Andrew Fisher and Greg Fisher; and seven grandchildren, Taylor, Samantha, Lucinda, Trey, Cole, Olivea and Daven Fisher.
A celebration of Edward's life will be held Wednesday, Aug. 6, at 6 p.m. at the Pearce Funeral Home in Lake Linden.