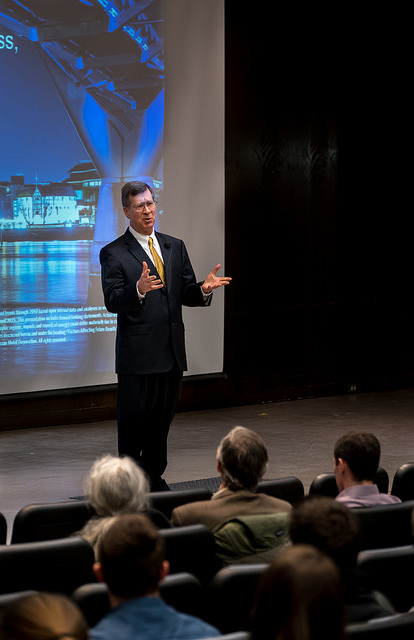 Department of Chemical Engineering Presents
William M. Colton
Vice President, Corporate Strategic Planning
Exxon Mobil Corporation
Global Future: People, Progress, Energy and Engineering
Fisher Hall 135
Tuesday, April 5, 2016, 4:00 pm
ABSTRACT: By 2040, the world's population will have reached 9 billion, and global GDP will have more than doubled. This economic progress translates into improved standards of living for billions of people. Energy underpins standards of living everywhere in the world, and the need for affordable and reliable energy in the 21st century remains vast. Global energy demand is expected to grow 25% by 2040 and, to keep pace with demand, the world will need to pursue all economic energy sources. These sources include oil, gas, coal, nuclear, and renewables. At the same time, the CO2 intensity of the global economy is expected to be cut in half by 2040. These advances, for the economy, for people's living standards, for the expansion of energy types and supplies, and for the environment, are enabled by technology. Technology has the highest potential to help meet our economic, energy and environmental goals—reinforcing the critical role played by scientists and engineers.
BIOGRAPHY: Mr. William (Bill) M. Colton is Vice President, Corporate Strategic Planning for Exxon Mobil Corporation as of February 1, 2009. In this role, he oversees all of the corporation's strategic planning activities and the development of its Energy Outlook, ExxonMobil's assessment of global energy trends.
Mr. Colton received his B.S. degree in Chemical Engineering from Michigan Technological University in 1975. He joined Exxon Corporation in 1975 and his career has been spent in both upstream and downstream businesses throughout ExxonMobil, including project development, refining, lubes, synthetic fuels and natural gas marketing.
Mr. Colton also worked in finance and planning positions, including ExxonMobil corporate headquarters and eight years overseas in Tokyo and Bangkok. Mr. Colton's previous assignment was as the Corporation's Assistant Treasurer.