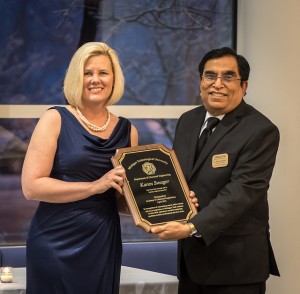 Michigan Tech's Department of Chemical Engineering inducted seven members into the Distinguished Academy of Chemical Engineering. All of this year's inductees are alumni of Michigan Tech
The 2016 inductees are:
Robert D. Carnahan '53: Carnahan got his professional start with the U.S. Navy working with underwater ordnance. Over his career he has authored more than 60 referred technical publications and has been granted 16 patents. Carnahan was awarded the Michigan Tech Board of Control Silver Medal and has been inducted in two other academies at Michigan Tech, Business and Economics and Materials and Metallurgical Engineering.
Michael J. Cleveland '82: Currently he is the global business director for refining technology in the Process Technology and Equipment business of Honeywell UOP. Before assuming his current position last year, he served as the vice president and general manager for Latin America of UOP LLC based in Rio de Janeiro, Brazil. Cleveland and his wife Marie are members of the Michigan Tech McNair Society and Founders Society.
William M. Colton '75: Colton is vice president, Corporate Strategic Planning for Exxon Mobil. In this role, he oversees the corporation's strategic planning activities and the development of its Energy Outlook, Exxon Mobil's assessment of global energy trends. Colton is on the board of the Natinal Bureau of Asian Research.
Christopher Copeland, '05 (MS), '07 (PhD): Working with Komar Kawatra, Chair of the Department of Chemical Engineering at Michigan Tech, Copeland designed and developed a new laboratory test method for evaluating the effectiveness of dust suppressants. After leaving Michigan Tech, Copeland accepted a position as a research engineer at ConocoPhillips. In 2014, Copeland was charged to lead a team of engineers responsible for the bitumen and gas treating facilities.
Laurie Couture-Dorschner, '79: She began her career with Bemis Company in Minneapolis holding various engineering and manufacturing positions. She joined Kimberly-Clark in 1984 earning patents for her innovative materials and processes. She was the lead product developer for the launch of the highly successful HUGGIES Little Swimmers swim pants. Throughout her career she was actively involved in recruiting for Kimberly-Clark and led the semi-annual recruiting events at Michigan Tech. She is a member of the President's Council of Alumnae.
Kerry Irons ' 72: Irons holds a BS in Chemical Engineering and an MBA from Michigan Tech. He joined the Dow Chemical Company in 1973 and retired in 2004 after a 30-year career in chemical process research with his final role as Senior Technical Leader in Core R&D, Engineering Sciences Market Development. For 10 years Irons was on Dow's Michigan Tech recruiting teams, serving as team leader. In 2013 he was elected to the Michigan Tech Alumni Association Board of Directors and is now serving as Secretary.
Karen Mikkola Swager '92: As Vice President, Concentrates for the phosphates business unit of the Mosaic Company, she provides overall direction and guidance and day-to-day support for all concentrates operations in the phosphates business unit. She was appointed by then-Florida Governor Charlie Crist to serve on the Board of Directors for the Florida Institute for Phosphate Research. She was recognized by the Florida Chapter of the Society for Mining, Metallurgy and Exploration with the "Hero of the Year Award."
Ceremonies were held April 6 in the Lobby of the Rozsa Center for the Performing Arts. Remarks were made by Kawatra and Academy Member James Brozzo.
From Tech Today, by Chemical Engineering.