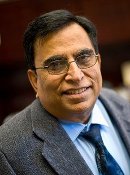 Professor and Chair of the Department of Chemical Engineering S. Komar Kawatra has been recognized by Online Engineering Programs blog as one of the 25 Chemical Engineering Professors You Should Know.
The list is comprised of some the outstanding professors and Universities in the field. Online Engineering Programs wanted to recognize some of their great contributions to academia on their blog as well as the rise in online education.
Kawatra has worked at Michigan Tech since 1977, where his research interests include iron and steel making, as well as particle technology. He is also the editor in chief for the Minerals & Metallurgical Processing Journal and the Mineral Processing & Extractive Metallurgy Review Journal.