Dr. John Patton was presented with his award during a wine and cheese reception on September 21, 2016. The Honorary Alumnus/a Award was for:
Strongest non-alumni supporters of Michigan Tech; provided service and support of the University characteristic of dedicated alumni
The reception was held on the first floor of the Chem Sci Building, near the Unit Operations Laboratory Window. Dr. Patton gave a speech, "Advice for a successful undergraduate career."
Closed captioning available.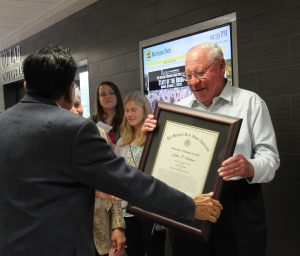 Outstanding alumni and friends will be recognized at the Alumni Reunion Awards Dinner on August 5, 2016.
The Honorary Alumni Award will be presented to John Patton, former Professor of Chemical Engineering 1968-77 of El Paso, Texas when he is on campus this fall.
The Fort Worth, Texas native, earned his bachelor's, masters and PhD in Chemical Engineering from Oklahoma State University. He joined Exxon USA as a section head responsible for research on enhanced petroleum operations in 1959. In 1968 he brought his extensive process design and operations experience to Michigan Tech as professor of Chemical Engineering plant design and economics. Within three years his design students started receiving national recognition from AIChE. During his tenure at Michigan Tech his students twice won the national AIChE Design Contest for undergraduates. He also initiated a viable graduate program and elevated the quality of the undergraduate curriculum to the point of its receiving full national accreditation.