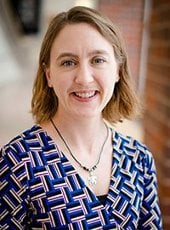 The Society of Women Engineers highlighted the teaching and research efforts of Caryn Heldt (ChE) in their Winter 2017 issue of SWE Magazine.
RECOGNIZED FOR TEACHING AND RESEARCH
Caryn L. Heldt, Ph.D., associate professor of chemical engineering at Michigan Technological University, was named the recipient of the James and Lorna Mack Endowed Chair in Bioengineering. Her endowed chair is named for James Mack, a Michigan Tech alumnus and retired president and CEO of Cambex Corp., a developer of specialty chemicals. His company has successfully combined biology with engineering — especially in the rapidly emerging field of tissue engineering and cell therapy and the development of small molecule therapeutics.