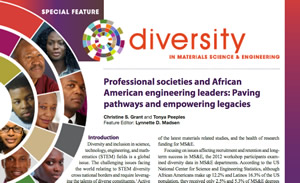 Andre Da Costa (ChE) was featured in an article in the MRS Bulletin published by the Materials Research Society in partnership with Cambridge University Press.
The article, "Professional societies and African American engineering leaders: Paving pathways and empowering legacies," was included in the special feature "Diversity in Materials and Science Engineering."
Da Costa was featured in section three of the article "Diversity committees within professional societies are community incubators that seed ideas for change."
Authors Christine S. Grant and Tonya Peeples noted De Costa's "rare career move," transitioning from being a successful industrial leader to an academic position at Michigan Tech.
De Costa was quoted regarding his support of minorities integrating and participating in the leadership of mainstream institutions.
MRS Bulletin, Volume 43, Issue 9 (Data-Centric Science for Materials Innovation)
September 2018 , pp. 703-709
https://doi.org/10.1557/mrs.2018.225