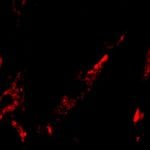 Haiying Liu (Chem), Ashutosh Tiwari (Chem), Ranjit Pati (Physics), along with graduate students Rashmi Adhikari, Mingxi Fang, Nethaniah Dorh, Cong Li, Jingtuo Zhang and Meghath Jaishi, published a paper titled "Near-Infrared Fluorescent Probes with Large Stokes Shifts for Sensing Zn(II) Ions in Living Cells" in ACS Sensors.
Their research in using fluorescent probes to find cancer cells was covered by Michigan Tech News, Phys.org, eCancer, Science Daily, Health Medicine Network, R&D Magazine and many other publications worldwide.
Science360, a science news website published by the National Science Foundation (NSF), spotlighted the fluorescent probe research of Liu as one of its headline stories on March 30.