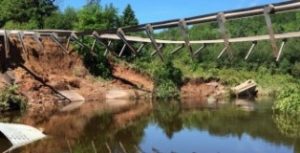 Stream gauges in the Keweenaw help us understand ecosystems and prepare our communities for flooding—but their existence is in jeopardy.
One of the most basic characteristics used to describe a stream is how much water it carries—the flow, or more accurately, discharge—which is measured in units of volume per time (typically cubic feet or cubic meters per second). Understanding how river discharge changes with time tells us important information about the stream, including how quickly something that is added to the river will be diluted and moved downstream. A river's discharge rate also tells us how prone the river is to disturbances and what conditions the organisms that live there experience.
Understanding the river flow is also key for human communities. It allows planning for how quickly we can expect lakes and reservoirs to fill and how much water can be withdrawn for irrigation or drinking.
River flow also helps communities prepare for potential natural disasters, such as understanding how likely a river is to overflow its banks to cause a flood, and how to build culverts and bridges to withstand a flood like the one that Houghton experienced in June.
Read the full story on Unscripted.