---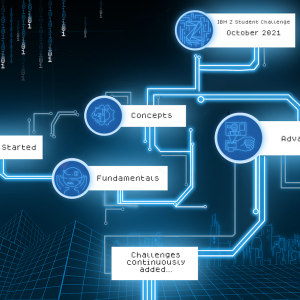 Starts: Oct 15, 2021 12:00 AM (CT)
Ends: Nov 15, 2021 11:55 PM (CT)
Associated with IBM zSystems Global Student Hub
Website and Registration link : IBM zStudent Contest 2022
IBM brings you IBM Z Xplore Student Contest, powered by IBM Z Xplore, a thrilling contest that will combine the various skills you currently have or learned on the IBM Z Xplore learning platform. Expand on your developer skills as you navigate your way through a digital city, eventually finding parts of a vehicle to escape.
Your mission? You will progress through several technical challenges to uncover various parts of an escape vehicle. By the end of the challenge you will have all of the parts of the vehicle to zoom out of the digital city.
'How will you do this? There are many engineers scattered throughout the digital city and it is up to you to track them down, find the parts you need to assemble the vehicle of your choosing, and depart the city.
Although not required, we strongly encourage you to head over to the IBM Z Xplore learning platform and complete the Fundamentals and Concepts levels prior to starting the contest. The knowledge gained in the learning platform will help you get a good start on the competition and allow you to enhance your skills even further.
Note: This is a solo contest, there are no teams. You will complete the contest on your own.
$10,500 of prizes are available, so come hungry and ready to learn!