---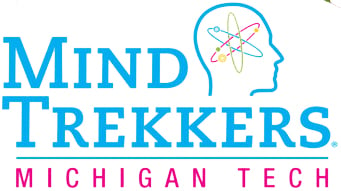 by Center for Educational Outreach
Mind Trekkers, Michigan Tech's traveling STEM roadshow, is seeking additional student volunteers to host hands-on STEM demonstrations at the Hidden Coast Festival in Escanaba, Michigan, on Jan. 26 and 27.
Guided by Michigan Tech students, pre-college festival attendees will discover firsthand the awe and power of science through experimentation. From being inside a bubble, to skewering a balloon without popping it, to playing a piano made of bananas — Mind Trekkers serves to bring communities together to support an educational ecosystem and strong future workforce in STEM.
Mind Trekkers events are a wonderful way for Michigan Tech students to give back to communities and develop public-speaking, communication and leadership skills. Students will leave campus Jan. 26 in the afternoon and return Jan. 27 in the evening. Proctoring is available by Center for Educational Outreach staff. Transportation, lodging, some meals and a daily stipend will be provided.
Interested students can sign up using our form. For additional information, please reach out to mindtrekkers@mtu.edu.
We greatly appreciate Michigan Tech community members sharing this opportunity with students!