---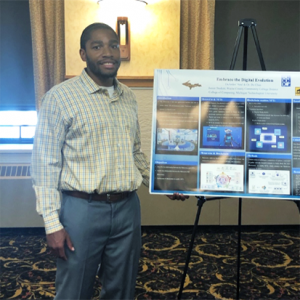 This summer the MTU Security and Privacy (SnP) Lab, led by Bo Chen, Computer Science, hosted DeAndre' Neal, an undergraduate student from Wayne County Community College, Detroit, Michigan, through the MiCUP program.
Neal pursued research exploring the applications of blockchain technology, investigating how to utilize the blockchain technique to enable NFTs (non-fungible tokens), an important component of the newly emerging metaverse.
"DeAndre' did a great job in the summer research," says Bo Chen. "He has been learning a lot about the emerging blockchain and NFT technologies, which well-prepares him for his future career."
For seven weeks each summer the program brings 14 community college students to Michigan Tech's campus to participate in a research or project mentored by a staff faculty member or a graduate student. Students are enrolled in a one-credit honors research course and prepare and present a research poster.
MiCUP students live and study on Michigan Tech's campus, learning how to navigate challenges and make the most of opportunities. They also partcipate in recreational activities, social events, tutoring sessions, and weekly meetings.
The MiCUP Scholars Program is a collaborative effort between Michigan Tech and three Michigan community colleges: Delta College, Grand Rapids Community College, and Wayne County Community College.
Offered through the Michigan Tech Center for Diversity and Inclusion, the grant-funded Michigan College/University Partnership (MICUP) Program gives the state's most educationally disadvantaged citizens an opportunity to complete college degrees, preferably in STEM fields.