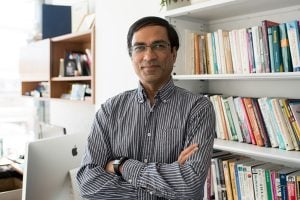 Dr. Vijay Garg of University of Texas Austin, will present a lecture on February 19 3:00 p.m. The lecture is presented by the Department of Computer Science.
Join the lecture here.
Vijay Garg is a Cullen Trust Endowed Professor in the Department of Electrical and Computer Engineering and Department of Computer Sciences at The University of Texas at Austin.
He is an IEEE Fellow and is the director of the Parallel and Distributed Systems laboratory at UT Austin. His research contributions are in the areas of distributed algorithms, global predicate detection, distributed debugging and simulation, fault-tolerance, lattice theory and supervisory control of discrete event systems. His research has been supported by NSF, IBM, Texas Advanced Research Program, TRW, SRC, and Compaq among others..