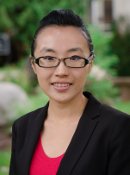 By Kelley Christiansen, published in Michigan Tech News, July 18, 2018
An innovative idea to replace wearable health monitoring devices with embroidered electronics garners attention from the National Science Foundation.
Health monitoring devices—FitBit or Garmin accelerometer watches, apps on cell phones, heart monitors—are becoming ubiquitous, but they have their drawbacks. In some climates, these devices can rub irritatingly against skin. Some are heavy and bulky. So imagine if embroidery on clothing could replace these devices altogether.
Ye Sun, an assistant professor in Mechanical Engineering-Engineering Mechanics, has received an NSF CAREER Award, which recognizes outstanding achievement by early career faculty. The research and development grant is for Sun's project "System-on-Cloth: A Cloud Manufacturing Framework for Embroidered Wearable Electronics."
Sun's project is funded for $500,000 for five years.