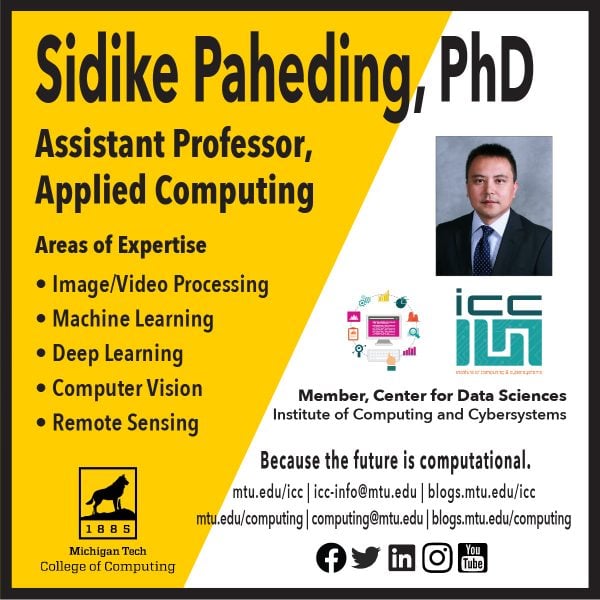 Dr. Sidike Paheding, assistant professor of Applied Computing, is the co-author of a paper published June 3, 2021, the journal "IEEE Access." The paper is titled, "U-net and its variants for medical image segmentation: A review of theory and applications."
The paper discusses U-net, an image segmentation technique developed primarily for image segmentation tasks.
The co-authors of the paper are Nahian Siddique, Colin P. Elkin, and Vijay Devabhaktuni, all with the Department of Electrical and Computer Engineering, Purdue University Northwest, Hammond, Indiana.
Abstract
U-net is an image segmentation technique developed primarily for image segmentation tasks. These traits provide U-net with a high utility within the medical imaging community and have resulted in extensive adoption of U-net as the primary tool for segmentation tasks in medical imaging. The success of U-net is evident in its widespread use in nearly all major image modalities, from CT scans and MRI to Xrays and microscopy. Furthermore, while U-net is largely a segmentation tool, there have been instances of the use of U-net in other applications. Given that U-net's potential is still increasing, this narrative literature review examines the numerous developments and breakthroughs in the U-net architecture and provides observations on recent trends. We also discuss the many innovations that have advanced in deep learning and discuss how these tools facilitate U-net. In addition, we review the different image modalities and application areas that have been enhanced by U-net.
The paper can be accessed on the IEEE Access website.
IEEE Access is a multidisciplinary, applications-oriented, all-electronic archival journal that continuously presents the results of original research or development across all of IEEE's fields of interest. Supported by article processing charges, its hallmarks are a rapid peer review and publication process with open access to all readers.