---
by Karen S. Johnson, Communications Director, College of Computing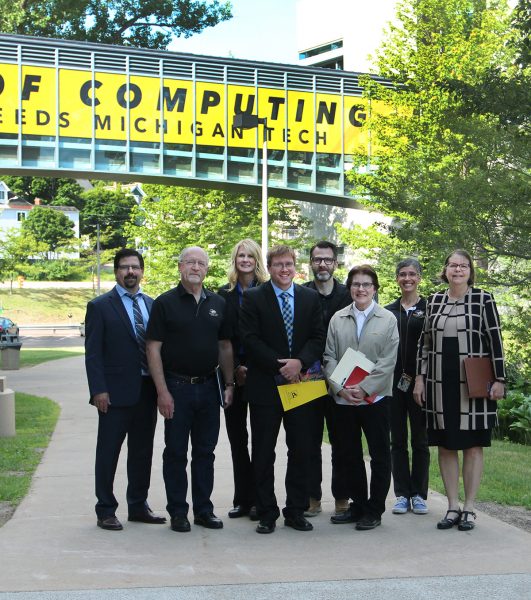 An educated workforce is key to robust economic development, and two western Upper Peninsula educational institutions are working together to encourage higher education and ease the transition from community college to a four-year institution.
Representatives from Michigan Tech and Bay de Noc College, Escanaba, met in Houghton recently to sign an innovative agreement that paves a path of success for students transferring from Bay College to Michigan Tech.
Through the agreement, Bay College students pursuing an associate's degree will gradually prepare for their transition to a bachelor's degree program at Michigan Tech. Advisors at both institutions will help the students successfully navigate and complete their degrees.
The initial agreement focuses on the Department of Applied Computing bachelor of science programs in Electrical Engineering Technology and Mechatronics. Additional College of Computing programs are being considered. During their recent visit, the Bay College representatives also met with a number of other University degree program representatives to explore partnership opportunities beyond computing.
"This agreement positions students for success in the 21st Century," says Dr. Jacqueline E. Huntoon, Provost and Senior Vice President for Academic Affairs. "Community college students, many of them first-generation, may not know about or have the confidence to pursue a four-year degree. The Upper Peninsula workforce is competing in an international economy and our youth need to be prepared."
"First-generation students often question whether they're 'good enough' and it's a big question for them. This agreement helps with that," adds Jean Kampe, Michigan Tech's Associate Provost for Curriculum and Instruction. "Positioning academic advisors for collaboration is a fabulous arrangement for community college students."
Students will be guided through the transition from Bay College to Michigan Tech by academic advisors at both institutions. "This close cooperation will help students confidently navigate the transfer process," confirms Kay Oliver, academic advisor for the Applied Computing department.
"Integration is something that educational institutions often struggle with," says Bay College's Vice President of Academic Affairs, MTU alumnus Matt Barron, '10 (PhD, BmE), '03 (BS, BmE). "This agreement presents students with a clear educational pathway from a two-year to a four-year degree."
Dr. Dennis Livesay, Michigan Tech's Dave House Dean of Computing, adds that this partnership represents an important step in ensuring transfer student success.
"It is our hope that by formalizing paths for students from Bay to MTU, we'll be able to continue to build capacity for Upper Peninsula students to pursue higher education," he says.
Bay College's Jeremy Belanger, Executive Director of Transfer and Student Advising agrees, adding that community colleges in rural areas are in the perfect position to encourage students toward further education.
"At Bay College, half of our students are the first in their families to attend college. It's paramount that Upper Peninsula youth are aware of the many opportunities available to them," says Cindy Carter, Bay College Dean of Business, Technology and Workforce.
The institutions share the aim of connecting students with opportunities. "Navigating higher education requirements and culture can be tough for students and families," says Kay Oliver, academic advisor for the Applied Computing department. "MTU is interested in helping all students reach their full potential, especially those new to higher education."
"Four-year college completion rates for first-generation students are 15% lower than for students who have parents with college experience," Oliver adds. "Bay College and Michigan Tech are working to narrow that gap and build an easy-to-navigate pathway that begins at Bay College and accompanies the student through their completion of a bachelor's degree."
Dean Livesay, who joined MTU earlier this year, is pursuing an ambitious agenda for the College. Building diversity and inclusion is the first of four "Forward Together" areas of emphasis the College is working to achieve.
The second emphasis, nurturing student success, focuses on student support, retention, curriculum, and instruction. Industry engagement, the third focus, aims to build partnerships with industry. Building research capacity is Livesay's fourth area of emphasis.
"One of the things that has struck me the most during my time at Tech so far is the passion and dedication of our students, faculty, staff and alumni," Livesay says. "Everyone is dedicated to achieving the promise of the College of Computing. "
"My goal is for us to do work that matters — to have a transformative impact on our students and external partners," Livesay continues. "Using that as our guiding principle, the results of our good work will make the state — and the world — a better place."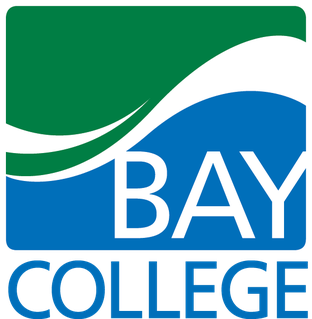 Collaboration between Bay College and Michigan Tech is not new. For instance, in 2017 the two institutions partnered in an agreement that enables Bay College students who earn an Associate in Applied Science in Mechatronics and Robotics Systems to transfer their credits into the Michigan Tech Bachelor of Science in Electrical Engineering Technology. The agreement is part of a $702K National Science Foundation grant to revamp robotics education to meet 21st century workforce needs.