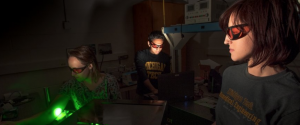 A team from Michigan Tech has partnered with Avon to develop a laser-based technology that measures the elasticity and firmness of skin.
As people age, their skin loses its youthful bounce, which leads to wrinkles and sagging. Skin-firming serums and anti-wrinkle creams seek to boost skin elasticity, but companies like Avon currently rely on visual grading by dermatologists or subjective verbal feedback from consumer panels to assess their products.
Using technology developed by Sean Kirkpatrick, professor and chair of the Department of Biomedical Engineering, the Michigan Tech team is refining a system that could lead to handheld devices that measure the effectiveness and longevity of beauty products. The technology could help Avon create and test experimental formulas quickly and objectively.
Read the full story on mtu.edu/news.
Biomedical Engineering is one of the pathways in which pre-health professions can choose to pursue.