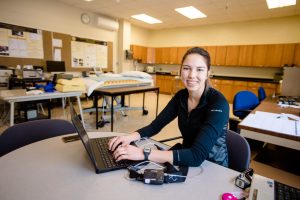 When I first decided to pursue a career in physical therapy (PT) I had no clue how to go about the application process or what steps were involved. Being clueless is OK. There's a lot of people in the same boat. Start by talking to your advisor and developing a plan. Current PT students are also an excellent resource because they've "been there".  In addition, Michigan Technological University provides many other resources to support students on this path (the writing center was one I highly recommend using for essays).
Many of the courses required for my major overlapped the requirements for PT school which made the application process much smoother. In addition to that, additional requirements for my major, such as biomechanics, exercise physiology, and sports nutrition, have given me a stronger background to tackle my current PT courses. The knowledge base I gained in my undergraduate studies at Michigan Tech has made the shift to graduate school much easier due to exposure to many of the concepts I am currently studying.
I am currently attending PT school at the University of Wisconsin – La Crosse. This PT program really appealed to me due to the focus on research here, which was the highlight of my undergraduate studies. In addition to that, La Crosse has this amazing opportunity to participate in EXPAND (Exercise Program for Adults with Neurologic Disorders) where PT students get the chance to apply classroom knowledge while giving back to the community. The number of clinical rotations was also instrumental in my decision; in total, I will be exposed to five unique settings.
I owe much of my success to my strong support group at Michigan Tech which consisted of my advisors, professors, a research team, volleyball team, and coaching staff. My advisor, Kathy Carter, was instrumental in my dream to pursue PT from day one. She directed me to all the resources I needed and more. I also had engaging professors that kept me excited to continue down this path. My involvement with undergraduate research, examining the differences in subjective and objective measurements of sleep in collegiate athletes with Dr. Jason Carter, was definitely the highlight of my undergraduate studies and influenced my decision in PT school seeing as La Crosse stresses research involvement. Ultimately, my experiences at Tech prepared me well for PT school not only through coursework, but through developing lasting skills in communication, leadership, and problem-solving. Below are some of the wonderful experiences and extracurricular activities I was involved in during my time at Tech:
Michigan Tech volleyball
Student-athlete
 Assistant coach for youth camps
Undergraduate Research Assistant
Kinesiology & Integrative Physiology Lab (Advisor: Dr. Jason Carter) Determine differences in subjective and objective assessments of sleep in collegiate athletes
Clinical Observation – Inpatient and outpatient settings in Michigan and Minnesota
Community service
Bounce-O-Rama Event Volunteer
Make-A-Wish Foundation Sales Attendant
Athletic Event Parking Attendant
Chuck-A-Puck Sales Attendant
Pony Power and Performance Instructor – Summer strength and conditioning program for middle and high school athletes