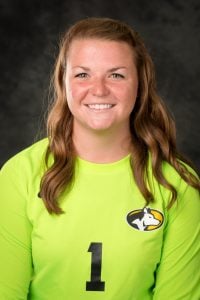 I think Michigan Tech gave me the opportunity to be involved with a lot of different things and become a well-rounded student. The small class sizes gave me the confidence to take charge and lead, in group and classroom settings. The research-based classes and labs gave me a good background in reading and interpreting research. The kinesiology department faculty have helped me so much with the application process itself. They took the time to write recommendations, proofread essays, and do mock interviews. The undergraduate internship that I completed at UP Health System gave me a very diverse shadowing experience. Due to the rural nature of the Houghton-Hancock area, I was able to observe many practice settings. I think being able to talk about these diverse experiences strengthened my understanding of Occupational Therapy (OT) in practice.
I graduated in May of 2017 with my undergraduate degree in exercise science and a minor in psychology. I decided to complete an Accelerated Master's degree in Kinesiology the following year at Tech. Knowledge in kinesiology and psychology are both incredibly important to the OT profession. Professors expect you to have a certain level of understanding of both of these fields. I think my Master's coursework prepared me for the rigor of OT school and gave me the critical thinking skills important for success in my program.
I ultimately decided on Grand Valley State University. I chose this program for several reasons. When visited campus for the interview portion of the application process, I was very impressed with the faculty and facilities. I could tell right away that the instructors and staff really cared about each and every one of their students. Meeting with current students in the program really reinforced it. The brand new facilities and location being right downtown in Grand Rapids were also a selling point to me. GVSU's program was more condensed than other programs I applied to. Their program requires taking a heavier credit load each semester, resulting in an earlier graduation. With already being in college for five years, this sealed the deal for me!
I would say, first and foremost for those students applying to OT school to get good grades! Schools weight GPA differently, but many have a certain GPA requirement. Secondly, I think it is important to get healthcare experience. There are many capacities in which you can do this, whether it be shadowing, working as a rehab technician, or completing an internship in the healthcare system. School's want to see that you know what you are getting into. Finally, diversify your experiences! Occupational therapists teach their patients about life balance. Make sure you balance your schoolwork, service experiences, work, and, of course, leisure activities. Above all, have fun and be genuine in with your application.
I was involved in many experiences and extracurricular activities at Michigan Tech that helped with my application process. I had the privilege of competing on the women's varsity soccer team for my five years at Tech (Go Huskies!). I was also involved in student leadership and community service through the Student-Athlete Advisory Committee, where I served as president for two years. I worked several jobs during my time on campus including working as a camp counselor for Summer Youth Programs and Michigan Tech Hockey School, a student assistant for Husky Motors, and a Peer Health Advocate and NCAA Choices Student Advisor for Student Health and Wellness. I completed an undergraduate occupational therapy internship at UP Health system in several different settings. During my fifth year, I taught PE classes and completed a graduate internship with MTU Athletics strength and conditioning department. I also tried to help out at as many outreach events as I could through the Kinesiology Department.