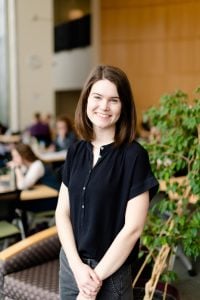 My name is Elise, and I'll be attending the Michigan State University College of Human Medicine in the fall of 2020.
I graduated in the spring of 2019 with a major in Biochemistry & Molecular Biology (with a concentration in Biology) and a minor in Spanish. I liked that my undergrad degree was so diverse. In addition to biology classes, I also took lots of courses in chemistry, physics, writing, and even computer science, and it was really fun getting to explore all these different disciplines and challenge myself in new ways all the time. My major definitely kept me on my toes, which I know will help me during medical school.
With all the challenging classes I was taking, it was helpful having so many supportive resources available to me. The learning centers and my professors and advisors helped me at every stage of my college career. This is so overused I'm sure, but when Dumbledore tells Harry Potter, "Help will always be given at Hogwarts to those who ask for it," well, that's definitely also true of Michigan Tech. There's always going to be someone willing to guide you, advocate for you, teach you, care about you – you just need to be willing to ask for help.
Another amazing resource at Michigan Tech is the Early Assurance Program (EAP) through the Michigan State University College of Human Medicine. I applied for the EAP because I liked the innovative and flexible curriculum at Michigan State and the focus of the EAP program, in particular, on serving underserved populations. I knew I was looking for a medical school with a holistic approach to delivering education – a school that was academically rigorous but heavily emphasized balance and student well-being.
My best advice about applying to school is to dig deep and find some gratitude for the process, even when it feels stressful. I think applying to medical school is actually an amazing learning opportunity in so many ways. You get to be introspective about your life, experiences, and values and how they've shaped you into the person you are now. And you get to really start exploring and sorting through what medicine means to you. I highly recommend collecting stories about medicine for inspiration on the days that you're struggling to find some. If you're looking for somewhere to start, this piece in the New York Times Magazine is one of my all-time favorites. 
Even the MCAT is such an important experience. It is a behemoth of an exam, but learning how to study for it, what strategies work best for you, and simply that you are capable of doing something this difficult is so valuable for school and life in general. I really would not have imagined I could study for anything so intensely for so long (4 months in my case). But now that I've done it – and succeeded – I know I can do it again throughout medical school and my career.
In terms of choosing what things to get involved in outside of class, there are definitely no "right" activities or extracurriculars for pre-med students. But if you do things that you enjoy, that passion will shine through in your application and your interviews. For me, this included working as a writing tutor in the Multiliteracies Center and a counselor at Summer Youth Programs, volunteering for the Young Women Leaders Program and Ronald McDonald House, leading a Girl Scout troop, and doing research on campus and a research fellowship at Mayo Clinic. I was also in the tennis club and played cello in the orchestra.  
Ultimately, all of this – being an undergrad student, applying to medical school, everything beyond – is a marathon, not a sprint. Remember to take it at your own pace, keep an eye on the long game, and be true to your values throughout the process.