THE MICHIGAN TECH LODE STUDENT NEWSPAPER

Click the link to see your student newspaper's first issue of the year!
http://issuu.com/michigantechlode/docs/09_10_2015
---
ENTERTAINMENT & ENRICHMENT
Film Board Showing Avengers: Age of Ultron
This weekend (9/11 – 9/13), Film Board will be showing Avengers: Age of Ultron in Fisher 135.
Showtimes:
Friday, Sept. 11 – 5:30, 8:30, 11:30
Saturday, Sept. 12 – 2:30, 5:30, 8:30, 11:30
Sunday, Sept. 13 – 2:30, 5:30
Tickets are $3, concessions are $1 each.
Next week is Jurassic World.
---
New Zealand Earth and Environmental Study Abroad Info Session
On Monday, September 14 from 5PM-6PM in the MUB Ballroom A2, Pavlis Honors Institute will host a New Zealand Earth and Environmental Study Abroad Info Session.
Frontiers Abroad offers field and research intensive study abroad programs for geology, biology, and environmental science students. Our programs combine a six-week field camp with a campus semester at the University of Canterbury, New Zealand. Central to the program is a research methods course which incorporates data collected during field camp into a semester research project.This course is offered only for Frontiers Abroad students. To learn more about the program please come to the informational session. Summer programs also available.
For more information please contact Kari Henquinet at kbhenqui@mtu.edu.
---

Free Bus Shuttles to K-Day
Today from Noon – 4:00 the annual K-Day event will take place at McLain State Park. Student Organizations will be showcasing what they have to offer so this is a great opportunity to join an org. or two! There will also be complimentary food and refreshments.
Free bus shuttles will be leaving every half hour from the MUB bus stop starting at 11:30 AM.
---
PON is giving away a two night stay to Chicago for a family of 4! The package includes round trip airfare from CMX Airport (Hancock), hotel accommodations, and Chicago GOCards (3 attractions).
All you need to do is make a poster that says, "I Heart PON," and hold it high on the parade route on Saturday, September 19, 11:00 AM. Look for the blue "love bug" to receive your ticket to be entered into the giveaway.
You must be present at the Multicultural Festival at 1:00 PM to win.
---
Constitution Day Activities
Constitution Day is 
Thursday, September 17
.
Activities will include:
1:30 PM
 at the Tech Husky – Announcement of essay contest winners, Husky Pep Band, Reading of the Constitution​, and student government organization booths.
1:30-3:00 PM
 at the Tech Husky – Voter Registration with the Houghton City Clerk
Rain location for the above will be the MUB Commons.
There will also be a display of Constitution related holdings in the main hall of the J. Robert Van Pelt and John and Ruanne Opie Library.
---
Annual Poster Sale Hosted by MUB Board
The annual poster sale starts next week! Check it out in the MUB Basement every day from 9 am – 5 pm. 
Those blank walls gotcha down? Have no fear, the Annual Poster Sale is here!
The selection of posters is huge! Get a poster of your favorite characters from TV Shows like The Walking Dead, Doctor Who, Parks and Recreation, Game of Thrones, Sherlock, Breaking Bad, and so much more! For the sports fans out there, check out the variety of materials from the NFL, NBA, MLB, etc! Feeling like you need to recreate the Louvre in your room? Poster versions of famous paintings can help you start your own curated collection!
Make sure to stop by and check out everything there!
---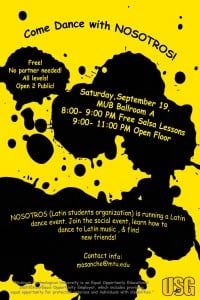 NOSOTROS Hosting Salsa Lessons
---
CAMPUS NEWS
Watch the Republican Presidential Debates
WEDNESDAY, September 16
Room 139 Fisher Hall
6:00 PM  First Round:  Perry, Santorum, Jindal, Pataki, Graham
8:00 PM  Second Round:  Trump, Bush, Walker, Huckabee, Carson Cruz, Rubio Paul Christie, Kasich, and Fiorina
Sponsored by the College Republicans at MTU
---
HEALTH, WELLNESS, AND SPORTS
HuskiesFit Adult Programs
​Change up your fitness routine or get started with a new one – get HuskiesFit!
HuskiesFit Programs offers a wide variety of classes to suit your needs and interest. They're also a great way to introduce your Little Husky to a lifetime of health and wellness – and they're fun too! Check out these great classes starting as early as next week!
Adult Programs
Adult Skating Workshop – For the beginner through intermediate adult ice skater.
African Dance – A combination of rigorous steps and routines from across the African continent accompanied by contemporary Afro-pop beats.
Belly Dance – Shake, shimmy and roll in this energetic cabaret-style belly dance class.
RAD – Master self-defense tactics and safety techniques in this comprehensive course designed specifically for women.
Adult Dance Mix – Get in the groove and try a dance class! Workshops on ballet, jazz, belly dance and more will be offered throughout the semester. See web site for detailed schedule.
Youth Programs
Tumbling
Dance – Grab a pair of ballet slippers or jazz shoes and get ready to dance! Currently offered: Ballet, Creative Movement and Jazz.
Aikido – A great way for children and teens to gain confidence, practice focus and concentration, and learn non-violent strategies for self-defense.
Swimming – It's never to early – or to late – to learn to swim! Classes are available for babies, toddlers and preschoolers. Group swim classes are available in six levels, ranging from introductory, fundamental, and stroke development to refinement and fitness swimming.
Skating – Lessons that teach the fundamentals by age group, preschool (3-5 years) and basic (ages 6 and up).
Registration is now open for the fall session. Employees may use their TechFit benefit for HuskiesFit Programs. SDC membership discounts and sibling discounts are also available.
For complete class information, schedules and more, visit HuskiesFitPrograms.
Commit to be HuskiesFit this fall!
---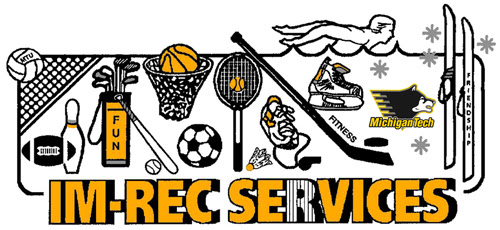 Upcoming Intramural Events
Two-Person Golf Scramble: 
Friday, September 11
 @ 
12:00 PM
 (TODAY!)
 -Your team must sign-up for a Tee-Time in the Intramural Office (SDC, room 202)
Racquetball Singles: 
Monday, September 14
 @ 
3:00 PM
Disc Golf Singles: 
Friday, September 18
 @ 
3:00 PM
---
MEETINGS
WMTU 91.9 Hosting DJ Signups
WMTU 91.9 FM Houghton will be hosting DJ signups for the semester in Fisher 138 on 
Wednesday, September 16th
, and 
Thursday, September 17th
, from 
7-9 PM
.
Anyone interested in having their voice be heard over the airwaves, playing their weird music to early birds in the morning, or being around a group of more weird-music-loving people is more than welcome to attend the signups meeting and general staff meetings every Wednesday at 6 PM outside of WMTU! No experience is needed in order to be a radio DJ – all you need is your music and to be ready for a new experience you may only get here with WMTU.
For more information or questions, please contact the Broadcast Supervisor at 
wmtu-bs@mtu.edu
---

Railroad Engineering and Activities General Meeting
The Railroad Engineering and Activities will be having our first General Business Meeting of the semester on Tuesday (9/15) at 7:00 PM in Fisher 131. Club members that had internships over the summer will be sharing how they spent their time working in the rail industry. We will also discuss our upcoming trip to Minneapolis for the annual AREMA Conference. If you are interested in learning more about the trip or AREMA, please stop in!
We have a gift Bookstore gift card that we'll be raffling off as well! All majors are welcome to join us! FREE subs and pop!
For more information please contact Derek at dereko@mtu.edu.
---
CAREER SERVICES
Coming to You From Career Services
---
DID YOU KNOW?
Michigan Tech's Outdoor Adventure Program Rents Gear
Did you know the Outdoor Adventure Program, located at 207 East Street across from the campus library, has camping gear, bikes, kayaks, canoes, and paddle boards for rent? For a full list of equipment and rental rates, go to the WEBSITE.
They also have a variety of group trips and clinics that you can sign up for. Check with their rental center to find out what they have coming up!
They are open 12:00 PM – 5:00 PM, Monday – Saturday, and 6:00 PM – 8:00 PM on Sunday. Contact them at 906.487.2290 or email oap@mtu.edu.
---