MEETINGS & WORKSHOPS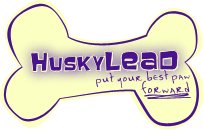 Last Fall Semester HuskyLEAD Session – Dealing With Difficult People The last HuskyLEAD for the semester will be held tomorrow (Tuesday, Dec. 1) at 6PM in the Memorial Union Building Alumni Lounge. The topic will be "Dealing With Difficult People" and the presenter will be Joe Cooper, director of Student Activities. Participants will learn to identify and approach group members and leaders in the organization, team or workplace who may be putting their own interests over the common good. HuskyLEAD is a series of hour-long workshops designed to develop the organizational, classroom, and professional leadership skills of students. The sessions are open to all students and are free. You need not be a member of an organization to attend. If you have any questions, comments, or ideas for future HuskyLEAD sessions, please contact Maryann Wilcox, Student Activities, at 906-487-2402 or mawilcox@mtu.edu.
---
American Society for Engineering Management to Meet
Katie Hickey and Tony Schwen, technical sales, ThermoAnalytics will share their experiences on how they blended Business and Engineering in their careers. Interested in being a member of a professional organization for Engineering Managers and with National ASEM affiliation? The B.S. in Engineering Management is a STEM program. All interested students are welcomed. Interested in going on a two-day trip in March to visit different companies and learn more about various industries and career? Attend the meeting at 7:00PM. December 2 in 104B Chem-Sci. If you have any questions or are unable to attend but are still interested, email Tim Spehar or Justine Barker to stay in the loop. Pizza and pop will be provided.
---
CAMPUS NEWS
Toy's for Tots Donation Box on Campus
The Registrar's Office is once again participating in the Toys for Tots program that runs until December 23rd. While you are out shopping for the holidays, please consider purchasing a toy that will benefit a local child. The program is looking for new, unwrapped donations for children up to age 16. The donation box is located on the first floor of the Administration Building by the elevators. If you have any questions about the program, please contact the Registrar's Office at 906-487-2319 or visit the Toys for Tots website.
---
Book Drive to Support Community Center in Ghana, Africa
Pavlis Institute for Global Technological Leadership this past summer  had the incredible opportunity to travel to Ghana, Africa to carry out numerous projects.  Part of the experience led to a community center in a small town called Abesim.  The Pavlis program has worked with this community center in the past, but the team felt that they should bring attention back to this incredible resource for students.  One of the most unfortunate things about this community center is that it is etremely lacking in educational material for students achieving higher education.  Therefore, as part of a Senior Capston Experience, Courtney De Cramer is working with the Ghana team that will be traveling to the country in the summer of 2016 to donate college-level textbooks to this community center.  Therefore, they are running a book drive from December 7-December 19 to collect any college level materials for the team to bring on their journey.  They will accept any and all donations.  To donate or for questions please contact Pete Seim (pjhokeme@mtu.edu) or Courtney De Cramer (ckdecram@mtu.edu).
---
REMINDERS
The Secretary Announces Suspended Requirements for F-1 Non-immigrant Nepalese Students
Non-immigrant Nepalese Students who are experiencing severe economic hardship as a direct result of the April earthquake in Nepal.  The relief applies only to students whose country of citizenship is Nepal, and who were lawfully present in the United States in F-1 status on June 24, 2015 and enrolled in an institution certified by ICE's Student and Exchange Visitor Program (SEVP).This suspension will enable eligible Nepalese students to obtain employment authorization, work an increased number of hours during the school term, and if necessary, reduce their course load while continuing to maintain their F-1 student status. The suspension of the regulatory requirements will remain in effect through Dec. 24, 2016. Students must apply for relief by Dec. 21, 2015. For more details, please read the full ICE News Release.
If you are interested in applying please contact Laura Givens in the IPS office to schedule an appointment with me. Please note that there is a non-refundable $380 application fee.You must act fast, the deadline to apply is December 21st, 2015 and the submitted application could take up to 3 months for review and processing.
---
Dining Hall Signage Survey
Michigan Tech Business Operations would like to remind those who eat in the dining halls on campus to take our quick survey on the digital signage and menu boards. We greatly appreciate your time and feedback as we work to improve this new feature in the dining halls in order to benefit the Michigan Tech community. Below is a link to take the survey, please complete it by December 4: https://www.surveymonkey.com/r/mtu-digital-signage
---
Railroad Engineering and Activities General Meeting
The Railroad Engineering and Activities will be having our fourth and final General Business Meeting of the semester on Tuesday (12/1) at 7:00 PM in Fisher 131. We will have one more student presentation and a prize raffle. We will also be touching more on the AREMA trip to Orlando as well as our AREMA scholarship opportunities. REMINDER: AREMA Scholarships are due December 11th! All majors are welcome to join us! FREE subs and pop!
---
Pavlis Honors College Info Sessions
If you are interested in expanding your education beyond the classroom through hands-on, experiential learning opportunities, consider attending a Pavlis Honors College information session to learn how we can assist you in reaching your goals. The Pavlis Honors College offers undergraduate students resources and support to augment what is being taught in the classroom through its Scholars and Leaders Programs. Upcoming sessions will be held in the Pavlis Honors College Collaboration space on the 7th floor of the Minerals and Materials Building at 6pm on Tuesday, December 1 For more information on the college, visit: honors@mtu.edu
---