MICHIGAN TECH LODE STUDENT NEWSPAPER
---
CAMPUS NEWS & EVENTS
Spring Break Shuttle Service Hours
Transportation Services shuttle service will operate 7:00a.m. to 5:30p.m. Monday–Friday, March 7-11.  The shuttle services the Memorial Union Building to the SDC and stops at both the Lower and Upper Daniell Heights' bus stop.  The shuttle will also stop hourly at the Lakeshore Center.
The City of Houghton will not be operating on campus, which includes the MTU afternoon shuttle during the week of March 7-11.  For questions or concerns, please contact Transportation Services at 487-1441 or parking@mtu.edu.
---
Library Announces Spring Break Hours
The Van Pelt and Opie Library announces hours during spring break. The Van Pelt Library will be open:
March 5 – 6: 9 a.m. to 7 p.m.
March 7-11: 7 a.m. to 7 p.m.
March 12: 9 a.m. to 7 p.m.
March 13: Regular hours resume.
The Opie Library will be open 24/7 during break. Enter through the west entrance with an active HuskyCard.
---
Creative Writing Competition Sponsored by the Michigan Tech Lode and MUB Board
Two Categories (writers can submit in each):
1. Short Story (1000 word limit)
2. Poetic (Haiku, short poem, song lyric) (450 word limit)
Prizes:
The Top 2 submission in each category will be featured in the Pulse Section of the lode, on the Lode website, and linked on Facebook.
First place winners will get a writer's package: a moleskin notebook, a Pentel Arts Pocket Brush Pen, a pack of pilot pens, and a $15 gift card to a local coffee shop.
Second place winners will get a $15 gift card to local coffee shop.
Submission Deadline: 
March 23rd
 to 
Lodesubmit@mtu.edu
---
Academic Success Workshop: Mid-semester reboot
March 16, 5-6 PM 
– Fisher 129
Did you wake up this morning and realize the semester is indeed half over. Do you feel far behind, overextended or maybe you're suffering some winter funk? Join staff from the Waino Wahtera Center for Student Success and discuss how to take an optimistic approach and apply strategies from this session to "reboot" your semester and work towards your goals.
---
ATTENTION ALL STUDENTS GRADUATING IN MAY 2016
The Michigan Tech Student Foundation (MTSF) and the Student Philanthropy Council invite you to make your upcoming commencement day even more meaningful by participating in the Class Tribute Program. It's an opportunity for you to recognize someone special to you in the printed commencement program.
Not only will tributes appear in the commencement program, but they will also be displayed on the new video scoreboard in the ice arena! It's gonna be crazy! You have the option to upload a picture with your tribute! Maybe a special picture of you and your parents? Spouse? Best friend? Imagine that person/s sitting in the audience and seeing the photo and tribute appear on the big screen!
Just go to http://www.mtu.edu/classtributes for program and participation details. The deadline for tribute submissions is Tuesday, April 5, 2016.
For questions, contact Jenn Biekkola at 487-1056 or jrbiekko@mtu.edu.
---
The Outdoor Adventure Program is Now Accepting Applications
The Outdoor Adventure Program is now accepting applications for employment for summer and for fall of 2016. Please submit your application (via e-mail at oap@mtu.edu or in person at 207 East St.) by 5:00pm, April 1 for consideration in this round of applications.
APPLICATION: http://bit.ly/24DsD7l
All applications will be reviewed and considered, and a resume is recommended. Please contact the OAP if you have any other questions, oap@mtu.edu or 487-2290.
---

Husky FAN in Need of Food for the Pantry
The Michigan Tech Food Pantry located at the Hamar House is looking for donated food items! Bring non-perishable items to the Pantry, on the ground floor of the Hamar House Center for Diversity and Inclusion from 6 p.m. to 8 p.m. Tuesdays, Wednesdays and Sundays. 
For more information on the items needed visit the website HERE.
---
HuskiesFit Specialty Classes Starting Soon
The second spring session of classes in Aikido, African Dance and Belly Dance for Fitness are starting soon.
Want to earn your Red Cross certification as a lifeguard or water safety instructor? HuskiesFit Programs is offering training courses for these areas too!
For more information or to register, visit Michigan Tech Recreation. Commit to be HuskiesFit in 2016!
---
MUB Board Food and Wine Pairing Event
Join MUB Board and Chef Eric Karvonen for a night of Food and Wine pairing on Friday March 18 at 6PM.! Attendees will enjoy 5 different pairing courses with different wines. This is a food pairing, so portion sizes are smaller than a traditional meal.
The courses will be served family style which is the same as food and beer pairing in the fall.
It's a great event for a group of friends, or even by yourself to enjoy with other students, staff, and faculty from Michigan Tech.
---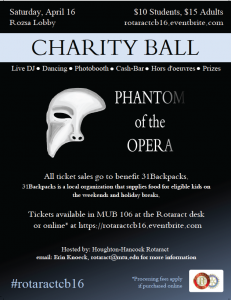 Annual Charity Ball Hosted by Houghton-Hancock Rotaract Club of Michigan Tech
You don't want to miss this exciting opportunity to dress up and go to the Ball! The Houghton-Hancock Rotaract Club presents the Phantom of the Opera Charity Ball on Saturday, April 16 from 8:00 – Midnight in the Rosza Lobby.
All ticket proceeds go to 31 Backpacks, a local non-profit organization that provides meals to kids from low income families. Kids are getting free breakfasts, lunches and snacks at school during the week, but what happens on the weekends? They go hungry. 31 Backpacks' goal is to address this issue. They are sending home backpacks full of food every Friday for those students, who have been identified by administrators, as being in need.
Event Details:
Hors d'oeuvres and a cash bar will be available
DJ, and Photo-booth
Live performances by the swing dance club and the MTU dance team!
Awards will be given to best-dressed theme outfits
Door Prizes
The cost is $10 for students and $15 for the community. Tickets on sale at the Rotaract desk in MUB 106 or online here (fees apply).
---
MTSF Snoccer Spring 2016
Extreme 3 on 3 snow soccer with an exercise ball. MTU soccer fields on Saturday, March 19. Start times TBD.
Sign up here: http://goo.gl/forms/PaX6GCjQ1D
$5 team fee.
---
Join the Spectrum Connection for a Viewing of Autism in Love
"Autism in Love is a feature length documentary that explores the lives of four autistic adults as they pursue and manage romantic relationships. Autism is a neurological disorder characterized by impaired social interactions and communication, and often restricted by repetitive behavior. It typically reveals itself in the first three years of a child's development and can be highly variable in it's symptoms.
The manifestations of autism affect everyone a little differently.
The spectrum ranges from individuals with severe impairments – who may be silent, mentally disabled, and locked into hand flapping and rocking – to high functioning individuals who may have active but distinctly odd social approaches, narrowly focused interests, and verbose, pedantic communication.
In recent years, the rate of autism spectrum disorder diagnosis has increased at an alarming rate making some question whether an epidemic is imminent. Is autism an unfortunate bi-product of modern immunizations, dietary shifts or genetic mutations? Or, has increased awareness and knowledge caused this rapid increase in diagnosis?" –autisminlove.com
TUESDAY, MARCH 15, 2016.
6:00 PM – 7:30 PM.
IN FISHER HALL ROOM 135.
---