MICHIGAN TECH LODE STUDENT NEWSPAPER

https://issuu.com/michigantechlode/docs/final_04142016
---
ENTERTAINMENT & ENRICHMENT
SPRING FLING TODAY!
Stop by the MUB Board booth right outside the MUB at Spring Fling from noon -4PM! They will be handing out free Popsicle's, chicken nuggets, and mac 'n cheese, a crazy awesome inflatable obstacle course, balloon artist, live DJ, and more!
Also be sure to check out the Sick Air FMX Spring Fling Stunt Show in Lot 27 (the Pay Lot) hosted by Full Throttle Motorcycle Club.
---
Khana Khazana Featuring Indian Cuisine
Flavors of India are featured at Friday's Khana Khazana from 11 a.m. to 1 p.m. in the Memorial Union Food Court. Cost for the full meal is $7.25 and includes a fountain drink.
This week's menu:
Chicken Masala: Spicy chicken curry with a creamy, spiced, orange-colored sauce
Navartan Komar: Indian vegetable curry with nuts, paneer cheese and selected vegetables
AlooTikki: North Indian snack made of boiled potatoes, onions and various spices
Gajar Ka Halwa: A sweet dessert pudding made of carrot and sweetened condensed milk.
Check out the Khana Khazana Facebook Page.
---
Film Board Showing FREE Advanced Screening of Popstar: Never Stop Never Stopping
ADVANCE SCREENING! Don't miss your chance to see Popstar before it comes out in theaters!
Wednesday April,20 at 8:30 PM in Fisher 135.
[youtube]https://youtu.be/Q9RoNzJrmDo[/youtube]
---
Film Board Showing Kung Fu Panda 3
Showtimes in Fisher 135:
Friday, April 15
 – 
5:30
, 
8:30
, 
11:30 PM
Saturday, April 16
 – 
2:30
, 
5:30
, 
8:30
, 
11:30 PM
Sunday, April 17
 – 
2:30
, 
5:30 PM
Tickets are $3 and concessions are $1 each.
[youtube]https://youtu.be/10r9ozshGVE[/youtube]
---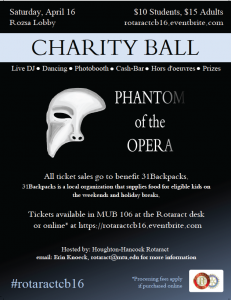 Tickets Still Available for the Annual Charity Ball
You don't want to miss this exciting opportunity to dress up and go to the Ball! The Houghton-Hancock Rotaract Club presents the Phantom of the Opera Charity Ball on Saturday, April 16 from 8:00 – Midnight in the Rosza Lobby. All ticket proceeds go to 31 Backpacks, a local non-profit organization that provides meals to kids from low income families. Kids are getting free breakfasts, lunches and snacks at school during the week, but what happens on the weekends? They go hungry. 31 Backpacks' goal is to address this issue. They are sending home backpacks full of food every Friday for those students, who have been identified by administrators, as being in need. Event Details:
Hors d'oeuvres and a cash bar will be available
DJ, and Photo-booth
Live performances by the swing dance club and the MTU dance team!
Awards will be given to best-dressed theme outfits
Door Prizes
The cost is $10 for students and $15 for the community. Tickets on sale at the Rotaract desk in MUB 106 or online here (fees apply).
---
17th Annual Don Keranen Memorial Jazz Concert Friday
Nine years of great jazz and counting! The 17th Annual Don Keranen Memorial Concert has a wide variety of jazz to suit almost every palette. The Keranen legacy is very much in evidence in both the Research & Development Big Band and in the Jazz Lab Band. Don was always at the cutting edge of incorporating new and interesting jazz arrangements in his concert programs.
The R&D Big Band will perform Little Sunflower with the addition of interesting sound effects and a woodwind quintet. The Jazz Lab Band will feature vocalists Kattie Riutta and Kevin Rocheleau singing Used To Rule The World, and Diggin' On James Brown, respectively.
Join Jazz Studies Program Director Mike Irish and the Michigan Tech Jazz ensembles for the Don Keranen Memorial Jazz Concert at the Rozsa Center for the Performing Arts this Friday, April 15, 7:30 PM.
Tickets for the Don Keranen Memorial Jazz Concert are on sale now, $13 for adults, $5 for youth, and no charge for Michigan Tech students with the Experience Tech fee. Tickets are available by phone at (906) 487-2073, online at Rozsa.mtu.edu, in person at the Central Ticketing Office in the Student Development Complex, or at the Rozsa Box Office the evening of the performance.
---
 MEETINGS & WORKSHOPS
Geoseminar—Erika Vye
The next Geoseminar will be held from 4 to 5 p.m. Friday, April 15 in Dow 610. Erika Vye will present "Connecting People to Abiotic Nature: The Art of Interpretation." All are welcome.
Interpretation offers a manner of connecting people personally to meanings associated with scientific observations, thereby affording scientists the opportunity to communicate complex ideas to varied audiences. This presentation presents on the challenges and successes in interpreting abiotic nature for the broader public and explores the concept of tangible and intangible connections.
---
Waino Wahtera Center for Student Success Academic Success Workshop
April 19, 5 p.m. –Fisher 129
The Academic Probation and Suspension Process
Do you have questions about academic probation, how to get back into good standing or are concerned that you or someone you know may be academically suspended after this semester? Join us for an overview of the probation and suspension process at Michigan Tech.
---
CAMPUS NEWS
Model UN at Michigan Tech Looking for New Members
Model UN is an academic simulation of the United Nations where participants (delegates) role play as representatives of a country, organization or a body (Amnesty, NATO, EU etc.).
A Model UN brings in a lot of skills that employers look at these days. These skills include but are not limited to; problem solving skills, critical thinking, creativity, people management, co-ordinating with others, emotional intelligence, judgement and decision making skills under crisis situations, negotiations and cognitive flexibility.
In order to bring this into the Tech culture, the aim is making a student organization of the same and having a Model UN conference at Michigan Tech on an annual basis.
This would not only imbibe various skills that are of particular importance in today's job seeking environment, but would also develop one as an individual and help them see what's going on in the world and in what ways could the world's problems be rectified.
As this club is yet in its budding stage, we are looking for an advisor who has Model UN experience or knowledge regarding the geopolitical scenario who could guide us in our endeavor to make this event happen at Tech.
We are also looking to fill the position of Secretary for the Model UN Association at Michigan Tech and request all interested faculty and students alike send an email if you are interested in joining the club in any form—advisor, executive committee or regular member.
---
Gear Auction TODAY!
The ninth annual Outdoor Adventure Program (OAP) Outdoor Gear Auction will be held on Friday, April 15 in the MUB Ballroom from 11:00 AM – 1:00 PM. This silent auction-style event allows OAP to sell some of their gently-used gear to make room for new equipment.
Contact the OAP at 7-2290 or oap@mtu.edu with any questions you have.
---
SPORTS & WELLNESS
Registration for the Doghouse has been extended to NOON this Friday, April 15.
 All divisions are a go and are guaranteed at least 3 games. We're just hoping to get a few more signups between now and then. ALL forms, signature, and payment are due Friday at NOON. No more extensions!
The tournament is scheduled for 

Saturday, April 23

.
 Check-in will be from 
8:00-8:45 a.m.
 Games will tentatively run 9:00 a.m. to 4:00 p.m. with all teams having their first game within the first 2 hours of the tournament.
---
 CAREER SERVICES
---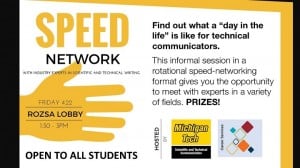 ---
REMINDERS
2nd Annual Drive Away Hunger Food Drive – Donate & WIN
Help Drive Away Hunger in our community!
Starting today, Monday, March 14, 2016 to Friday, April 29, 2016, Michigan Tech Transportation Services will be collecting non-perishable food items to donate to the Husky FAN (Food Access Network) on-campus food pantry.
For every food item donated, you will receive a raffle ticket to be filled out with your MI Tech User ID.  These raffle tickets will be placed into a drawing for a Free Parking Permit for the upcoming year. Faculty/Staff and Black Lot parking permits will be given away.  Receive a raffle ticket for each item you donate (Black lot raffle tickets require 2 donated food items).  The more you donate the more chances you have to WIN.
Needed Foods Include
Canned Chicken Single Serving, Soup, Meals, and Sides that can be microwaved Spices Oatmeal Peanut Butter Breakfast Bars/ Granola Bars Mac and Cheese Vegetarian Foods Ketchup, Mustard, and Mayonnaise/ Miracle Whip/ Salad Dressing Tuna
Drop off your non-perishable food items Monday thru Friday from 8:00am – 5:00pm in Room 100 of the Administration Building or with Cathy Jenich, 3rd floor Lakeshore Center and collect your raffle tickets.  Winners will be notified via e-mail and announced in Tech Today.
All food collected will stay within the campus community.
Thank you in advance for your donations! Together, we can Drive Away Hunger!
---