This week in Career Services:
Drop-in Sessions to see what Career Services can do for you.
Tuesday, August 30

 | 

11:00 AM – 2:00 PM
Automotive Industry leaders will be on campus to show-&-tell you about their companies & job opportunities. Take a test drive – drive a go-cart – watch an engine tear down and more….
Thursday, September 1 | 11:00 AM – 3:00 PM
---
ENTERTAINMENT & ENRICHMENT

An Afternoon on the Town, 8/27
You don't want to miss this exciting event. Local businesses and Services are ready to Welcome you to Houghton by giving you a taste of what they have to offer in the way of coupons, handouts, and FOOD!
You will also have the opportunity to get entered into a raffle prize giveaway, all you have to do is find the TWO ID tappers so be sure to bring your student ID with you!
For more information please contact Student Activities at 906-487-1963 or send us a message at activities@mtu.edu.
---
Student Organizations: Deadline Approaching for K-Day Sign Up
Registration for K-Day is now available! Click HERE to register.  Registration closes on September 5 at 5:00PM.
K-Day, short for Keweenaw Day, is an annual tradition at Michigan Tech held on the Friday of the week of Labor Day.  Each year on K-Day, classes release at noon so our students can celebrate their beautiful surroundings in the Keweenaw Peninsula and learn about ways to get involved and connected at Tech.  K-Day typically sees around 3,500-4,000 students attend, so be sure to check out this amazing event so you don't miss out!
Transportation from Michigan Tech to the park is provided at no cost.
---
Greek Life Events
Fraternity Expo:
September 1, 12:00pm – 5:00pm, Campus Mall
Interested in joining a fraternity? Want to know what fraternity life is like at Tech? Stop by to learn more about fraternity life, meet some new people, and have all your questions answered.
Hosted by Interfraternity Council
S'Mores Social with the Sororities:
August 31, 8:00 pm, Prince's Point (Rain site: Wad's Annex)
Come join the Panhellenic Council at Michigan Tech to hear about how being a part of a sorority can enhance your academic experience, develop leadership skills, and provide lifelong friendships. Whether you're interested in joining a sorority, or if you just want to learn a little more about the process, stop by and make a s'more. Bring a friend!
Hosted by Panhellenic Council
Like our Facebook Page to stay updated on events.
---
International Game Night
Come and enjoy playing board games with students from various nationalities on Friday, August 26 from 5-7 p.m. at Wadsworth Hall G11W. There will also be games which promote interaction. We also look forward for you all to join the International(I)-club. Snacks and drinks will be provided.
---
Official Pokemon VGC Tournament
Officially sanctioned VGC tournament using Pokemon Omega Ruby and Pokemon Alpha Sapphire. Will follow the VGC 2016 rule set.
Saturday, August 27 from noon-5 p.m. Walker Arts and Humanities – Room 109
Hosted by the Pokemon League at Michigan Tech.
---
CAMPUS NEWS
Student Organization Officers Announcement
Now is the time to start thinking about your organization's role in the 2016 Parade of Nations, which will be held on
Saturday, September 17, 2016
beginning at
11:00
AM
in Hancock near the FirstMerit Bank building and ending in Houghton at the Dee Stadium where the multicultural festival will take place from approximately noon to 3:00
PM
.  This year's Parade theme is "Passport to the World."
Student Organizations can:
2)  Sponsor a food or crafts booth at the multicultural festival
(register here)
3)  Showcase their talents by being a part of the entertainment (this is open to individuals too!)
(register here)
Our headline act this year is BreakSk8.  They will be "rolling" in the Parade on the 17th, and there will be a performance at the Rozsa Center later that Saturdayevening. Admission is free to Michigan Tech students!
And to gear you up for Saturday's festivities, join the Keweenaw Roller Girls for a FREE and OPEN TO ALL roller skate/blade event on Wednesday, September 14, 2016 from 6:30 – 7:30 PM at the Houghton County Arena in Hancock.  BYO skates and ALL are welcome regardless of age, gender or ability!
Tech Theatre Holds Auditions for Two Plays on August 31 and Sept 1
Michigan Tech Theatre Company will hold auditions next week for two show to be performed in the Fall Semester.
Auditions for both plays will take place at 7 p.m. on Wednesday, Aug. 31 and Thursday Sept. 1, in the McArdle Theatre, second floor of the Walker Building. Call backs will be held as needed.
"Silent Sky" by Lauren Gunderson:
Both Science and fiction, "Silent Sky" blends the discovery of how to measure the universe with the essence of the discover's life story. Set against the turmoil of the cry for social justice at the beginning of the 20th century, the chronicle of Henrietta Leavitt counterpoints the power of a passion for work with the desire for love and family. Five parts – four women and one man.
Six Performances, October 13-15 and 20-22. Rehearsals will take place Sunday through Friday evenings. All actors will not be required at all rehearsals. No preparation is required for auditions which will include games and reading from the script.
"The Resistable Rise of Arturo Ui" by Bertolt Brecht.
This dark comedy, set in '30s Chicago, tells the story of a strongman's rise to the head of the Cauliflower Turst that has many parallels around the world today.
Written as a parable about Hitler's rise to power, the story applies to any situation in which a charismatic leader exploits the economic fears of the little guy to seize more and more power.
There's jazz, gun-molls, shady backroom deals and lots of dark laughs.
There are parts for three or more women (up to six possible) and 19 or more men (up to 30 possible … one singing part—baritone preferred). There are also two gender-irrelevant roles.
No monologues required for audition, just come ready to read and dressed for movement. No previous experience required. There will be three performances Nov. 10-12.
---
Fall Blood Drive 
Currently, there is a critical need for blood donors. The need is constant. The gratification is instant. Give blood.
Join Fraternity and Sorority Life from 10 a.m. to 4 p.m. Wednesday and Thursday, August 31 and September 1 in the Library Reading Room to donate blood.
Sign up for an appointment time online or call 800-733-2767. Walk-ins are always welcome.
Click here for more information.
Note: Those eligible to donate must bring a photo ID, be in good health, at least 17 years old, weigh at least 110 pounds, and have not donated in the last 56 days.
Hosted by Fraternity and Sorority Life, Order of Omega
---
Keweenaw Color Run Seeking Volunteers
It's getting close to the beginning of the fall semester and the Keweenaw Color Run committee would like to welcome all students and faculty alike back to tech. As we enter into the school year, we would like to remind everyone that in less than a month, on September 18th, hundreds of people will be finishing the 2nd Annual Keweenaw Color Run. Want to help make this event awesome? Well then you're in luck! The 2nd Annual Keweenaw Color Run is looking for volunteers. To sign up to volunteer please visit: www.volunteer.keweenawcolor.com
Volunteers will be provided with free food and beverages the day of the event and will get a free event T-shirt. The positions are diverse and people of all ages and backgrounds are welcome to register to volunteer. This event is only made possible by our community's support, not only by participating in the event but by participating behind the scenes and helping everything run smoothly!
Thank you and we hope to see you on Sunday, September 18th at the 2nd Annual Keweenaw Color Run!
---
Husky Motors New On-Line Reservation System
Husky Motors introduced its new on-line reservation system on May 16. Now, as a new school year approaches, we would like to provide you with some reminders, helpful tips and updates based on customer feedback. The original article is linked for those who may have missed it.
All who reserve vehicles or will be driving them must be registered in the reservation system. So, if you plan to reserve or drive a Husky Motors Vehicle, take a moment now to register using this link—it's easy to do.
Here are a few things you should know about the reservation system:
Reservations can be made, changed or cancelled on-line, 24/7
All reservations are dispatched through our outdoor key kiosk, which is located on the east entrance of the Facilities Management Building. The key kiosk provides 24/7 access to your vehicle reservation.
As requested by our users, we have installed a sun shade to our outdoor key kiosk. This will help shade the kiosk screen during peak sunshine hours.
When picking up and returning your reserved vehicle, they can be found and returned to the lot designated for Husky Motors vehicles (North East of the Facilities Management Building). Also, if leaving a personal vehicle during your reservation period, it must be parked in the lot designated Husky Motors vehicles.
Reservations must be picked up and returned within one hour of the reservation time, before or after the scheduled time (a two-hour window).
Vehicle keys must be picked up and returned to the kiosk by the individual listed on the reservation.
Vehicles should be returned with a full tank of fuel and free of any debris or trash—another reservation may start soon after your return.
Husky Motors values your business and appreciates all feedback provided. Utilize our new on-line system to provide reservation and/or vehicle specific feedback.
---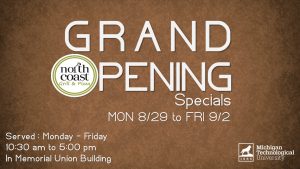 MUB Commons Grand Opening Specials 
Monday (8/29)
General Tao Chicken with Rice $5.00
The Cuban Panini combo meals chips and soda included  $5.00
Burgers made your way, Fries and Fountain Soda $3.99
Cheese or Pepperoni Pizza $1.99
Tuesday (8/30)
Beef and Broccoli with Rice $5.00
Buffalo Chicken Ciabatta combo meals chips and soda included  $5.00
Rueben Combo Meal $5.00
Cheese or Pepperoni Pizza $1.99
Wednesday (8/31)
Honey Garlic Chicken $5.00
Three Cheese and Tomato Panini combo meals chips and soda included  $5.00
BLT Griller Combo Meal $5.00
Cheese or Pepperoni Pizza $1.99
Thursday (9/1)
Kung Pao Chicken with Rice $5.00
Hot Wing Meal Deal  $5.00
Cheese or Pepperoni Pizza $1.99
Friday (9/2) 
Meatball Panini combo meals chips and soda included  $5.00
Shrimp Basket Meal Deal $5.00
Cheese or Pepperoni Pizza $1.99
Special prices on home cooked meals in the MUB 8/29-9/2
Your mom isn't here but her cooking is. Home cooked classic comfort foods such as:
Monday (8/29)
Tuesday (8/30)
Chicken Santa Fe Chicken Casserole
Wednesday (8/31)
Triple Cheddar Broccoli Casserole
Thursday (9/1)
Smoked Gouda Cheese Mac & Cheese
Each meal is $3.99 and includes a 20 oz. soft drink.
---
SDC Building Hours for the Academic Year
---

New Course on Lean Principles Offered Fall '16
---
SPORTS & WELLNESS
Upcoming Intramural Events
Entry Deadlines:
Sand Volleyball Fours: Friday, September 2 @ 8:00 am
– Season Begin September 6th
Softball: Friday, September 2 @ 8:00 am
– Season Begin September 5th
Frisbockey: Friday, September 9 @ 8:00AM
– Season Begin September 4th
Soccer Fours: Friday, September 9 @ 8:00AM
– Season Begin September 14th
2-Person Golf Scramble: Friday, September 9 @ 10:00 am
– Tournament on Saturday, September 10th
– Must sign up for a Tee-time in the Intramural Office.
Racquetball Singles: Friday September 16 @ Noon
Disc Golf Singles: Friday September 16 @ Noon
– Tournament on Saturday, September 17 @ 10:00 am
Register your team at www.imleagues.com/MTU
For more information: E-mail imsports@mtu.edu
---
REMINDERS

Film Board Presents Zombieland
Friday, August 26 (Last day of O-Week) @ 10 pm, Film Board is showing Zombieland! Admission is Free. Located on Walker Lawn.
For more information, see filmboard.mtu.edu.
---
Orientation Week Events from GSG
GSG brings to you the following events welcoming you to being a proud Husky. All events are covered by GSG and are free for you and your family to attend.
For more information contact Muraleekrishnan Menon at mmenon@mtu.edu.
---
O-Week Men's Volleyball Tournament
Bump, set, spike! Get ready to dive into this fun volleyball tournament at the Michigan Tech Volleyball Courts on Sharon Ave in Houghton. If you are pre-registered, get ready to serve. Sign up to play, Monday, 22 through Wednesday, 24, during dinner in the dining halls.
In the event of rain, the tournament will be held in the SDC Multipurpose Room.
For more information contact the Men's Volleyball Club President, Matthew Radloff at mjradlof@mtu.edu.
---
Student Activities Welcome Week Schedule
It's almost time for Welcome Week!  Every year, new and returning students are welcomed back to campus with this annual tradition that will get everyone into the Husky Spirit.
Saturday, August 27
An Afternoon on the Town 11:00 AM – 3:00 PM, Administration Building to Downtown Houghton
Speaker Harlan Cohen, 9:00 PM, Rozsa Center
Sunday, August 28
Ultimate Frisbee with Disco Tech 12:00 PM – 2:00 PM, Upper and Lower Soccer Fields
Frisbockey 2:00 PM – 4:00 PM, Upper and Lower Soccer Fields
Broomball 4:00 PM – 6:00 PM, SDC Ice Arena
Comedian, Harlan Cohen, 9:00 PM, Rozsa Center
Monday, August 29
Back to School Binders 11:00 AM, MUB Circle (while supplies last)
Tuesday, August 30
CareerFEST Kick-off 11:00AM – 2:00PM, Under the CareerFEST tent near the Husky Statue
Evening Yoga 7:00 PM – 8:00 PM, Green Space between Rekhi and Dow (Rain site: DHH Ballroom)
Wednesday, August 31
American Red Cross Blood Drive 10:00 AM – 4:00 PM, Library Reading Room
Snack Break 2:00 PM, MUB Circle (while supplies last)
S'Mores Social with the Sororities 8:00 PM, Prince's Point (Rain site: Wad's Annex)
Thursday, September 1
American Red Cross Blood Drive 10:00 AM – 4:00 PM, Library Reading Room
Fraternity Expo 12:00 PM – 5:00 PM, Campus Mall
Friday, September 2
Welcome Back Cookout with CDI 4:00 PM – 6:00 PM, Hamar House Lawn
Women's Soccer vs. Winona 7:00 PM, Sherman Field
Saturday, September 3
Football vs. Walsh 1:00 PM, Sherman Field
Comedian, Al Jackson, 8:00 PM, MUB Ballroom
Saturday, September 3 – Sunday, September 4
Saturday, September 3 – Monday, September 5