MICHIGAN TECH LODE
Featured Stories:
News: MTU Grad students present at Rhetoric Conference at Michigan State
Pulse: Cardboard boat race: Overview and Results
Opinion: Debate: Should eSports be considered and actual sport?
Sports: Extra point costs Huskies homecoming win
Please take a moment to fill out this SURVEY.
This survey is designed to gather information on the efficacy of various teaching methods and to identify students who would be interested in participating in a focus group with the express purpose of improving instructional quality at Michigan Tech.
---
STUDENT ORGANIZATIONS:
Re-Registration is DUE TODAY, October 7 by 5:00 p.m.
Each organization is REQUIRED to re-register their student org each Fall semester. You risk losing valuable benefits if you do not meet this requirement by the due date. If you did not receive your re-registration paperwork in your mailbox in MUB 106 you can get a copy from Student Activities in MUB 112 between the hours of 8-5 Monday – Friday.
If you have questions please call 906-487-1963, or email rso@mtu.edu.
---
ENTERTAINMENT & ENRICHMENT

Iranian Cuisine at Friday's Khana Khazana
This week's Khana Khazana at the Memorial Union North Coast Grill and Deli Friday features a menu from Iran.
The menu features:
Chicken Kebab—Seasoned chicken on skewers
Aush—Noodle soup with yogurt
Samosa—Deep fried cones with savory filling
Serving is from 11 a.m. to 1 p.m. Friday. The cost is $7.95 and includes a fountain beverage.
---

Make a Difference Day 2016 Registration Open
Make a Difference Day is the most encompassing national day of helping others – a celebration of neighbors helping neighbors. Everyone can participate.
Join hundreds from the Michigan Tech community as they provide service to local community members and organizations in need on Saturday, October 22 from 9am-1pm.
Interested in volunteering and making a difference in the local community? Sign up HERE .  Share with your organization and sign up as a group!
FREE T-SHIRT for volunteers!
This event is hosted by Student Activities. For more information please contact 906-487-1963.
---
Grammy Winner Dr. Jerry Blackstone Guest Conducts Honors Choir Festival
Please join us next Saturday for a concert that contemplates the forces of nature and weather in its many forms; springtime, a thunderstorm, a prairie fire, and the Schoolchildren's Blizzard of 1888. The Choirs of Michigan Tech and Keweenaw Symphony Orchestra welcome singers from Northern Michigan University and Upper Peninsula High Schools to perform Ēriks Ešenvalds' Whispers on the Prairie Wind, under the direction of Dr. Jerry Blackstone, the Grammy Award winning Director of Choral Activities at the University of Michigan. The KSO will also present Beethoven's Symphony no.6 in F Major (Pastoral), conducted by Dr. Jared Anderson. The Department of Visual and Performing Arts presents "Honors Choir Festival" on Saturday, October 8, at 7:30 PM in the Rozsa Center for the Performing Arts.
Tickets are on sale now, $19 for adults, $6 for youth, and no charge for Michigan Tech students with the Experience Tech fee. Tickets are available by phone at (906) 487-2073, online at Rozsa.mtu.edu, in person at the Central Ticketing Office in the Student Development Complex, or at the Calumet TheatreBox Office.
---
Pride Week Events 10/10-16
Monday, 11 AM – 2 PM, Husky Statue:
"Pledge to be an Ally" sign a pledge to show your support for the LGBTQAI+ Community at Michigan Tech.
Tuesday 6 PM, Canturbury House:
TED Talk at Canterbury House relating to LGBTQAI+ Culture. Discussion to follow.
Wednesday, 7 PM in Fisher 132:
KP Movie, Paris is Burning, and Discussion. Join Keweenaw Pride for a movie to learn about Drag Queen & King culture and discuss the history and how drag is portrayed in media. Discussion to follow.
Thursday:
"Drag Queen GO" If you want to be the very best like no one ever was, go and find some Queens! Take selfies with the posters of the queens around campus, and send it to the KP exec email kpexec-l@mtu.edu, to win a prize, non-KP members win a free ticket to the drag show and KP members win a reserved seat in the front row.
Friday, 11 AM – 1 PM, Center for Diversity and Inclusion (Hamar House):
Try out some "Identity Cupcakes". Come have gourmet cupcakes and learn more about less-known LGBTQAI+ Identities!
Saturday, 8 PM, Rozsa:
17th Annual Drag Show. Join Keweenaw Pride with our lovely host Joey Black, and queens Mercedes Benzova, Jackie Roberts, Harmony Breeze, Nova D'Vine, and Cass Marie Domino, and king Justin Case.
Sunday, 11 AM, Canterbury:
Brunch with the Queens. Come meet the queens without all the makeup.
ALL WEEK LONG:
Stop by the Van Pelt and Opie Library to view our brand new "History of Pride Exhibit"
---
Pow Wow Saturday 10/8, SDC/Wood Gym
The American Indian Science and Engineering Society (AISES) is hosting The Binaakwe-Giizis (Falling Leaves Moon) Powwow on October 8th 2016 with two grand entries at 2 and 7PM! Admission is free and open to the public. Come Join AISES for an evening of Native American dancing, singing and drumming.
For more information please contact Aurora White at auroraw@mtu.edu.
---
CAMPUS NEWS
Vaccine Clinics on Campus
UP Health System-Portage will offer meningitis and flu vaccine clinics on Michigan Tech's campus this fall.
The quadrivalent flu vaccine is by injection at a cost of $40 payable at the time of service. Cash, check or credit card will be accepted.
Students with Michigan Tech's United Health Care (UHC) student health plan can have their flu vaccine billed to insurance with their UHC member ID card.
The meningitis vaccine is by injection at a cost of $159 with a flu shot or $199 without. Payment is expected at the time of service and will not be billed to insurance. Receipts will be provided and individuals can submit these to insurances to see if they'll be reimbursed. In order to receive the meningitis vaccine during one of the clinic dates below, you must schedule an appointment by emailing Whitney Boroski.
The dates of the clinics are:
Oct. 19, 11 a.m. – 3 p.m., MUB Ballroom
Oct. 26, 4 – 6 p.m., Memorial Union Alumni Lounge
Nov. 1, 11 a.m. – 1 p.m., Memorial Union Alumni Lounge
Nov. 2, 4 – 6 p.m., Memorial Union Alumni Lounge
Anyone under the age of 18 cannot be vaccinated without parental permission. A spouse and/or child may attend without the employee.
---

Sexual Violence Support Group for Students
T.E.A.L (To Empower And Liberate) is a group that provides support to Michigan Tech Students who have experienced sexual violence including childhood sexual abuse.
This group provides support to individuals of recent or past sexual violence in a safe, non-judgmental group. Individuals might know the person that committed the violence or it could be a stranger to them. Either way with the help of our group individuals can find understanding and help by sharing their struggles and triumphs with one another and begin to put their lives back together.
T.E.A.L offers a support group that meets every other Thursday from 3:00 pm to 4:00 pm starting on 10/13/16. Through discussion, support and education we can help one another. (Location of the meeting is undisclosed – interested students would need to please contact Peggy at psullivan@dialhelp.org)
Please call Dial Help Inc. at 1-800-562-7622, text 906-35(NEEDS) or email psullivan@dialhelp.org for more information.
---

Today is PLAIDURDAY
Stop by the Campus Store (Memorial Union Bldg.) this Plaidurday dressed in plaid, and take a selfie with one of our staff members or in front of our wall of plaid! Tag us, the Campus Store, on social media and use the hashtag #plaidurday.
Wear plaid and receive 25% off your total purchase of Tech apparel at University Images and the Campus Store.
ALSO – We will be picking the most creative Plaidurday costume to receive a free Tech hoodie! Let's make this Plaidurday the best one yet! Happy Plaiding!!
Your Campus Store and University Images staff thank your for your patronage!
---
CAREER SERVICES

Tuesday, October 11 | 12:10 PM – 12:50 PM
OR
Wednesday, October 12 | 12:10 PM – 12:50 PM 
---
MEETINGS & INFO SESSIONS
Last Chance to Register for Leadership Series, P3
Registration will close TODAY, October 7 at 3:00 p.m. 
P3 will include:
 TJ Sullivan, the event's keynote and a nationally recognized college leadership speaker.
A wide variety of conference sessions relating to leadership, success, student organization involvement, and healthy self management.
Excellent opportunities to engage with other students with a variety of backgrounds and experiences
This event is offered at no cost to students and lunch will be provided.

D80 Conference Registration is Now Open
Conference will be Saturday, Oct. 22nd in the MUB Ballroom
Register @ http://bit.ly/2doN7ji
The D80 Conference is a dialog and celebration of our efforts to solve issues that confront the world's poorest 80%. The theme this year is Connect, Collaborate, Create, and the featured keynote speaker is Grace Hsia, Co-founder and CEO of Warmilu.
For more information, please visit mtu.edu/honors/D80-conference.
---
Info sessions for our Custom Pathway Experiential Learning Community
The Pavlis Honors College is hosting two upcoming info sessions for our Custom Pathway Experiential Learning Community. Custom Pathway is a distinct option in the Honors College that allows students to customize program components to align with their own interests and goals.
Custom Pathway Info Session
Tuesday, October 11th, 4-5pm
Wads Café Annex
Cookies and light refreshments will be served.
The Pavlis Honors College is now accepting applications to all three of its experiential learning communities. To learn more about our programs and how to apply, please visit our website @ mtu.edu/honors and click on Experiential Learning Communities.
---
Information Session on BS in Management and Concentrations
Consider attending the information session on the Bachelor of Science degree in Management and Concentrations in Entrepreneurship & Supply Chain and Operations Management
Information Session on BS in Management.
"Our courses provide hands-on learning with real-life applications.  You will have the opportunity to work with companies before you graduate." –Dana Johnson, Professor, Supply Chain and Engineering Management
Great degree for those who have an interest in working with people and other business disciplines
Learn more about Management concentrations in Entrepreneurship & Supply Chain and Operations Management and the Management degree program
Learn about career opportunities
WHEN and WHERE: Wednesday, October 12, 2016, 4:00 pm, 101 Academic Offices Building
Pizza and pop provided.
QUESTIONS: Contact Dana Johnson, PhD dana@mtu.edu; Jodie Filpus-Paakolajrfilpus@mtu.edu
---
Peace Corps Prep Information Session
Monday, October 10, 4- 5 p.m.
Cherry Room Wads 138W
Join us to learn about Peace Corps Prep, a new undergraduate program at Michigan Tech to prepare students for future Peace Corps service or similar experiences.  This program is an official partnership of the U.S. Peace Corps and a Pavlis Honors College Experiential Learning Community.  Students who complete the program earn recognition from the Peace Corps and Michigan Tech's Pavlis Honors College.
For more information please contact Kari Henquist at kbhenqui@mtu.edu
---
SPORTS & WELLNESS

Upcoming Intramural Events
Entry Deadlines
3-on-3 Basketball: Friday, October 7 @ 8:00 am
– Season begins on October 16th
Disc Golf Singles: Friday October 7th @ 10:00 am
– Tournament on Saturday, October 8th @ 10:30 am
Ice Hockey: Tuesday, October 18 @ 8:00 am
– Season begins on October 24th
Turkey Trot: Thursday, October 20 @ 12:00 Noon
– Race will take place on Thursday, October 20 @ 4:30 pm
Tennis Singles: Friday, October 21 @ 8:00 am
– Tournament Starts on Friday, October 21 @ 6:00 pm
Racquetball Doubles: Friday, October 21 @ Noon
– Tournament starts October 23rd
Register your team at www.imleagues.com/MTU
For more information: E-mail imsports@mtu.edu
---
Lifeguard Training
Earn your American Red Cross Certification in this 7-day training course located at the Michigan Tech SDC Pool. Certification includes Lifeguard and CPR certification and all training materials. All participants must be 15 years of age or older by class start date (documentation required), be able to swim 300 yards without stopping and tread water with legs only for 2 minutes. Class size is limited.
Dates: October 17 – November 9
Location: SDC Room 237 & Pool
Cost: $250
Deadline to Register: October 10
Class will meet the following dates/times:
October 17: Classroom 6:00-9:00 p.m., Pool 8:00-10:00 p.m.
October 19: Classroom 6:00-9:00 p.m., Pool 8:00-10:00 p.m.
October 24: Classroom 6:00-9:00 p.m., Pool 8:00-10:00 p.m.
October 26: Classroom 6:00-9:00 p.m., Pool 8:00-10:00 p.m.
October 31: Classroom 6:00-9:00 p.m., Pool 8:00-10:00 p.m.
November 2: Classroom 6:00-9:00 p.m., Pool 8:00-10:00 p.m.
November 7: Classroom 6:00-9:00 p.m., Pool 8:00-10:00 p.m.
November 9: Pool 6:00-9:00 p.m.
The Student Development Complex lap pool and dive tank are licensed by the State of Michigan and inspected by the Western U.P. District Health Department. Accordingly, the water is analyzed and the temperature is taken daily. The temperature fluctuates between 81-87 degrees and this will depend on the pool usage, outside temperature and water flow rate. The water is replenished automatically due to water lost through splash, backwashing of sand filters and evaporation. This new cool water intake will not be 81 degrees until it is well mixed into the existing pool water.
Registration and payment can be completed online, by phone at 906-487-2073, or at the SDC Ticket Office.
*You'll receive an admission ticket to present to your instructor on the first day of class.
---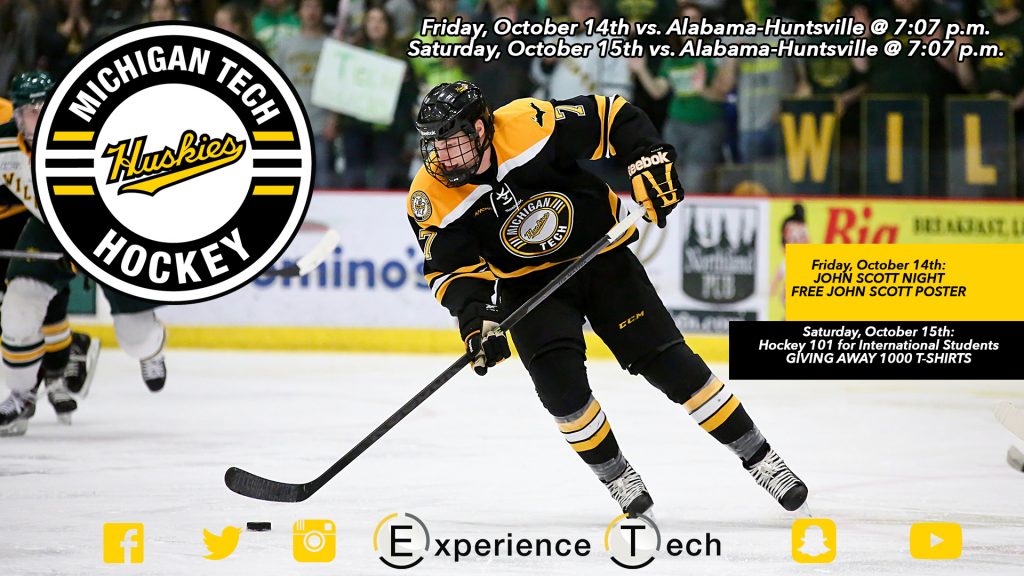 ---
 END
---