MICHIGAN TECH LODE NEWSPAPER
Featured Stories:
News: Climate Cafe takes on environmental issues
Pulse: Apply for LeaderShape
Opinion: Should the US use drones abroad?
Sports: As long as I have my loss and tie
---
ENTERTAINMENT & ENRICHMENT

Khana Khazana Serving Chinese Cuisine
This week at the Memorial Union North Coast Grill and Deli, we are featuring a menu from China.
The menu features:
Tomato and Stewed Brisket
Chinese Corn Salad
Garlic Eggplant
Serving is from 11 a.m. to 1 p.m. Friday. The cost is $7.95 and includes a fountain beverage.
---
Friday, Oct. 28 @5:30, 8:30, 11:30
Saturday, Oct. 29 @2:30, 5:30, 8:30, 11:30
Sunday, Oct. 30 @2:30, 5:30
Located on Michigan Tech's campus in Fisher 135. Tickets are $3 and concessions are $1 each.
Suicide Squad is rated PG-13 for sequences of violence and action throughout, disturbing behavior, suggestive content and language.
---

Pistol Club Hosting Spooky Shoot Event
The MTU Pistol club is holding a Spooky shoot Friday, Oct 28 at the pistol range located in the basement of the SDC. Participants are encouraged to dress up in their  Halloween costumes (without masks) and shoot at a variety of zombie, pumpkin and reactive targets.
All are welcome to participate. For more information email range-officers-l@mtu.edu.
---

MUB Board Hosting International Game Night, 11/3
Stop by the MUB Ballroom at 6 p.m. on Thursday, November 3 for some snacks and games with an international twist! Meet with our International Club to learn about their buddy system and check out all of the events MUB Board has going on this semester.
For more information contact Becca at reforsbe@mtu.edu.
---
Halloween Dance, 11/4
Come out for some Halloween fun on Friday, November 4 from 8:00 – 11:59 p.m. in the DHH Ballroom. There will be complimentary snacks and refreshments, games and a movie in the kitchenette and music in the ballroom.
Everyone is encouraged to be in costume.
This event is co-hosted by DHHC and the MUB Board. For more information please contact Becca at reforsbe@mtu.edu.
---
The Icarus Account Performing on Saturday, 11/5
Come listen to the acoustic stylings of twin brothers Ty and Trey, better known as The Icarus Account on Saturday, November 5 at 7 p.m. in the MUB Ballroom! Enjoy refreshments and a coffee house vibe in the new MUB Commons for an unforgettable evening.
Contact Becca at reforsbe@mtu.edu for more information or visit Involvement Links' events section.
---
Halloween Storytelling Social
The MTMC is getting haunted for a night of spooky stories on Monday, October 31 in Walker 107 at 5:00 p.m. Grab some candy and sip some hot cider during our open mic of scary stories from all over the world. All students and faculty are welcome. We would love to hear spooky tales from everyone, so we really encourage international students to share a story from their home countries.
For more information contact Rachel at rmhether@mtu.edu.
---
Trick or Treat for UNICEF Event
Join the sisters of Alpha Delta Alpha to Trick or Treat for UNICEF on Monday, October 31 from 5-6 p.m. Rides will leave from Wadsworth lobby at 4:55.
Contact Aspen for more information at aholmes@mtu.edu.
---
Caramel Apple Making Rush with Phi Delta Chi
Join in some fun Caramel Apple treat making with the sisters of Phi Delta Chi on Sunday, October 30 from 3-4 p.m. in the DHH Ballroom.
All female students are welcome to attend.
For more information contact Nicole at nehaughe@mtu.edu.
---
The 41 North Film Festival Returns to the Rozsa, November 3–6
From a family's unique intervention into the silent world of autism to six intrepid young entrepreneurs trying to make it in Detroit, the 41 North Film Festival offers human stories that engage, inform, inspire, and uplift. Over the course of four days, the festival will feature over 20 acclaimed films from around the world, as well as music, prizes, and other special events. The festival opens with the first film beginning at 5:00 PM Thursday, Nov. 3, and runs daily, with various show times, through the final film on Sundayevening concluding at 9:00 PM. Tickets are free, however donations to support the 41 North Film Festival are accepted. Film festival tickets are available by phone at (906) 487-2073, online at Rozsa.mtu.edu, in person at the Central Ticketing Office in the Student Development Complex, or the day of the event, one hour before show time, at the Rozsa Box Office.For more details, please see the attached press release. Several photos are also attached for your use, captions below.
41north_4.jpg – Pulitzer Prize-winner Ron Suskind will appear with Life, Animated at the 41 North Film Festival on November 4that the Rozsa Center for the Performing Arts.
41north_7.jpg – Poet and playwright Donté Clark from the film Romeo Is Bleeding, screening at the 41 North Film Festival on November 3rd.
41north_9.jpg – Afghan rapper and activist Sonita Alizadeh from Sundance winner SONITA, screening Saturday, 11/5, at 4:00 p.m.
---
CAMPUS NEWS
Course Material Survey Coming Next Week
Beginning the week of October 31, the Michigan Tech Campus Store will be participating in a nationwide survey regarding course materials, we'd like to hear your thoughts! The information collected is important to the Campus Store as we strive to provide the broadest course material options and most cost-conscious pricing through strategic partnerships, transparency, and industry awareness. In essence, you'll be helping steer the ship.
As a Michigan Tech student, you will be receiving an email which will include a link to the survey hosted by OnCampus Research. The survey should take roughly 20 minutes of your time. The Campus Store and OnCampus Research are offering financial incentives for your opinions and would greatly appreciate your participation! Be a part of a movement that includes 60 higher educational institutions and more than 41,000 students!
Thank you and be watching for the survey link in your email!
---

LeaderShape Applications Now Being Accepted
LeaderShape Institute applications are now OPEN!  LeaderShape 2017 will take place January 2-7 at the Ford Center in Alberta, Michigan.  Don't miss out on this awesome experience to improve your leadership skills while learning how to have a healthy disregard for the impossible!
To register and apply, please visit this link.
Applications close on Thursday, November 3 at 11:59 pm.
If you're interested in further information, check out our website. Send any questions to Jonathan Davey (jrdavey@mtu.edu).
---
MEETINGS & INFO SESSIONS
Alternative Spring Break in Memphis!
Come learn more about the Alternative Spring Break Trip to Memphis, TN at our casual info session on November 10 at 6 p.m. in DHH Center Lounge.
For more information contact Jonathan at jrdavey@mtu.edu or check out the website.
---
Making the Most of Mentorship Workshop
Learn how to build the best relationship with your mentor and make the most of your research experience. Workshop led by Steven Elmer and take place on Thursday, November 3 at 4 p.m. in Fisher 132.
Contact Amy at akaragia@mtu.edu for more information.
---
MTMC Flow Train Presentation
The MTMC will be offering a presentation exploring methods of writing smoothly on November 10 at 1pm. All students are welcome to attend.
Contact Rachel at rmhether@mtu.edu.
---
Trick or Treat from the Campus Bookstore
Stop by the campus store on Halloween- Monday, October 31st and receive a 31% discount, on one apparel item or souvenir, if you are dressed in FULL costume. No costume? No Problem! You can still stop by and grab some candy, on us!
---
CAREER SERVICES


Husky Talks
Guide to Using LinkedIn for Your Job Search
Networking remains the most effective way to obtain a job, and LinkedIn is all about networking. Learn how to utilize this powerful networking platform in your job search.
Tuesday November 1 | 12:10 PM – 12:50 PM
OR
Wednesday November 2 | 12:10 PM – 12:50 PM
Graduating Senior Series
Part 2: Handling Personal Finances
A new job does not mean you won the lottery. Learn how to make the most of your personal finances.
Thursday November 3 | 12:00 PM – 1:00 PM
41 North Film Festival
Life Animated
The inspirational story of Owen Suskind, a young man who was unable to speak as a child until he and his family discovered a unique way to communicate by immersing themselves in the world of classic Disney animated films.
Friday November 4 | 7:30 PM | 89 Min
---
SPORTS & WELLNESS
Michigan Tech Huskies Sports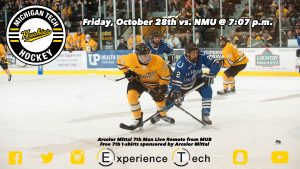 ---
COMMUNITY
Seeking Mentors for Local 8th Grade Students
TRIO Talent Search, a community investment program, is looking for current college students who want to make in impact on the community and assist students make connections between school and post-secondary goals through mentoring/tutoring.
Starting in the 2016-17 Academic Year, TRIO Talent Search will be running an 8th grade Mentoring/tutoring program for participants, featuring college students.  Time commitment range, with a minimum of 2-3 volunteer hours/month.
Potential volunteers must be enrolled in a local university, in good academic standing, of reputable character and willing to commit to the academic year. Volunteers will also need to complete a short training session and sign a volunteer and confidentiality agreement before meeting with TRIO Talent Search students.  Successful mentors will have open conversations about college, help with homework, and encourage students to work towards academic and personal goals.
Please contact Kailee Laplander (kailee.laplander@finlandia.edu) for additional information or to sign up. More information can also be found at http://www.keweenawtrio.org/ts-mentoring/
---
 END