Homecoming Registration is now open! 
The theme this year is Harry Potter! Let the magic begin!
 Homecoming Court Registration:
Register HERE
Registration closes October 6 at NOON. 
 Homecoming Team Registration:
Register HERE
Registration closes October 10 at 5:00 PM. 
 Please note that if a group wishes to only participate in cardboard boats, they must sign up under Team Registration. 
 Please send any questions to Rochelle at raspence@mtu.edu.
---
Grad Students Bus Service
The University has paired with Lamers Bus Lines to provide free bus service on Saturday, Sep 30th from Daniell Heights to the MUB and the west Houghton commercial district, starts noon from the Upper Heights to the west Houghton commercial district approximately every hour with the last loop out at 4pm. If you are bringing children on the bus under the age of 4, please make sure you would fill the form  by Thursday.
---
Last day to register for the 11th Annual D80 Conference
The D80 Conference is a dialog and celebration of our efforts to solve issues that confront the world's poorest 80%. The Michigan Tech campus hosts this annual conference in the fall every year to give a platform to the voices of university students serving communities in need, both domestically and abroad. Our conferences highlight service and research work done by students from Michigan Tech and elsewhere, and are open to anybody interested in development, design, and discovery for the poorest 80% of humanity. The public is always welcome.
The theme for the annual D80 Conference is Connect, Collaborate, Create! We are very excited to welcome Cathy Leslie, Executive Director of Engineers Without Borders-USA, as our featured keynote speaker.
The 2017 conference will be held Saturday, Oct. 14th in the U. J. Noblet Forestry Atrium. Registration is now open. More information regarding the conference and registration can be found at mtu.edu/honors/D80/conference. The deadline to register for D80 is Friday, September 29th.
Students involved in community service domestically and abroad are encouraged to register to present and/or facilitate a workshop at the conference. If you have any questions, please email honors@mtu.edu.
This year's conference is sponsored by Michigan Tech's D80 Center, the Sustainable Futures Institute, and the Pavlis Honors College.
---
Plaidurday is Friday, October 6th
Fall is officially here and that means that Plaidurday is approaching FAST!
This year, Plaidurday falls on Friday, October 6th.
The Campus Store and University Images are ready to celebrate and make the most of Plaidurday 2017 by dressing for the occasion in our finest plaid attire.
We want to see YOU in your most creative Plaidurday ensemble!
Stop by the Campus Store or University Images dressed in plaid this Plaidurday and receive 25% off your total purchase of Tech apparel at University Images and the Campus Store.
Don't Forget!!!  Take a selfie somewhere inside the store or with a staff member. Tag us, the Campus Store, on social media and make sure you use the hashtag #plaidurday
We will be picking the MOST creative Plaidurday Costume to receive a free Michigan Tech hoodie.
 Let's make this Plaidurday the best one yet! Happy Plaiding!!
Your Campus Store and University Images staff thank your for your patronage!
---
Pistol Club Open Shoot
Due to the range at the SDC being temporarily closed, MTU Pistol Club is temporarily operating at the Portage Lake Sportsman Club. Because of this, we have to limit the number of people to 40 per day due to transportation. We are experimenting with this operation but currently we will work on a first come first serve basis. 
 We are required to provide tech insured transportation via a shuttle. The shuttle will be located at the lot behind OAP by Public Safety. and will run about every 30 minutes from 4-7 pm this Friday, and 1-4 on our Saturday and Sunday events with a final returning van at 8 and five respectively 
 We are operating on the following days
FRIDAY September 29 4-8
Saturday October 7 1-5
Sunday October 15 1.5
Saturday October 21 1-5
Sunday October 29 1-5
 We are unable to transport firearms in Tech Vehicles so if you would like to bring your own fire arm please come before the first shuttle and we will transport your firearm in an range safety officers  vehicle. If you are not comfortable with that then we encourage you to purchase a year long membership at Portage Lake Sportsman Club. For our event we will only allow pistols and .22 rifles.
 If you want to bring a personal firearm, you must preregister as only one vehicle will be bringing firearms out there once each way. 
 All personal vehicles must be left at the library as the pick up spot is for public safety only. 
 For those of you who are interested at getting a membership, their yearly student membership fee is only $30 if paid in cash and $32 if paid through Pay Pal. 
 Here is a link for membership at Portage Lake Sportsman Club if you are interested: 
              http://www.portagelakeclub.org/membership.html 
 Please tell your friends to sign up as well. We will make sure your time is well spent! Also make sure to bring CASH for ammo and a $6 transportation/PLSC fee. We can not accept credit. 
 Because we are not hosting at our regular MTU range, there will be no membership fee for pistol club this semester. 
 Contact austinsm@mtu.edu if you have any questions. 
---
Information Session on BS in Engineering Management
Consider attending the information session on the Bachelor of Science degree in Engineering Management. This is one of the Crazy, hot majors at Michigan Tech.
Great degree for those who have an interest in both the technical and business sides of a company
Option for primary or dual degree (MEEM, MET, Civil Eng, Materials Eng, and others with approximately 33-42 credits more)
Fastest growing major in the School of Business and Economics
Increased interest by employers coming to the Career Fair
Participate to learn more about the BSEM even if you have declared it as a major
WHEN: Wednesday, October 4, 4 pm
WHERE: 101 Academic Offices Building
QUESTIONS: Contact Dana Johnson, PhD dana@mtu.edu; Jodie Filpus-Paakola jrfilpus@mtu.edu
---
Music-O-Rama: Celebrating Musical Variety at Michigan Tech
Please join us for Music-O-Rama, an annual musical variety concert, celebrating the diversity, history, and variety of music at Michigan Tech. Performers from all of the major Michigan Tech music ensembles:  Jazz Lab Band, Superior Wind Symphony, Keweenaw Symphony Orchestra, conScience: Michigan Tech Chamber Singers, Michigan Tech Concert Choir, and AstroSax; will appear throughout the hall, playing music from around the globe:  From America to  Latvia, France to Mexico, Brazil to Italy. The concert will begin on a patriotic note with Igor Stravinsky's arrangement of The Star Spangled Banner, for band and choir. Then enjoy more band and folk music selections including Yankee Doodle, Old Man River, and a Brazilian folk song, Samba-lelê, to stir memories and evoke bygone days. The Department of Visual and Performing Arts presents Music-O-Rama on Saturday, September 30, at 7:30 PM in the Rozsa Center.
According to Jared Anderson, Chair of the Visual and Performing Arts Department and Director of Choral Activities, "This concert features performances from all of the auditioned music ensembles at Michigan Tech and shows how talented our students are.  Music-o-rama has become an audience favorite for the past number of years for its fast pace and varied repertoire.  I know that the audience will love the show." There will be something for every musical taste, with composers including Igor Stravinsky, Darius Milhaud, Irving Berlin, Jerome Kern, Ottorino Respighi, and Arturo Márquez.  The concert will end with the Superior Wind Symphony and the Keweenaw Symphony Orchestra combining for a performance of "The Pines of the Appian Way" from Respighi's Pines of Rome.
Tickets are on sale now, $13 for adults, $5 for youth,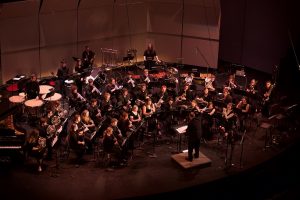 and no charge for Michigan Tech students with the Experience Tech fee. Tickets are available by phone at (906) 487-2073, online at mtu.edu/rozsa, in person at the Central Ticketing Office in the Student Development Complex, or the night of the show at the Rozsa Box Office, which opens two hours prior to performances.
Michigan Technological University is an Equal Opportunity Educational Institution/Equal Opportunity Employer, which includes providing equal opportunity for protected veterans and individuals with disability.
MEDIA CONTACTS:
Bethany Jones
906-487-2420
Jared Anderson
(906) 487- 2143
---
Applications for the Pavlis Honors College Open October 1st
The Pavlis Honors College will begin accepting applications for Spring 2018 starting October 1st. Students are eligible to apply to join the Learning Community if they have 2 1/2 or more years remaining on campus. PHC's Learning Community offers 6 distinct pathways on which students may build their honors program: Global Leadership, Peace Corps Prep, Research Scholars, Enhanced Enterprise Experience (E3 ), New Venture, and Custom Pathway. Each of these pathways provides a framework of support, exceptional resources and a community of scholars for students interested in challenging themselves, doing more and making a difference.
The Pavlis Honors College Ambassadors will be holding an info session in the PHC Collaboration Space (M&M 722) on Thursday, October 5th at 7:30pm. Do you have questions about the Pavlis Honors College? Are you confused about the application process? Are you a pre-admission student with questions about which pathway is right for you? Submit your questions through this form, and the Honors Ambassadors will answer them at the upcoming info session.
---
IM-REC SERVICES
Entry Deadlines
Flag Football: Friday, September 29 @ 8:00 am
Co-Rec Water Polo: Friday, October 7 @ 8:00 am
Disc Golf Doubles: September 6 @ Noon
Tournament on Saturday, October 7 @ 10:00 am
Homecoming Kickball: Wednesday, October 11 @ Noon
3-on-3 Basketball League: Friday, October 13 @ 8:00 am
Turkey Trot: Tuesday, October 17 @ 3:00 PM
Race will take place on Thursday, October 19th @ 4:30 pm
Ice Hockey registration begins on Monday, October 2
Register your team at www.imleagues.com/MTU
– For more information:  E-mail imsports@mtu.edu
---
STUDENT COMMISSION
Ever notice something about Michigan Tech that could be improved?  Have you had a great idea that would have a positive effect on other students?
If yes, you are invited and encouraged to join us at the Student Commission meetings.  We look to break down the barriers that impede student's success, and to improve Michigan Tech's campus environment.
You'll get the chance to have your ideas heard by staff, faculty, university officials, and most importantly other students.  We work together to act on your idea and make changes.  Past accomplishments of the Student Commission include:
Skate Board/Long Board Racks
Water Bottle Filler Stations
Prince's Point Rehab
Upper Daniell Heights Printer
Reflectors
Bus Stop Schedules
Promotion of Husky Food Access Network (Husky FAN)
Promotion of Maintenance Direct Work Order
Value Statement
Relocation of Broomball Rinks
Designated Memorial Garden
Experience Tech Fee Initiative
 Anyone is welcome to attend upcoming meetings.
Please check out the Student Commission website for more information. http://www.mtu.edu/student-affairs/administration/vp/committees/student-commission/
2017 Fall Meeting Dates
Thursday, September 14, 2017, 2:00 pm, MUB, Ballroom B3
Thursday, September 28, 2017, 2:00 p.m., Admin 404
Thursday, October 12, 2017, 2:00 p.m., MUB, Ballroom A1
Thursday, October 26, 2017, 2:00 p.m., MUB, Ballroom A1
Thursday, November 9, 2017, 2:00 p.m., MUB, Ballroom A1
Thursday, December 14, 2017, 2:00 p.m., Admin 404
---

Look for these signs around campus and submit your feedback for a chance to win a free coffee!
---
Cap, Gown, & Ticket Ordering Now Open
 Request commencement tickets and place your cap & gown order now. Review cap & gown pricing, ordering deadline, Michigan Tech cap & gown policies and commencement information prior to ordering.
 Visit http://www.bookstore.mtu.edu/michtech/  
 Please contact capandgown@mtu.edu with any questions.
---
Help Hurricane and Earthquake Victims
Many of us are distressed about the recent hurricanes and earthquakes across North and Central America. To encourage people to donate funds to agencies that are helping people recover, Mayra Sanchez Morgan, Molly Cavaleri, and Kathy Halvorsen are issuing a challenge to all Michigan Tech schools, student organization, and departments from the A.E. Seaman Mineral Museum to the William G. Jackson Center for Teaching and Learning.
The Michigan Tech group, school, or department that gives the highest total of combined individual donations by October 15th at 5:00 pm EDT to help in regional disaster response will receive a free La Cantina Restaurant lunch for all their donors on campus.
To report your donation and group, school, or department affiliation to which it should be credited please follow this link: https://www.surveymonkey.com/r/HK39BVB You can only use the link once. If you already donated, please just report your prior donation.
We will announce in Tech Today which department won – thank you in advance for your generosity.
We recommend the following organizations for donations but will count contributions to any disaster relief organization working to help people in the above region recover from this year's earthquakes and hurricanes.
American Red Cross https://www.redcross.org/donate/donation – please designate your donation for "disaster relief."
Project Peace Latin America/Proyecto Paz http://bit.ly/2wZrBWD
UNICEF https://www.unicefusa.org/ – Copy and paste the link into your browser and you can navigate to donating for Puerto Rican hurricane relief or Mexican earthquake relief.
United for Puerto Rico http://prfaa.pr.gov/unitedforpuertorico/
---
Touchdown Monday at Campus Store & University Images
Monday, October 2nd, is Touchdown Monday at the Campus Store and University Images. Receive five percent (up to 25%) off apparel and souvenirs for each Husky touchdown. Discounts will be automatically given in store and online, some exclusions will apply.
Thank you for your patronage from the Campus Store and University Images!
---
PUSH Physical Theatre
"It's untheatre. Intense athleticism, gravity-defying acrobatics,and soulful artistry – award-winning PUSH Physical Theatre, the genre-defining masters of physical storytelling, express what it means to be human: the joy and sorrow, humor and tragedy, the big questions and the simple things."
 In an appropriately dark celebration of Halloween, the Ro
zsa Center is bringing Push Physical Theatre's production of Dracula to Houghton on October 21, at 7:30 PM. Attached is their press kit which gives a little more background on the ensemble. I will forward more details in a full press release about Dracula in the upcoming weeks, but wanted to send an advance teaser now that we have begun our general publicity for the show. Please contact me for more information or to arrange interviews.
 Here is a video from the show:
[youtube]https://www.youtube.com/watch?v=B4oQHue22c4[/youtube]
---
Faculty Present Listening to Parks, an NEA Imagine Your Parks Project
What do you hear when you walk in the woods? What are the natural sounds and rythms of the forest? The lakes? The skies? Christopher Plummer, Elizabeth Meyer, and Kent Cyr, faculty members in the Visual and Performing Arts Department of Michigan Tech, opened a multimedia and soundscape installation at the Duluth Children's Museum this week, on Monday, September 25, 2017, in Duluth, MN, as a part of their "Listening to Parks" project, to explore those questions. The exhibit will be on display through October 15. The National Endowment for the Arts (NEA) and the National Park Service (NPS) announced $1,067,500 in support of 50 grants in 27 states, including an award of $20,000 to Michigan Technological University to support Listening to Parks, an Imagine Your Parks project. Visual and sound artists collaborated to create an immersive multimedia installation based on collected images, video, and audio recordings from the Keweenaw National Historic Park, Isle Royale National Park, and the Apostle Islands National Lakeshore. The installation will tour to sites in the Upper Peninsula region of Michigan, and then will culminate in an exhibition in the Rozsa Gallery A-Space, at the Rozsa Center for the Performing Arts in December. There will be an opening reception on Friday, December 2 from 5:00 -6:30 PM, which is free and open to the public. Gallery hours are M-F 8:00 AM – 8:00 PM and 1:00 PM – 8:00 PM on Fridays. The recorded sounds from this project will also be used for a composition for orchestra by Libby Meyer to be performed by the Keweenaw Symphony Orchestra at the Rozsa Center on Saturday, December 9 at 7:30 PM.
NEA Chairman Jane Chu says "As part of the NEA's 50th anniversary, this year we are celebrating the magnificence of America's national cultural treasures through art, the Imagine Your Parks grant program unites our mission with the National Park Service by connecting art projects with the natural, historic and cultural settings of the National Park System and will inspire a new generation to
discover these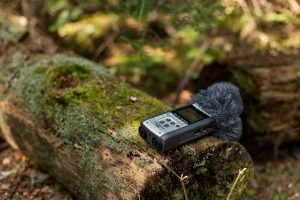 special places and experience our great heritage."  "The 'Imagine Your Parks' grants are really helping us celebrate the NPS Centennial and the NEA's 50th Anniversary with some incredibly diverse and interesting projects that continue to inspire more Americans of all backgrounds to connect with their national parks," said National Park Service Director Jonathan B. Jarvis. "The grants already awarded are already demonstrating the success of the program through a variety of inspiring projects. A new generation of artists is connecting to national parks through their work, and motivating others to do the same."
According to Dr. Jared Anderson, Chair, Department of Visual and Performing Arts, "I am very proud to announce that Christopher Plummer, Elizabeth Meyer, and Kent Cyr, faculty members in the Visual and Performing Arts Department of Michigan Tech, received the first-ever award for Michigan Tech from the National Endowment for the Arts, a grant from the National Endowment for the Arts and the National Parks Service as a part of the "Imagine your Parks" initiative.  This project will consist of gathering soundscape recordings from Isle Royale National Park and other National Parks in this region.  The recorded sounds will then be used for a composition for orchestra by Libby Meyer to be performed by the Keweenaw Symphony Orchestra.  The sounds will also be integrated into a traveling multi-media art installation that will be presented at various park visitors centers and the Rozsa Center for the Performing Arts in 2017."
Please visit the Listening to Parks website for more details.   Follow "Imagine Your Parks" on Twitter @NEAarts and @NatlParkService, #ImagineYourParks #NEASpring16.
---
Afrobeat Fitness
Want to try something different? Join Afrobeat Fitness instructor Stephanie Saturdays from 12 to 12:50 pm in th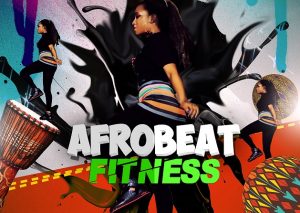 e SDC Studio! This class will leave you feeling successful regardless of your fitness level. Afrobeat Fitness is an energetic dance class associated with West African musical styles (Afrobeat) to create an exciting routine and a great cardio workout.
For more class information, visit Afrobeat Fitness.
---
Artist Exhibit at the Rozsa
Who owns the wind? The leaves on the trees? When a paper company cuts down a 75-year-old tree, or a landowner clears brush for a better view of the lake, how is an entire ecosystem affected? What ethical, cultural, and social questions are raised? Artist Katie Hargrave, a professor of art at the University of Tennessee, Chattanooga, who holds degrees in Painting, Intermedia, and Cultural Production, explores these questions in her exhibition, It's nothing personal (space), opening at the Rozsa Center's gallery A-Space, on Friday, September 22. "It's nothing personal (space)" is an exploration of the competing ideas of ownership and stewardship as they relate to public and private land, trees and deserts, and individual and corporate voices. Inspired by a road trip to the Malheur Wildlife Refuge, the site of militia protests during the winter of 2016, the exhibition includes fiber, audio, video, and drawings The September 22 opening includes a reception with the artist from 5:00 PM – 6:30 PM. Hargrave will discuss her work at 5:30 PM. The reception and exhibit are free and open to the public, and the show will remain open through November 11. Gallery hours are M – F 8:00 AM – 8:00 PM, and Saturdays from 1:00 PM – 8:00 PM.
Katie Hargrave, who was born in 1985 in Chicago and now resides in Chattanooga, TN, received a BFA from the University of Illinois, an MFA in Intermedia and Drawing from the University of Iowa, and an MA in museum studies and anthropology from Brandeis University. Her work has been shown at DIY spaces, commercial galleries, non-profits, and festivals, including the Manifesta Biennial in Murcia, Spain where she worked with activists to design bilingual tools for direct action; SPACES gallery in Cleveland, where she applied the framework of forest succession to city planning, and the Floating Library, a zine[1] collection on a boat in the Minneapolis lakes. Hargrave is a member of the collaborative groups "The Think Tank that has yet to be named" and "Like Riding a Bicycle." For more information about Hargrave, please visit her website at http://www.katiehargrave.us/
For more information please contact A-Space gallery director Lisa Gordillo, Assistant Professor, Visual and Performing Arts, 906-487-3096, gordillo@mtu.edu.
---
There's still time to get your HuskieFit Ultimate Session Punch Card!
Good for fall semester, expires December 22, 2017.
---