---
Nominations Open for Undergraduate Student Government Positions
Nominations are now open for USG Executive Board and At-Large representatives. Students are encouraged to nominate themselves or fellow students that would represent these positions well.
Nominating someone is quick and easy – simply paste the link below into your address bar and fill out the form. A description of each position is provided in the Google Form.
Executive Board and At-Large Representative Nomination:
https://docs.google.com/forms/d/e/1FAIpQLSciwwHy099yxx1bERg4tcQ_GzuZWo3TVWMuERzs9FgBuJgE0A/viewform?usp=sf_link
You will have until 11:59PM on February 21st, 2018 to make your nominations. For questions, contact Melanie Thomas, Undergraduate Student Government secretary, at usg-secretary@mtu.edu.
---
Campus Store During Career Fair
Are you ready for the 2018 Michigan Tech Career Fair? Visit us at the Campus Store for resume paper, padfolios, and check out our great selection of men's and women's career apparel. We have a new selection of shirts, pants, ties, belts, and more to help complete your polished ensemble. We want to see YOU succeed! Show visiting companies and recruiters what you're made of, and let us help you look your best! From all of us at the Campus Store, keep smiling and best of luck to you in your search!
---
Safe Place Training This Sunday
This Sunday, February 18th, there will be a students only Safe Place Ally Training. For more information visit: https://www.mtu.edu/safeplace/about/register/index.html
For any questions please contact Amy Howard, Campus Diversity Educator: alhoward@mtu.edu
---
OAP Staff Lead ASB Trip to Buffalo River, Arkansas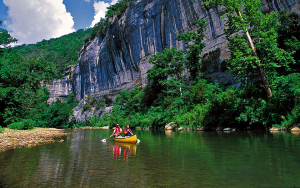 Come channel your inner Lewis and Clark and spend a week navigating the gorgeous Buffalo River in Arkansas. Spend spring break paddling through the wild Ozark Mountains, seeing dozens of waterfalls, and making killer memories with great people. Anyone will enjoy this trip, no experience necessary! 
The cost of the trip is $400. This includes transportation, food, camping permits, and canoe rentals! Stop by the OAP to sign up! The cutoff for registration is 2/28/18.
---
Exhibit "Always Room for Rain" Opens in the Rozsa Gallery

The Department of Visual and Performing Arts and the Rozsa Center are excited to announce the spring gallery exhibition, Always Room for Rain, featuring work by artists Ross Chaney (Santa Fe, NM) and Raquel Alvizures (Guatemala). The exhibit will run from February 16 through March 31, 2018. Gallery hours are M-F 8:00 AM – 8:00 PM and 1:00 – 8:00 PM on Saturdays. A reception with both artists will be held Friday March 2 at 5:00 PM – 6:30 PM. An artist talk will occur at 5:30 PM that evening.
---
Attention Student Orgs:
Please join the Student Philanthropy Council for Folding for Philanthropy in the MUB Commons on Tuesday February 27th from 7:00 – 8:00pm.  All registered student organizations are invited to participate with a team (3 member maximum).  There will be 3 rounds of 10 trivia questions about philanthropy at Michigan Tech. The paper airplanes you fold will be used to answer the questions, so start practicing! Prizes will be awarded for each round and a grand prize of
$500
for your student org.  To register or for more information please email Adam Portmann at
aportman@mtu.edu
.
---
Highlighting Your Enterprise Experience on Your Resume and to Recruiters
Join E.B. Mayer and Heather DeJong on Monday, February 19th from 4-5:30pm in M&M 722 as they discuss their experiences mentoring Enterprise teams and recruiting technical talent at various universities. They will also focus on areas of student Enterprise experience that are of particular interest to industry.
E.B. Mayer is an accomplished Agile and DevOps Information Technology transformation strategist and thought leader with over 15 years of experience across multiple industries and fortune 500 companies. Heather is an energetic and experienced IT and Operational leader recognized for developing talent, building strong teams, and driving results across a broad spectrum of capabilities.
This event is open to everyone on campus. Students enrolled in the Enterprise Program or considering joining an Enterprise team are encouraged to attend.
---
NEW! Buti Yoga
Join instructor Natasha for a new HuskiesFit adult group fitness class – Buti Yoga! Classes start soon! Try out Buti Yoga for only $2 at the February 23 & March 2 workshops! http://ow.ly/RTRX30inO9p #butiyoga #huskiesfit
---
Engineers Week Events
---
Course Material Survey starting

February 19

. 2018
Do you prefer e-books or print? How about rental versus purchase? Do you shop the Campus Store your course materials or elsewhere? We at the Campus Store want to know your thoughts. The information collected is important to the Campus Store as we strive to provide the broadest course material options and most cost-conscious pricing through strategic partnerships, transparency, and industry awareness. The survey should take roughly 20 minutes of your time. The Campus Store and OnCampus Research are offering financial incentives for your opinions and would greatly appreciate your participation! Check your email starting next week for the link!Thank you for your time from the Campus Store staff!
---
Donation Bin Information
If your student organization or department is collecting donations, Facilities Management must be notified of any donation bins being placed on campus. Bins may only be placed in approved locations, for a list of approved locations please click here.
Only one bin is allowed per building at a time. Bins are allowed on a first "notify" first serve basis, so please submit your information to us early.
Student organizations or departments are responsible for: -Notifying Facilities Management of bin placement at least 2 days prior to placing the bin -Periodically emptying the bins -Removing any donated items left outside of the bins -Removal of the bin on the date reported
Facilities Management will monitor the bins and notify the student organization or department contact if: -There is already a bin placed in the location you have requested during the same time period -Bins are full -Bins are located outside of the approved area -Donation items have been left outside of the bin -It is past the date that bin should have been removed
For additional information or to complete a "Donation Bin Notification Form" please click here.