New Semester Monday!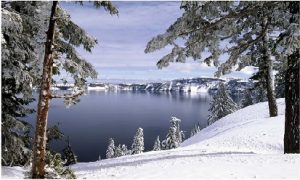 ---
Walkways Are Slippery
Drivers and walkers need to be mindful of each other. Please use caution when walking to campus or on campus. Drive with caution, keep lights on, keep your eyes on the road and off to the side to see any pedestrians on the sidewalks or crossing the road.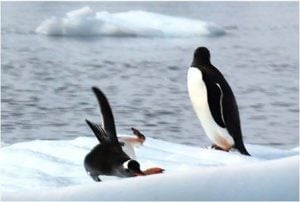 Drivers keep a look out for walkers!
Walkers keep an eye out for vehicles on the roads while you are walking!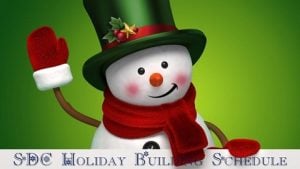 The SDC will observe reduced building hours during the holiday break, Now – January 12, 2019.
For more information, see the attached schedule or visit Holiday Building Hours.
This is a reminder that the SDC will resume regular hours beginning Sunday, January 13.
Visit SDC Building Hours for more information.
---
Textbooks For Spring Semester
Looking for textbooks? You can now order your books for the 2019 Spring semester online. Head to our website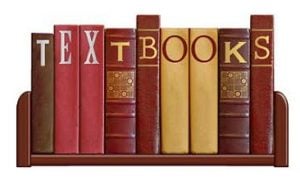 www.bookstore.mtu.edu to compare our prices with our competitors.
Select in-store pickup and your books will be waiting for you when you arrive!
---
Benefit for Little Brothers Friends of the Elderly
This year, the Rozsa Center, Michigan Tech's Dining Services, and Visual and Performing Arts Department, is hosting the second annual benefit in Ken Steiner's honor for his favorite charity: Little Brothers Friends of the Elderly, featuring good food, a cash bar, and once again a host of Ken's friends and former band mates making the music, on Friday, January 11 at 6:30 pm to 11:30 pm, in the Rozsa Center Lobby. Ticket prices are: $10/$20/$30/donation of your choice. 100% of ticket sales will be donated in Ken's name to Little Brothers Friends of the Elderly.
Musicians featured: Tom Katalin at 7:00 PM. Uncle Pete's All Star BBQ Blues Band at 8:15 PM. And, The Mike Christianson Quartet at 9:30 PM. Ticket prices are in a range of "donation levels," so that everyone who attends can support the fundraiser at a level they choose.
To purchase tickets, please call (906) 487-2073, go online at mtu.edu/rozsa, or visit Ticketing Operations at Michigan Tech's Student Development Complex (SDC). Tickets will also be available at the Rozsa Box office the evening of the benefit. The Rozsa Box Office opens two hours before event times.
---
Spring 2019 Dollar Days 
Commit to be HiskiesFit in 2019! Change up your workout or try a new class. Set some new fitness goals.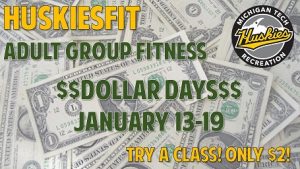 Several HuskiesFit Programs will offer classes for only $2 during 
Dollar Days
,
January 13 – 19
. This is a great chance for you to test the waters and see what we have to offer without breaking your budget!
Find what works for you and commit to be HuskiesFit in 2019!
---
Looking for a job on campus?
Come to the On Campus Student Employment Fair!
Talk with departments hiring both regular student employees and work study students. Various departments across campus will be there to meet with you such as Admissions, IT, Student Activities, etc.
What: On Campus Employment Fair – Open to both Federal Work Study students and regular on campus employment
When: January 16, 2019 from 12 pm – 2 pm
Where: East Reading Room, Library
Why: great job experience for your resume, flexible hours around your class schedule, and MONEY.
Please contact Emily Hoffmiller in the Student Financial Services Center if you have any additional questions, ejbuchmi@mtu.edu.
---
The Waino Wahtera Center for Student Success is Hiring for 2019-20!
Are you looking for leadership opportunities where you encourage the success of other Michigan Tech students?  Come join the staff of the Wahtera Center in the following positions:  OTL (Orientation Team Leader), ExSEL Peer Mentor, Academic Success Coach, and Success Course Peer Teaching Assistant.
To apply for any of these positions, you must attend one of the following info sessions to obtain an application.
Friday, January 18 at 4 p.m. in Fisher 138
Friday, January 18 at 5 p.m. in Fisher 138
If you have any questions, please email:  success@mtu.edu.
---
---
Festival of Concerts of Contemporary Music
Michigan Tech's Rozsa Center for the Performing Arts, Department of Visual and Performing Arts, and Libby Meyer, Lecturer, Visual and Performing Arts and Director, Music Composition Program, are pleased to present a festival series of three concerts of contemporary music written by composers either from or who have lived in the Upper Peninsula, featuring Massachusetts Institute of Technology (MIT) Composer and UP Native Elena Ruehr. There will be a Master Class presented by Dr. Ruehr on Saturday, January 19, at 3:00 pm in the McArdle Theatre, featuring a recital of music by student composers. The festival continues that evening with an intimate evening "Backstage" performance in the Rozsa Center at 7:30 pm, featuring the music of Evan Premo, Libby Meyer, Thomas LaVoy, Abbie Burt Betinis, Carrie Biolo, Patrick Booth, Christopher Plummer and featuring Elena Ruehr's Third String Quartet. The final concert of the festival will take place on Sunday, January 20, at 3:00 pm in the McArdle Theatre, and will present music by Griffin Candey, Josh Loar, Sarah Rimkus, Milton Olsson, Stephen Rush, and featuring the piece Lucy by Elena Ruehr.
---
Calling All Volunteers!
Martin Luther King Reading Day 2019 is coming up fast!
On January 21, 2019 (MLK Day) Michigan Tech will continue a long-standing tradition of reading to local grade school classes about the life and legacy of MLK.
All readings take place between 9 am – 3 pm and we will coordinate at a later date exactly what block of times are available to choose. Participating schools include:
– Houghton Elementary
– Barkell School (Hancock)
– Dollar Bay Elementary School
If you or a group are interested in reading sign up HERE: https://goo.gl/forms/wzOJKfzzpFerKaqg1
MLK children's books will be provided for readings
Personal transportation is required but carpool options can be arranged. If you have any questions please contact Briana Tucker, bctucker@mtu.edu anytime!
---
Residential Life is Hiring
Residential Life is hiring Resident Assistants (RA) for the 2019-2020 academic year. All new resident assistant candidates must attend one information session. An information session will take place on January 23, 2019 from 6-7 pm in Fisher 135. After attending an information session, candidates may complete the application on Handshake. Interviews will be held between February 4 – 5, and February 11 – 15, 2019. With any questions about the RA position, please email Kaylee Kapatos at kkapatos@mtu.edu or call 906-487-1453.
---
Come See Comedian Stephen Agyei
Join Late Night Programming for the first comedian of the spring semester, Stephen Agyei on
Friday, January 25 at 10:00 pm
 in the MUB Ballroom!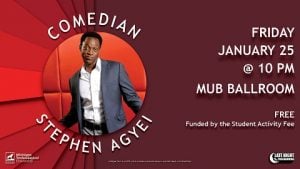 Memorably known for the "Whitest teeth in Denver," he shines as bright as his mischievous smile. He's opened for Dave Chappelle, Roseanne and was hand-picked by Duncan Trussell to open his most recent tour. Get ready for a great night full of laughter, so gather your friends for a show you won't want to miss! This event is FREE to all, funded by the Student Activity Fee!
---
HuskiesFit and Outdoor Adventure Programs
Check out the awesome lineup of HuskiesFit and Outdoor Adventure Programs we have in store for you this spring! All adult and youth classes are open for registration!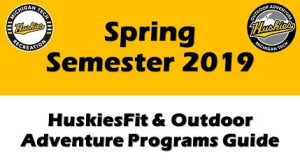 We've got something for everyone! Keep yourself and your family HuskiesFit with HuskiesFit and Outdoor Adventure Programs classes this spring!
---
New Opportunity for Choreographers and Composers in 2019:
Rabbit Island and The Rozsa Center Create Residency Program
The Rabbit Island Foundation and Rozsa Center for the Performing Arts announce a new 2019 residency opportunity: The three-week Choreographer and Composer Residency encourages collaboration between a choreographer and composer in a wild natural setting offering time, space, and financial support to explore environmental concerns through dance and music. The two applicants selected, one choreographer and one composer, will spend two weeks on Rabbit Island, then one week of studio time at the Rozsa Center, and their final work will be premiered as part of the Rozsa Center Presenting Series season in 2020-2021. An honoraria of $2000 USD will be awarded to both the choreographer and composer.
The opportunity is an open call available to anyone working in the fields of choreography and composition. The selection committee is made up of each organization's directors, Rabbit Island alumni, and accomplished choreographers and composers. The deadline for applications is Friday, February 15th, 2019 at 11:59 pm Eastern Standard Time. Awarded residents will be notified in early May, 2019. A complete application guide and online submission form can be found at http://www.rabbitisland.org/art.
Rabbit Island is a 91-acre wilderness island partitioned from the mainland by the largest body of freshwater in the world, Lake Superior. As such, the location provides artists a remote contextual challenge to create works which add to the evolving contemporary conversation of art and the environment. Since 2013 the Rabbit Island Residency open call for all disciplines has received over 1000 applications from 45 countries. The Choreographer and Composer Residency marks the Rabbit Island Foundation's first focused residency and first collaboratively created residency with the Rozsa Center.
Rabbit Island Foundation President Rob Gorski states, "The Choreographer and Composer Residency contests the status quo. Rabbit Island exists to encourage the creative community to focus intensely on the most fundamental narrative of our age—the environment and the human relationship to it. This residency challenges applicants to take risks and create bold work challenging the assumptions of the cultural landscape created by previous generations of choreographers, composers, and thinkers. We presume that there exist more meaningful ways to contextualize music and dance to the evolving understanding of ethics within the Anthropocene. This residency offers time, space, and context to take a shot at precisely this."
To learn more about the residency opportunity, the Rabbit Island Foundation, and the Rozsa Center for the Performing Arts; full application guidelines and submission information for can be found at http://www.rabbitisland.org/art.