---
Student Leadership Award Nominations Now Open
Student Leadership Awards is a time to celebrate and reward the individual and group efforts of students involved in organizations across campus. At Michigan Tech we are blessed enough with students that are crazy smart. Now it the time to be recognized for your commitment, enthusiasm, and leadership.
On behalf of the University, we are seeking nominations for the President's Award for Leadership, Dean of Students Award for Service, and various other student leadership awards. The recipient of each award will be honored at the 25th Annual Student Leadership Awards Ceremony on Friday, April 19.
The nomination process is simple. All awards and information about each can be found 
online
. For each individual award, simply click on the award title, then complete and submit the nomination form.
Nominations for the President's Award for Leadership and the Dean of Students Award for Service are due by
  5 p.m. Friday, March 8
.  Nominations for all other Student Leadership Awards are due by
12 p.m. noon, Friday, March 22.
Questions concerning the awards can be directed to 
Student Activities
.
Take a minute to nominate a fellow student or organization today!
---
Jay Filson to Perform
Singer/songwriter and Michigan native Jay Filson released his debut EP in 2016. He has honed his sound over the last few years, performing at colleges and local venues throughout the country. Somewhere between Ed Sheeran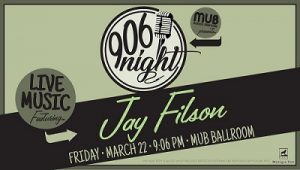 and Jon McLaughlin, Filson puts on a one-of-a-kind show by looping beatboxing, vocals, piano, and guitar all live on the spot. Jay was the winner of Nashville's 2017 SoBro Star talent search and currently lives in Nashville as a full-time musician.
The event will be in the MUB Commons, Friday, March 22nd,  from 9:06 pm to 10:30 pm.
---
Annual Don Keranen Memorial Jazz Concert
Join the Michigan Tech Jazz Ensembles for the annual Don Keranen Memorial Jazz Concert Friday, March 22 7:30 pm, in the Rozsa Center for the Performing Arts. The annual Don Keranen Memorial Jazz Concert pays tribute to the originator of the Michigan Tech Jazz Studies Program. Featured will be the Research and Development Big Band and the Jazz Lab Band performing a wide array of jazz compositions from the broad history of jazz. Two awards are given in Keranen's name each year to the Outstanding Jazz Musician of the year and the Most Improved Jazz Musician. The 2018 awards will be given during the program. Director Mike Christianson brings his professional jazz experience to the programming of this annual concert.
Tickets for the Don Keranen Memorial Jazz Concert are on sale now, $15 for adults, $5 for youth and no charge for Michigan Tech students with the Experience Tech fee. Tickets are available by phone at 487-2073, online, in person at the Central Ticket Office in the SDC or at the Rozsa Box Office the evening of the performance. Note that the Rozsa Box Office only opens two hours prior to performances.
---
Spring Intramural Sports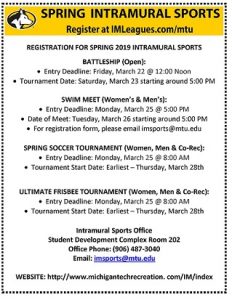 ---
Laser Tag Event
Respawn Tactical Laser Tag event that the MUB Board is having at Tech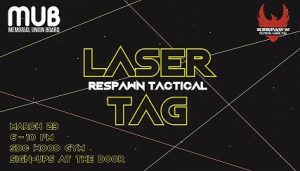 will be in the SDC Wood Gym, Saturday, March 23rd, from 6 pm to 10 pm.
You can sign up at the door. Come and have fun with Laser Tag.
---
Air Play at the Rozsa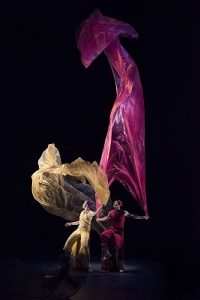 The Rozsa Center is pleased to announce "Air Play" is bringing their world-renowned fun-for-all ages circus-style event for one night only, on Saturday, March 23! Flying umbrellas, larger-than-life balloons, giant kites floating over the audience, and the biggest snow globe you've ever seen! Air Play is a modern spectacle, part circus, part theater, that brings to life the air we breathe: A circus-style adventure of two siblings journeying through a surreal land, transforming the ordinary into objects of uncommon beauty.
See Air Play at the Rozsa Center on Saturday, March 23 at 7:30 pm. For more details, please see the attached press kit from the Air Play tour.
Tickets for Air Play are on sale now, $16 for adults, $6 for youth and no charge for Michigan Tech students with the Experience Tech fee. Tickets are available by phone at 487-2073, online at mtu.edu/rozsa, in person at the Central Ticket Office in the SDC or at the Rozsa Box Office the evening of the performance. Note that the Rozsa Box Office only opens two hours prior to performances.
---
Class Tribute Program
ATTENTION ALL STUDENTS GRADUATING IN May 2019: The Michigan Tech Student Foundation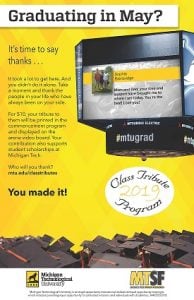 (MTSF) and the Student Philanthropy Council invite you to make your upcoming commencement day even more meaningful by participating in the Class Tribute Program.  For $10, your tribute to them will be printed in the commencement program and displayed on the arena videoboard. Your contribution also supports student scholarships at Michigan Tech.
Just go to http://www.mtu.edu/classtributes  for program and participation details.  The deadline for tribute submissions is Tuesday, April 2nd at 11:59 pm.
For questions, contact Adam Portmann at 487-2542 or aportman@mtu.edu.
---
Healthy Husky Workshop Series
Healthy Husky Workshop Series (Spring 2019)
Want to learn more?  Follow Student Health and Wellness on Social Media

Facebook (Michigan Tech Wellness) and Instagram!

Events and information posted weekly

We're Hiring!

Do you love to talk about Health and Wellness?  Are you passionate about balance and living a healthy lifestyle?  Visit www.mtu.edu/wellness and click on "Join Our Team" to submit an    application

Interviews will take place in the spring 2019 semester and work will begin in the Fall 2019 semester

Have a question about Student Health and Wellness?  Email us at wellness@mtu.edu
---
Iranian Community New Year
Iranian community at Michigan Tech celebrates the new year (Norooz) to share Iranian new year tradition at Michigan Tech. Everyone is invited to join us to celebrate the beginning of spring together. This year our event includes Iranian banquet, traditional dance performances by our organization members, Iranian clssic live music and stand up comedy. Our event is Sunday, March 24, from 6-9 pm, followed by one hour fun after-party. Tickets are $12 for students and $15 for non students. Early bird tickets are also available for $10. Tickets selling in the MUB Commons, March 18th until 22nd. The celebration is in the MUB Ballroom Sunday, March 24 from 6:00 – 9:00 pm.
---
Arduino Workshop
Tuesday, March 26 from 5-7
It's going to be held in the Alley Makerspace (Basement of MUB). You'll learn how to program the Arduino microcontroller and how to use some electrical components to have your software interact with the real world. The workshop spans for three weeks. Please make sure to bring a laptop along with you.
---
Enterprise Day
Are you interested in learning more about Enterprise at Michigan Tech? Thinking about joining, but not sure which team is right for you?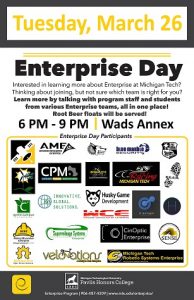 Learn more by talking with program staff and students from various Enterprise teams, all in one place!
Root Beer floats will be served!
Tuesday, March 26th  from 6 – 9 pm in the Wads Annex!
For more information go to Enterprise Day
---
Open Rock Climbing
Try something new at the SDC! Join the Outdoor Adventure Program on Tuesdays and Thursdays at 6 pm for Open Rock Climbing in the multipurpose room! Open to all ages, no experience necessary and included in SDC membership or facility day pass. Get out of your comfort zone and climb with us today!
For more information, visit Open Rock Climbing.
---
Michigan Tech Trails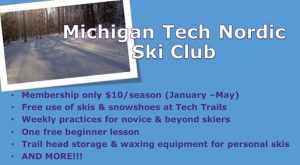 If you join the Nordic Ski Club you get free day use of equipment at Tech Trails. Equipment cannot be kept overnight and can only be used at Tech Trails.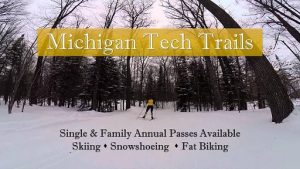 Come on out and support the Tech Trails with a season pass!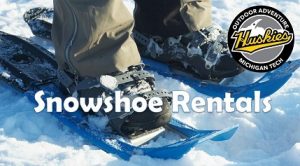 The Outdoor Adventure Program (OAP) offers snowshoe rentals . Various lengths available to accommodate all users and use types.
---
Play Some Pickleball
Gates Tennis Center now has two pickleball courts available for reservations and pickleball equipment available for rental. For more information, visit PickleBall at Gates. Call 487-2774 to reserve a court.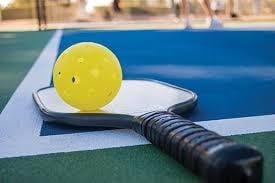 ---
Paracord Pop Up DIY
Wednesday, March 27th from 6-7 pm.
It will be held in the Alley Makerspace (Basement of the MUB).
If exams are getting you down, you need a rest. Drop by the makerspace and learn how to make things out of paracord.
---
Undergraduate Research Internship Program (URIP) Applications Due March 27
 The Pavlis Honors College would like to remind undergraduate students that URIP 2019-20 applications are due Wednesday, March 27, 2019.
The internship program is open to any undergraduate student on campus. Students are welcome to apply with faculty with whom they are already working.
The program consists of a 20-week internship (September – March) as well as professional development activities centered on academic research and scholarship.
The Pavlis Honors College will provide $800 in funding for the student intern, with the expectation that faculty will provide matching funds to be dispensed concurrently, resulting in a total of $1600 (or $10/hr for 8 hours per week for a period of 20 weeks). Faculty may make use of research funds, IRAD, startup packages, or consult their chairs, deans or center/institute management to identify the source of their match.
Details regarding the Undergraduate Research Internship Program (URIP) application process can be found at mtu.edu/honors/research/urip/application.html.
The Undergraduate Research Internship Program is made possible by generous donations from the Portage Health Foundation and the DeVlieg Foundation, with the support of the Pavlis Honors College.
---
Food & Wine
Come and enjoy the Food & Wine event that the MUB Board is having at Tech. The event will be in the MUB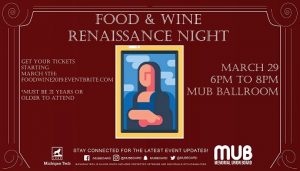 Ballroom, Friday, March 29th, from 6 pm to 8 pm. This night will feature a food and wine pairing by Chef Eric, surrounding the theme of a Renaissance Night.
You must be 21 years or older to attend. Tickets and menu are available on foodwine2019.eventbrite.com
---
Learn Bookbinding 
Bookbinding Make Night on Friday, March 29th from 5 – 7 pm in the Alley Makerspace (Basement of MUB). Have you ever wanted to make your own book? Now you can! Learn how to pamphlet stitch a notebook you can use for drawing or writing and decorate it with how you like it. Turn it into a Bullet Journal Friday the 29th at the Bullet Journal Make Night!
---
2019 Undergraduate Research Symposium
The Pavlis Honors College will be hosting the 7th annual Undergraduate Research Symposium being held on Friday, March 29th  from 1-5 pm in the lobby of the Rozsa Center for the Performing Arts. The Symposium highlights the cutting-edge research being conducted on Michigan Tech's campus by some of our best and brightest undergraduate students. Student presentations represent a wide array of scientific and engineering disciplines from across campus and highlight the diversity of research areas being explored.
Visit the 2019 Undergraduate Research Symposium website for more information regarding abstract submission. All undergraduate student researchers should consider participating in this event as a means to display their work and gain presentation experience.
---
Comedian Orlando Baxter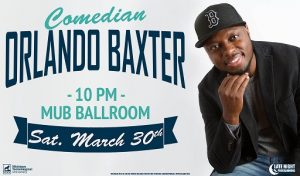 Get ready to join us on March 30th at 10 pm in the MUB Ballroom as we welcome comedian, Orlando Baxter. He exploded onto the Boston comedy scene in 2005, and quickly established himself as one of the areas hottest young comics. In 2007 Orlando was a finalist in NBC's 'Stand Up for Diversity Showcase'. His fresh perspective and unique relatability quickly solidified this high school teacher into a fan favorite. In 2010, he became a finalist in both the New York Comedy Contest and the Boston Comedy Festival. And in 2012 he toured across the country with national headliner Jo Koy, as the opening act in the "Lights Out" tour. In 2014 Orlando made his second TV appearance on AXS TV's "Gotham Live." He was also a finalist at the prestigious Montreux Comedy festival in Switzerland. In 2018, he performed stand-up on TBS' Conan. Orlando is a regular headliner at numerous comedy clubs throughout New England, and performs all over the country. It'll be a great night for sure!
---
Annual Bounce-O-Rama
The Michigan Tech Student-Athlete Advisory Committee will host the annual Bounce-O-Rama event inside the Student Development Complex for all area youth on Sunday, March 31, from noon to 5 p.m. The event will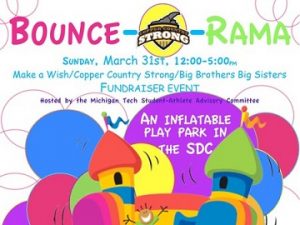 be a charity fundraiser, with proceeds going to the Make-A-Wish Foundation as well as Big Brothers Big Sisters in conjunction with Copper Country Strong.
Michigan Tech student-athletes will staff the event. In addition to inflatable bounce houses, there will be other activities such as face painting, music, and more.
Tickets for the Bouce-O-Rama are $12 at the door or $10 in advance by topping at or calling the SDC Ticket Office (906-487-2073). The event is open to children ages 2-12. Adults are admitted for free with their children.
---
5th Annual Charity Ball
Get your tickets now for the 5th annual Charity Ball to benefit Husky FAN and Let's Eat! It's "A Night Under the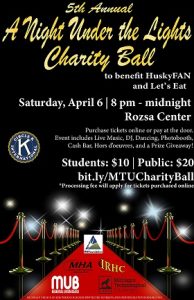 Lights"! Saturday April 6th from 8 to midnight. Event includes live music, a DJ, dancing, photo booth, cash bar, hors d'oeuvres and more! $10 for students $20 for the general public, available online at bit.ly/MTUCharityBall or at the door at the Rozsa. The 5th annual "A Night Under the Lights" Charity Ball at Michigan Tech's Rozsa Center lobby, Saturday April 6th 8 p.m. to midnight!
---
Pavlis Honors Pathway Program Now Accepting Applications
The Pavlis Honors College is now accepting applications for Fall 2019. Students are eligible to apply to join if they have 2 or more years remaining on campus. Pavlis offers 6 distinct pathways on which students may build their honors program:
Each of these pathways provides a framework of support, exceptional resources and a community of scholars for students interested in challenging themselves, doing more and making a difference. If you are interested in graduating with honors from Michigan Tech, please apply. If you would like to learn more about Honors at Michigan Tech or speak with an advisor, email us at honors@mtu.edu.
Applications will be accepted through Monday, April 8th. However, students who apply early will be given preference. Space is limited.
Find out why success means more than GPA: mtu.edu/honors.
---
 Superior Health Foundation Community Ambassadors in Health Scholarship
Do you have an interest in contributing to the health and wellness of the local community through partnering with a service-oriented organization? Are you an enrolled undergraduate or graduate student at Michigan Tech? Consider applying for the Superior Health Foundation Community Ambassadors in Health Scholarship.
Undergraduate scholarship recipients will receive $500 for the semester they participate in the program. Graduate scholarship recipients will receive $1000. Students will partner with a service-oriented organization, such as organizations addressing health care, food security, mental health, obesity, health education, environmental health, etc. Residents of the Upper Peninsula are especially encouraged to apply and will be given priority consideration. Check out our site for more detailed information on eligibility and how to apply.
This scholarship opportunity is made possible through the generosity of the Superior Health Foundation and all Michigan Tech students may apply. Deadline is April 15, 2019.
---
OAP Silent Gear Auction
The Outdoor Adventure Program (OAP) will host its 12th annual gear auction Saturday, April 20, from 10:00am to 2:00pm in the Gates Tennis Center. New this year, OAP is coordinating with Athletics to auction some of their surplus equipment as well as used OAP gear.
Need to clear out your garage or storage unit? OAP wants to help you with your spring cleaning. Either have OAP sell your gently used (but still usable) outdoor recreation equipment on your behalf or consider donating it to the OAP and we'll use any proceeds to help purchase new equipment for the OAP rental program.
Items can be dropped off April 17-19 at the OAP during regular business hours.
Anyone interested in purchasing at the gear auction will need to register at the at the Gates Tennis Center the day of the event.
For more information, visit OAP Silent Gear Auction, email OAP at oap@mtu.edu or call 906-487-2290.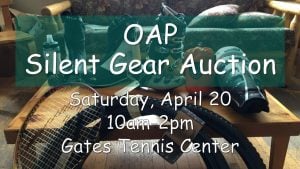 ---
Tau Trot
Alpha Sigma Tau and Phi Kappa Tau will host their 1st annual Tau Trot Run/Walk Saturday, April 20, at 10:00 am. The race will begin in Hancock and end in Houghton.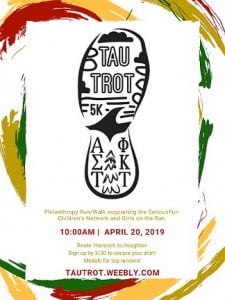 Want to help support a great cause? All proceeds will go to support Girls on the Run and the SeriousFun Children's Network. Participants will receive a commemorative t-shirt upon signing up. If you are not able to make it to race day, but would still like to participate, we have the option of a virtual 5k, in which you can run the race on your own time!
For more information, and to register, visit tautrot.weebly.com.
---
Spring Gallery Exhibition Salon!
The Department of Visual and Performing Arts and the Rozsa Center are excited to announce the spring gallery exhibition, Salon!, curated by gallery director and Michigan Tech associate professor of art, Lisa Gordillo. It features works of art and writing by more than 30 artists and writers. Gordillo is excited to present an older arts tradition with a contemporary twist. She drew much of her inspiration for this show from Jewish Women's Salons, which focused on inclusivity, diversity, and contemporary dialogue. Works of art will also pepper the Rozsa lobby, creating sitting spaces and areas for conversation. Salon! runs Now – April 20 in Michigan Tech's A-Space Gallery, hours are M-F 8:00 am – 8:00 pm and 1:00 – 8:00 pm on Saturdays, and the exhibition is free and open to the public.
---
StudentWatch Course Material Survey
The Campus Store is once again participating in the nationwide survey regarding course materials, we would like to know your thoughts!
Your feedback will help the Campus Store strive to provide the broadest course material options and most cost-conscious pricing through strategic partnerships, transparency, and industry awareness.
Cash prizes are available, please check your email for the link to the survey!
Have a great semester and we hope to hear from you!
---
HuskyDeals Google Group!
The HuskyDeals Google Group is here to share information about our current promotions and services! We distribute relevant information using a very limited amount of communications through this group. You may join or leave at any time.
To join now, email "huskydeals-l+subscribe@mtu.edu" or search your Google groups for HuskyDeals and select the Join option. And if you're already a member, check your email for your birthday discount coupon! Thank you for your patronage!
---
Community Board
Come check out our new Community Board located in the Memorial Union Building foyer just outside the Campus Store; you'll find a new question every week!  Campus and local community participation welcome!
Community Board posting rules are nearby, please take a moment to become familiar with them before posting. Thank you!
Sponsored by the Campus Store and Memorial Union Manager's Office