---
Whosah for 906 Night
The 906 Night event will feature the group Whosah! Come and see Whosah and enjoy the live music. There will be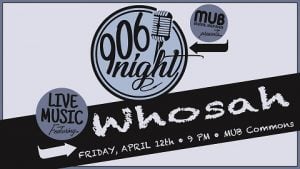 events held Tonight – Friday, April 12th, at 9:06 pm, in the MUB Commons.
These guys are doing what they love… making friends and making music. Whosah delivers an experience that forms a musical bond not quickly forgotten. The group thrives in environments both large and small, performing shows as intimate as college dorms and as large as music festivals.
Whosah won the University of Minnesota's Battle of the Bands and has been featured on the Netflix original series "Unbreakable Kimmy Schmitt," MTV's Snookie and JWow and Target's back to school campaign.
---
Sunday in the Park with George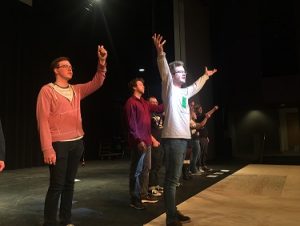 The Rozsa Center, Department of Visual and Performing Arts, and Tech Theatre Company are proud to present the 25th Anniversary Season theatre finale, Sunday in the Park with George, at the Rozsa Center for the Performing Arts Thursday – Saturday, April 11 – 13, 7:30 pm. Starring Michigan Tech's Jonah Schulte, third-year Computer Science major, as "George One" and "George Two," and Katy Gula, third-year Environmental Engineering major, as Dot, Sunday in the Park with George is a fully staged musical with live orchestra. Stephen Sondheim and James Lapine's lyrical celebration of art, love, and children merges image, music, and performance to explore the depths of human understanding. Winner of the Pulitzer Prize and staged around the world, Sunday in the Park with George explains the simple essence of life we can all understand.
Tickets are on sale now, $19 for adults, $6 for youth, and no charge for Michigan Tech students with the Experience Tech fee. Tickets are available by phone at (906) 487-2073, online at mtu.edu/rozsa, in person at the Central Ticketing Office in the Student Development Complex, or the night of the show at the Rozsa Center box office, which opens two hours prior to performances.
---
Customer Appreciation Sale
Feeling appreciated is one of life's greatest pleasures and the Michigan Tech Campus Store and University Images would like to show our appreciation and thank you for your continued patronage by once again offering our semi-annual Customer Appreciation Sale. Receive 25% off your entire purchase from  Friday, April, 12th 8 a.m. to 6 p.m. Can't make it in? That's okay! Our sale is also offered online at bookstore.mtu.edu.
---
Yooper Keychain Night
Yooper Keychain Night is on Friday, April 12th from 5 – 7 pm. Show off your Yooper pride by creating your own unique U.P. shaped keychain. Custom-cut wooden UP keychains are provided for you to paint and decorate. Bring a friend and make matching keychains.
Meet you in the Alley Makerspace in the basement of the MUB.
---
Music for MEDLIFE Concert
MEDLIFE at MTU is hosting their annual concert in order to raise funds for their Service Learning Trips and mobile clinics, taking place this summer of 2019 in Cusco, Peru! There will be music by local MTU groups Full Send Jazz Combo and Dedos Blancos! Student tickets cost $5 pre-sale and $7 at the door; General Admission tickets cost $10 pre-sale and $12 at the door! MEDLIFE MTU is a volunteer/non-profit organization and all proceeds go towards the Service Learning Trips, mobile clinics, and development projects. Come support MEDLIFE!!!
Taking place Saturday, April 13th  from 8:00 pm-10:30 pm in the MTU Memorial Union Building, Alumni Lounge room 107.
---
Tech's Got Talent!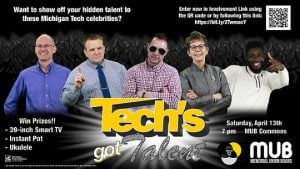 Tech's Got Talent! Think America's Got Talent…wait to see what Tech has. There will be admins, students, and teachers as judges. Students can demonstrate their talent in an attempt to win the prize. We will have prizes for the first second and third place people. Winners will be chosen by students via i clickers from the top 5 chosen by the judges. Students can submit their act through https://bit.ly/2TwmacY. Groups are capped at 6 unless they contact us with a special request. If people are in a group, they share the prize. Performers can practice in the MUB Commons, on Saturday, April 13th,  from 1-6 pm."
The event will be in the MUB Commons,  Saturday,  April 13th, at 7 pm.
---
Scavenger Hunt
The MUB Board is hosting a Scavenger Hunt event here at Tech. There will be events held the week of April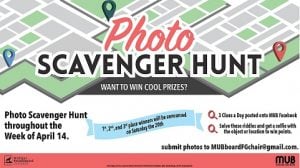 14th, all week, on campus. This will be a photo scavenger hunt where some will win prizes. Find clues on MUB Facebook, solve riddles and get a selfie with the object or location to win points. There will be 1st, 2nd and 3rd place winners that will be announced on Saturday, April 20th.
---
Superior Health Foundation Community Ambassadors in Health Scholarship
Do you have an interest in contributing to the health and wellness of the local community through partnering with a service-oriented organization? Are you an enrolled undergraduate or graduate student at Michigan Tech? Consider applying for the Superior Health Foundation Community Ambassadors in Health Scholarship.
Undergraduate scholarship recipients will receive $500 for the semester they participate in the program. Graduate scholarship recipients will receive $1000. Students will partner with a service-oriented organization, such as organizations addressing health care, food security, mental health, obesity, health education, environmental health, etc. Residents of the Upper Peninsula are especially encouraged to apply and will be given priority consideration. Check out our site for more detailed information on eligibility and how to apply.
This scholarship opportunity is made possible through the generosity of the Superior Health Foundation and all Michigan Tech students may apply. Deadline is April 15, 2019.
---
Last Day to send out Tax Forms
Reminder! The last day to send out tax forms at the Campus Store is Monday, April 15th by 12 noon. Remember that if you are sending it USPS, it is cash or check only.
---
OAP Silent Gear Auction
The Outdoor Adventure Program (OAP) will host its 12th annual gear auction Saturday, April 20, from 10:00am to 2:00pm in the Gates Tennis Center. New this year, OAP is coordinating with Athletics to auction some of their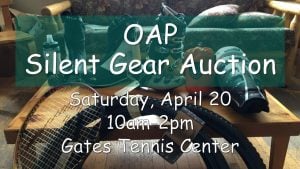 surplus equipment as well as used OAP gear.
Need to clear out your garage or storage unit? OAP wants to help you with your spring cleaning. Either have OAP sell your gently used (but still usable) outdoor recreation equipment on your behalf or consider donating it to the OAP and we'll use any proceeds to help purchase new equipment for the OAP rental program.
Items can be dropped off April 17-19 at the OAP during regular business hours.
Anyone interested in purchasing at the gear auction will need to register at the at the Gates Tennis Center the day of the event.
For more information, visit OAP Silent Gear Auction, email OAP at oap@mtu.edu or call 906-487-2290.
---
Finish Ticket
Memorial Union Board presents: Finish Ticket! Saturday, April 20, at 9 pm, in the SDC Varsity Gym. The Headliner will be the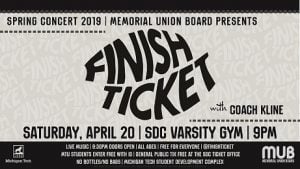 famous Finish Ticket, and the opening act will be Coach Kline (a Tech student Band).
Live music, doors open at 8:30 pm and it's free for everyone!
Must have an Michigan Tech ID with you to get in. General public can get in free as well.
---
Tau Trot
Alpha Sigma Tau and Phi Kappa Tau will host their 1st annual Tau Trot Run/Walk Saturday, April 20, at 10:00 am. The race will begin in Hancock and end in Houghton.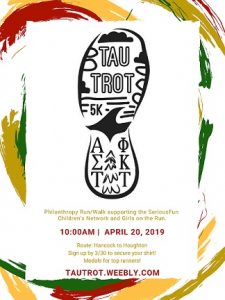 Want to help support a great cause? All proceeds will go to support Girls on the Run and the SeriousFun Children's Network. Participants will receive a commemorative t-shirt upon signing up. If you are not able to make it to race day, but would still like to participate, we have the option of a virtual 5k, in which you can run the race on your own time!
For more information, and to register, visit tautrot.weebly.com.
---
Spring Gallery Exhibition Salon!
The Department of Visual and Performing Arts and the Rozsa Center are excited to announce the spring gallery exhibition, Salon!, curated by gallery director and Michigan Tech associate professor of art, Lisa Gordillo. It features works of art and writing by more than 30 artists and writers. Gordillo is excited to present an older arts tradition with a contemporary twist. She drew much of her inspiration for this show from Jewish Women's Salons, which focused on inclusivity, diversity, and contemporary dialogue. Works of art will also pepper the Rozsa lobby, creating sitting spaces and areas for conversation. Salon! runs Now – April 20 in Michigan Tech's A-Space Gallery, hours are M-F 8:00 am – 8:00 pm and 1:00 – 8:00 pm on Saturdays, and the exhibition is free and open to the public.
---
A Succulent Study Break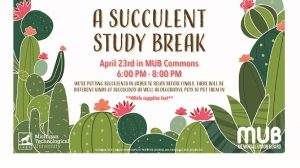 The MUB Board is hosting a Succulent Study Break event that we are having at Tech. There will be events held Tuesday, April 23rd, from 6 pm to 8 pm, in the MUB Commons.
To relax before finals we'll be potting succulents . There will be different kinds of succulents as well as decorative pots to put them in.
Come and enjoy while supplies last!
---
The MTMC is Hiring!
The MTMC is currently hiring coaches for the Fall semester.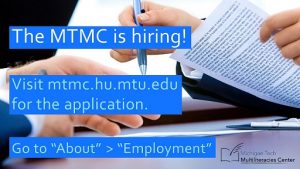 ---
Healthy Husky Workshop Series
Healthy Husky Workshop Series (Spring 2019)
Want to learn more?  Follow Student Health and Wellness on Social Media

Facebook (Michigan Tech Wellness) and Instagram!

Events and information posted weekly

We're Hiring!

Do you love to talk about Health and Wellness?  Are you passionate about balance and living a healthy lifestyle?  Visit www.mtu.edu/wellness and click on "Join Our Team" to submit an    application

Interviews will take place in the spring 2019 semester and work will begin in the Fall 2019 semester

Have a question about Student Health and Wellness?  Email us at wellness@mtu.edu

---
StudentWatch Course Material Survey
The Campus Store is once again participating in the nationwide survey regarding course materials, we would like to know your thoughts!
Your feedback will help the Campus Store strive to provide the broadest course material options and most cost-conscious pricing through strategic partnerships, transparency, and industry awareness.
Cash prizes are available, please check your email for the link to the survey!
Have a great semester and we hope to hear from you!
---
HuskyDeals Google Group!
The HuskyDeals Google Group is here to share information about our current promotions and services! We distribute relevant information using a very limited amount of communications through this group. You may join or leave at any time.
To join now, email "huskydeals-l+subscribe@mtu.edu" or search your Google groups for HuskyDeals and select the Join option. And if you're already a member, check your email for your birthday discount coupon! Thank you for your patronage!
---
Community Board
Come check out our new Community Board located in the Memorial Union Building foyer just outside the Campus Store; you'll find a new question every week!  Campus and local community participation welcome!
Community Board posting rules are nearby, please take a moment to become familiar with them before posting. Thank you!
Sponsored by the Campus Store and Memorial Union Manager's Office.
---