The Keweenaw Color Run is BACK!
Grab a friend! Invite your co-workers! Get your family excited! Let everyone know that The Keweenaw Color Run is back! Join the Keweenaw Young Professionals on September 8th, 2019 for a fun, untimed walk/run event for the whole office and family. During this five-kilometer run, participants will be blasted head to toe in different colored powders. Not only will participants get more colorful throughout the race, but each person will be provided with a color packet to kick off the race.
KCR Runners vary in demographics and reasons for running. With no winners or official times, The Keweenaw Color Run is an event for everyone! This event is designed to unite the diverse cultures and identities of the Upper Peninsula communities. Our goal is to get you out of your office, or home, surrounded by family and friends walking or running to a healthier us.
---

Copper Harbor Sunset Cruise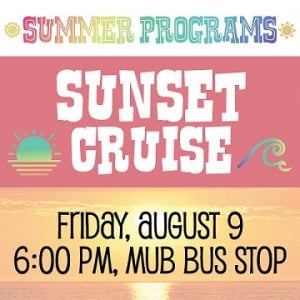 Student Leadership & Involvement will be sponsoring a Copper Harbor Sunset Cruise on Lake Superior aboard the Isle Royale Queen IV.  The event will take place on Friday, August 9, 2019.  The bus to Copper Harbor will board at 6:00 pm in front of the Memorial Union Building, and is expected to return by 11:00 pm.
Sign up begins now in the Student Leadership & Involvement office, MUB 112.  Our hours are 8 am – 4 pm weekdays.  The cost of the event is $5.00.  You must sign up and pay cash in person and present your student ID.  Seats are limited, so do not delay!  Any questions, call Student Leadership & Involvement at 906-487-1963 or email activities@mtu.edu.
---
Contemplative Forest Art Walk
2019—Michigan Technological University's
Visual and Performing Arts Department and
the Ford Center announce the opening of
Contemplative Forest Art Walk, a contemplative
art trail experience by Anne Beffel, Professor of Visual
and Performing Arts. Hand painted banners hanging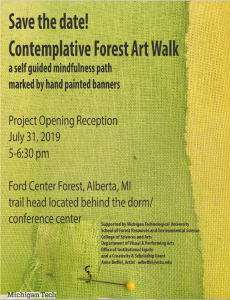 in the forest canopy mark meditation stations along
the short, contemplative path. Signage describes
different kinds of mindfulness practices and links to
guided meditations designed for mindfulness practice
in the forest. An additional station is located near the
entrance to the Canyon Falls trail.
Contemplative Forest
Art Walk will open to the public on July 31, with a reception
from 5:00 – 6:30 PM at the Ford Center, 21235 Alberta Ave # 2, 
L'Anse, MI 49946.
Parking is available at the at the conference center followed by a short walk past the tennis courts to the trailhead marked by signage. The art will remain installed for the
summer and fall seasons, as weather permits.
For more information, contact Professor Anne Beffel at aebeffel@mtu.edu or visit
www.annebeffel.com
---
The Rozsa Center 2019/20 Season Ticket Sale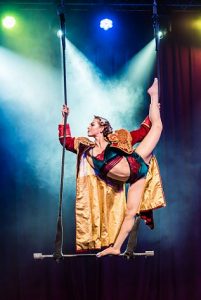 The Rozsa Center is pleased to announce their 2019/20 Season Ticket Sale! Season Ticket Packages are on sale
July 1
, with the best discounts available on all the season has to offer! There are four Season Ticket Package options this year, offering savings of 18% – 37% off single ticket prices: A Full Season Ticket Package, a pass to all the arts at Michigan Tech! Enjoy the biggest discount available off the single ticket price on all Rozsa and VPA events. The popular "Pick 6" Season Ticket Package has returned, and is an even better value this year. We continue to offer the "Pick 3" option, and have brought back the very popular "Family Pack" option that will help you bring the whole family to a big show at an affordable price. We hope there is a package that works for you! Thank you to all of our long-time Season Ticket holders, we're holding your seats, from now through August 1st, when single tickets will go on sale. For new Season Ticket buyers, welcome, we look forward to seeing you this season.
For more information or to purchase tickets, contact Michigan Tech Ticketing Services at the Central Ticket Office (SDC), at 906-487-2073, or go online at
mtu.edu/rozsa
.
---
Meraki Youth Arts Fest
The African Students Organization (ASO) invites the University community to come experience African dance moves as they perform and entertain at the 
Meraki Youth Arts Fest
 as scheduled below:
TOMORROW!
Talent Showcase/Youth Art Exhibit
Date: Saturday, July 27, 2019
Time/slot: 6:30 pm – 8:00 pm / 45-minute performance
Venue: Finnish American Heritage Center, Hancock
---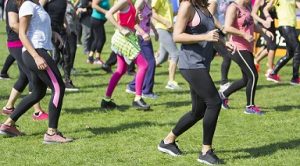 Take a Zumba break this summer & join Allison for a FREE afternoon Zumba class! This express & intense 30-minute version of our regular Zumba classes will give you a mid-day boost & get you ready for the weekend. Now – August 23. Fridays, 12:15-12:45 pm outside on the Michigan Tech grounds between the EERC & Chemical Science buildings.
For more information, visit Zumba on the Green
---
Public Skating
Public Skating returns to the MacInnes Ice Arena June 9. Open to the public, come and enjoy a leisurely skate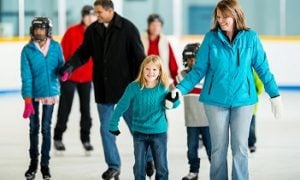 with family and friends Sundays, 4:00-5:30 pm through August 18. Free to SDC members and Michigan Tech students, included in same day SDC day pass. Skating only $3/person.
For more information and full schedule, visit Public Skating.
---
Michigan Tech Multiliteracies Center Now Open
The Michigan Tech Multiliteracies Center is now open for summer: Monday 12 pm – 5 pm and Tuesday/ Thursday 10 am – 3 pm. Face-to-face and online appointments are available: book online at http://mtmc.hu.mtu.edu/
---
HuskiesFit Yoga & Tai Chi Classes
Stay calm and balanced with HuskiesFit Yoga & Tai Chi classes this summer.
Also all yoga classes are included in the HuskiesFit 
Ultimate punch card
 as well! Find your Fit this summer with the best variety of group fitness classes in town.
---
HuskyDeals Google Group!
The HuskyDeals Google Group is here to share information about our current promotions and services! We distribute relevant information using a very limited amount of communications through this group. You may join or leave at any time.
To join now, email "huskydeals-l+subscribe@mtu.edu" or search your Google groups for HuskyDeals and select the Join option. And if you're already a member, check your email for your birthday discount coupon! Thank you for your patronage!
---
The SDC Summer Building Schedule
The SDC summer building schedule is now available. Summer hours will begin now through Sunday, August 25, 2019.
NOTE: The schedule pdf now contains a second page highlighting all open rec times in the SDC including these areas/activities: Fitness Center, locker rooms, multipurpose courts, indoor track, racquetball courts, ice arena public skating, OAP high ropes course, adult lap swim (no dive boards), open swim (4 lap lanes available), family swim (no lap lanes) and family swim/log rolling (no lap lanes).
Dates to remember:
Now through August 4 – Lap pool ONLY will be open (dive tank will be closed). See schedule for specific swim options/times.
August 5 – September 2
Both pools will be CLOSED for mechanical repairs and general maintenance. They are scheduled to reopen Tuesday, September 3.