K-Day is today!! Join us at Chassell Centennial Park from 12:00 – 4:00 PM. Free shuttle starts at 11:30 AM at the MUB and will make trips to the park and back until the end of the event. Student Leadership & Involvement will be closing at noon to attend K-Day, so come say hello to us at the check-in tent!
---
You've gotten all settled in at Michigan Tech for the year and are about to start classes. Now what?  It's time for Welcome Week!  Every year, new and returning students are welcomed back to campus with this annual tradition that will get everyone into the Husky Spirit.
Welcome Week is an on-campus experience that kick-starts every fall semester.  This tradition is designed to complement the Orientation experience, and provide opportunities to enhance academic and personal success for Tech students.  The week is jam packed with social activities, food, entertainment, and much more!
Check out all the events HERE!
---
The Keweenaw Color Run is BACK!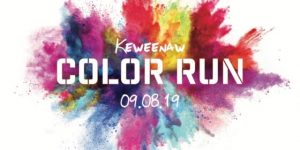 Grab a friend! Invite your co-workers! Get your family excited! Let everyone know that The Keweenaw Color Run is back! Join the Keweenaw Young Professionals on September 8th, 2019 for a fun, untimed walk/run event for the whole office and family. During this five-kilometer run, participants will be blasted head to toe in different colored powders. Not only will participants get more colorful throughout the race, but each person will be provided with a color packet to kick off the race.
KCR Runners vary in demographics and reasons for running. With no winners or official times, The Keweenaw Color Run is an event for everyone! This event is designed to unite the diverse cultures and identities of the Upper Peninsula communities. Our goal is to get you out of your office, or home, surrounded by family and friends walking or running to a healthier us.
---
HuskyLEAD
Want to find ways to develop your leaderships skills this semester? Come to the Fall 2019 HuskyLeads to gain some tips, tricks, and techniques for personal, organizational, and academic success. HuskyLeads are one hour long sessions for those who want to learn and elevate your leadership skills. Please see the image provided for more information on what workshop is provided and when.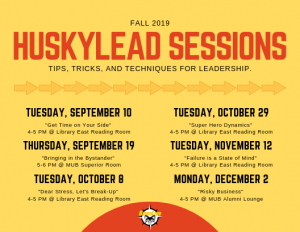 ---
USG Nominations Now Open
Nominations are open for Undergraduate Student Representatives. College of Engineering Representative, Third Year Representative, and Inter-Residence Housing Council (IRHC) Representative positions are open and we encourage you to nominate yourself or fellow students that you feel would represent the undergraduate students well.
Nominating someone is quick and easy – all you need to do is click on the link below to nominate yourself or fellow classmates for a representative position on the USG body.
Nominations close at 11:59pm on Wednesday, September 11. Contact Zachary Olson at 
usg-scretary@mtu.edu
 with any questions.
---
Upper-Peninsula Wide Campus Bike Week
Monday, September 9 @11:00am-1:00pm
Bike Registration with Public Safety and Police Services
Walker Lawn
Register your bike with Public Safety and Police Services during our first full week of class. Registration helps to ensure that bikes found without owners can be returned to the proper person. We will have other helpful resources to share with you as well, and if you are one of our first visitors that stops by with a bike, you get a free USB rechargable light!
12:00 noon – 1:00pm
Lunch and Learn with Campus Bike Initiative and Employee Wellness
Alumni Lounge
Join Campus Bike Initiative as we talk about smart cycling, e-bikes, and riding in the snow.
How to be a smart bicyclist

Checking your bike and yourself
Being comfortable on your bicycle
Rules of the road

A look at e-bikes
Preparing for winter cycling
Q&A
Tuesday, September 10 @ 11:00am-1:00pm
Tune-Up Tuesday with our Local Bike Shops
MUB Circle 
When was the last time that your bike has been serviced? Come check out our Cross Country Sports as they will look over your bike and make adjustments and recommendations for a better performing bike!
Wednesday, September 11 @ 11:00am-1:00pm
Health and Wellness Fair with the Outdoor Adventure Program
Campus-Wide
Learn about the health benefits of cycling with the Campus Bike Initiative and the Outdoor Adventure Program.
Friday, September 13 Bike to Campus Day
Campus-wide
All day
Leave the car at home and bike to and from campus! We will count how many bikes we find on campus and you might find a prize on your bike when you walk about from class or work!
Saturday, September 14 @ 6:00pm
Group Ride with Bike Initiative Keweenaw
Husky Plaza
Come have some fun with Bike Initiative Keweenaw (BIKE!). Campus and local communities are invited to come meet our members, learn a few smart cycling skills, and enjoy a casual 8-10 mile ride on local roads and paths. The ride is no-drop, meaning nobody will be left behind, and there will be an option for a shortcut to the end. A helmet is required.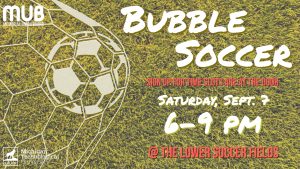 Come out and join MUB Board at the lower soccer fields for Bubble Soccer this coming Saturday, September 7 from 6:00PM -9:00PM. It is FREE to all who would like to participate and sign-ups are at the field when you show up. Grab a group of your friends or come by yourself, we'd love to have you on a team!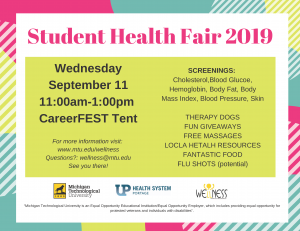 Michigan Tech Wellness is hosting a Student Health Fair! On September 11th from 11:00AM -1:00PM at the CareerFEST Tent. They will have screenings for cholesterol, blood glucose, hemoglobin, body fat, body mass index, blood pressure, and skin. There will also be some fun giveaways, free massages, therapy dogs, fantastic foods, and more!
---
Upcoming Intramurals!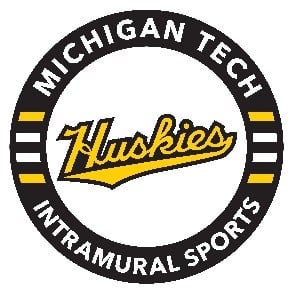 On September 8th at 6:00PM in the MUB Commons 
Sorority Life will be hosting an info session on the benefits of sorority membership! Come do some 90's velvet coloring pages and meet some awesome women!
---
The Rozsa Center 2019/20 Season Ticket Sale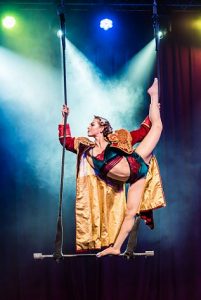 The Rozsa Center is pleased to announce their 2019/20 Single Event Tickets are on sale August 1st! Featured this year are 12 Rozsa Presenting Series events, opening with a circus on the Rozsa stage in September!
Season Ticket Packages went on sale July 1st, with the best discounts available on all the season has to offer! There are four Season Ticket Package options this year, offering savings of 18% – 37% off single ticket prices: A Full Season Ticket Package, a pass to all the arts at Michigan Tech! Enjoy the biggest discount available off the single ticket price on all Rozsa and VPA events. The popular "Pick 6" Season Ticket Package has returned and is an even better value this year. We continue to offer the "Pick 3" option and have brought back the very popular "Family Pack" option that will help you bring the whole family to a big show at an affordable price. We hope there is a package that works for you! Thank you to all of our long-time Season Ticket holders, we're holding your seats, from now through August 1st, when single tickets will go on sale. For new Season Ticket buyers, welcome, we look forward to seeing you this season.
For more information or to purchase tickets, contact Michigan Tech Ticketing Services at the Central Ticket Office (SDC), at 906-487-2073, or go online at
mtu.edu/rozsa
.
---
HuskyDeals Google Group!
The HuskyDeals Google Group is here to share information about our current promotions and services! We distribute relevant information using a very limited amount of communications through this group. You may join or leave at any time.
To join now, email "huskydeals-l+subscribe@mtu.edu" or search your Google groups for HuskyDeals and select the Join option. And if you're already a member, check your email for your birthday discount coupon! Thank you for your patronage!
---
The SDC Building Schedule
SDC Building Schedule 8/26/19-5/2/20 (Revised schedules for Thanksgiving break, Christmas break and Spring break will be posted at those times.)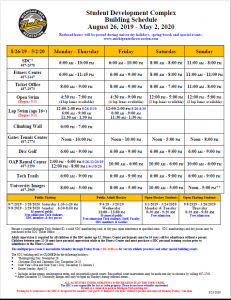 ---
Intramural Registration For Fall 2019 Events Now Open
Registration for Fall 2019 is now open and there are several new activities including Glow Disc Golf, Paintball, and Log Rolling!
Check out the Fall 2019 Activity Schedule for more details.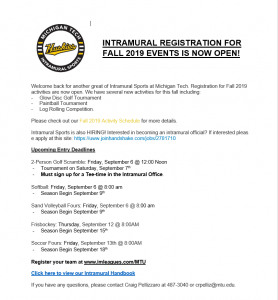 ---
Monday, September 9th
Outdoor Yoga with HuskiesFIT 
4:00PM-5:00PM
Tuesday, September 10th
Husky Pantry GRAND OPENING!
Husky Pantry Fischer Hall
11:30AM-1:30PM
Wednesday, September 11th
Student Health Fair
CareerFEST Tent
11:00AM-1:00PM
Pour Painting
MUB Makerspace
5:00PM-7:00PM
Thursday, September 12th
Pour Painting
MUB Makerspace
5:00PM-7:00PM