---
Join us for a night of laughs on Saturday, November 2 at 10 PM in the MUB ballroom. Late Night presents Comedian Lauren Faber!
Lauren Faber is a feral comedian who was raised in a basement by the 90's comedy specials of Ellen DeGeneres, Paula Poundstone and Elvira Kurt. (Yes, she sees the connection now.) Her thoughtful comedy and storytelling touches on sexuality, mental health, politics and her own very, very bad decisions. She has been compared to Kate McKinnon, PBS, and a golden retriever. (No, she doesn't see the connection.)
Lauren's comedy has appeared on Audible's Punchlines. She was a StandUp NBC Semi-Finalist and won the titles of NYC's She-Devil and Carolina's Funniest Comic. She has performed in numerous festivals including Laughing Skull, Limestone, and 208 Fest has shared the stage with the likes of Maria Bamford, Beth Stelling, Fortune Feimster, Iliza Shlesinger, Todd Glass, and Matt Braunger.
When Lauren isn't on stage, she manages international development research at a university in Durham, NC with a very famous basketball team that she cares nothing about. She has two cats, Stetson and Kennedy, and likes one of them. They were a gift. Don't do that.
Make a Difference Day, the largest national day of community service takes place on Michigan Tech's campus every fall. Students, Faculty, and Staff come together to go out in the community to volunteer to make a difference.
Make a Difference Day 2019 will be taking place Saturday, October 19. Check-In will start at 9:00 AM at the MUB Commons. Information packets will be distributed and volunteers will receive their Make a Difference Day T-Shirts before traveling to their service locations.
Registration for for Make a Difference Day 2019 is currently closed.
LeaderShape Applications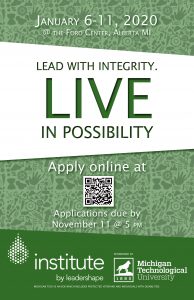 LeaderShape® Institute Applications are open for 2020. This week-long leadership development experience is designed to help people learn to "lead with integrity."
The Michigan Tech LeaderShape® Institute runs from January 6-11, 2020 at the Ford Center. Go to 
LeaderShape
 to learn more and apply!
If you have any further questions, please contact Student Leadership & Involvement in MUB 112 or emailing 
activities@mtu.edu
.
The Rozsa Center and the Center for Diversity and Inclusion at Michigan Tech present Lt. Colonel Olga Custodio, who after being turned away from flight school because she was a woman, became a pioneer as the first woman – and Latina – to complete United States Air Force (USAF) military pilot training and become a USAF pilot, and later, as the first Latina commercial pilot for American Airlines. She will appear at the Rozsa Center, on Monday, October 21, at 6:30 PM.
---
Black Comedy: Groping Around in the Dark with the Tech Theatre Company
The Tech Theatre season is off to a fun, lighthearted start with a laugh-out-loud farce!  In this hilarious fast-paced comedy, lovesick and desperate sculptor, Brindsley Miller has embellished his apartment with furniture and object d'artes "borrowed" from the absent antique collector next-door, hoping to impress his fiancée's pompous father and wealthy art dealer.  Everything goes wrong when a fuse is blown leaving the apartment in total darkness.  Only we, the audience, are privy to the riotous antics that happen when the lights go out.
The Department of Visual and Performing Arts is pleased to present a comedy by Peter Shaffer, Black Comedy, in the McArdle Theatre for two weeks, Friday – Saturday, October 11-12, and Thursday – Saturday, October 17-19, at 7:30 PM each night.
---
Earn Your MI Pistol License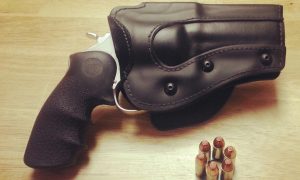 Earn your MI Concealed Pistol License (CPL) through the MCRGO MI CPL course offered Saturday, November 9, at the SDC Shooting Range!
No experience necessary. Must be 20 or older. Class size is limited.
Sign up today! Deadline Nov 2. #cpl #sdcshootingrange
---
Saturday October 26, 2019
The HAMR is a family-friendly, competitive running event consisting of a 5k and 10k course put on by Michigan Tech's Department of Military Science during peak fall color season. Race funds directly benefit the department and Copper Country Senior Meals. SIGN UP or DONATE TODAY at http://hamr.ss.mtu.edu/

---
HuskyLEAD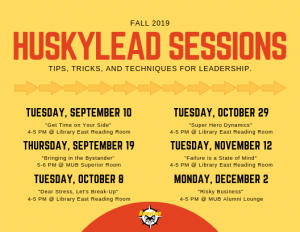 Want to find ways to develop your leaderships skills this semester? Come to the Fall 2019 HuskyLeads to gain some tips, tricks, and techniques for personal, organizational, and academic success. HuskyLeads are one hour long sessions for those who want to learn and elevate your leadership skills. Please see the image provided for more information on what workshop is provided and when.
Upcoming ones…

Tuesday, October 29 @ 4:00PM – 5:00PM
Where: Library East Reading Room
"Super Hero Dynamics" 
Tuesday, November 12 @ 4:00PM – 5:00PM
Where: Library East Reading Room
"Failure is a State of Mind" 
Monday, December 2 @ 4:00PM – 5:00PM
Where: MUB Alumni Lounge
"Risky Business"
---
In light of Halloween, the Makerspace is hosting a Bat House Building workshop. It's like building bird houses, but spookier. Houses will be assembled at the Make Night and hung up the following day so they will be put to good use.
Friday, October 18th, 5-7pm
Alley Makerspace (Basement of MUB)
---
Film Board Presents: Into the Spiderverse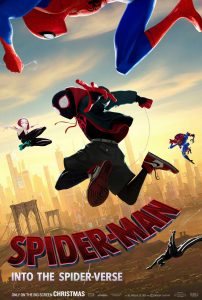 This weekend, Film Board Presents:
Into the Spiderverse
Friday,October 18th @ 5:30, 8:30, 11:30
Saturday, October 19th @ 2:30, 5:30, 8:30, 11:30
Sunday, October 20th @ 2:30, 5:30
Located on Michigan Tech's campus in Fisher 135. Tickets are $3 and concessions are $1 each. We hope to see you at the show this weekend and have a great day!
Spiderman: into the Spiderverse is Rated PG for frenetic sequences of animated action violence, thematic elements, and mild language
Want to see what movies we're playing next? Check out our movies and showtimes at the Film Board website: filmboard.mtu.edu
---
Join Natasha and the "ghouls" for a Boo-ti Yoga Buti Glow Party Thursday, October 31, 7:30-9:30pm in the SDC Studio! Complete with black lights, body paint, glow sticks and a Halloween inspired playlist. Come between 7:30 and 8 to don your body paint! Class starts at 8pm.
33rd Annual Grimms Fairytales Haunted Haus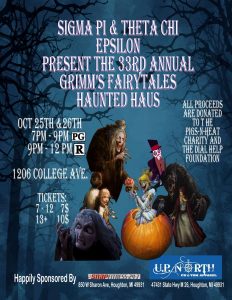 Sigma Pi and Theta Chi Epsilon are hosting a Haunted House next weekend Oct. 25th and Oct. 26th from 7pm-Midnight. All of the proceeds for this event will be donated to Dial Help and Pigs N Heat. This year's theme is Grimm's Fairy Tales. Please click on the flier for more informaton.
Friday October 25, 2019
Saturday October 26, 2019
---
Open Source Hardware Enterprise Informational Session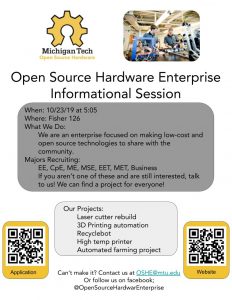 When: Wednesday October 23, 2019 @5:05PM
Where: Fisher 126
What We Do: We are an enterprise focused on making low-cost and open source technologies to share with the community.
Majors Recruiting: EE, CpE, ME, MSE, EET, MET, Business. If you aren't one of these and are still intersted, talk to us! We can find a project for everyone!
---
2019 Africa Colloquium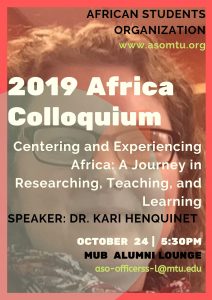 2019 Africa Colloquium
This colloquium, the first in the series, discusses scholarship on Africa-related issues and by Africa-related persons in the Upper Peninsula of Michigan. It is organized by the African Students Organization.
Thursday, October 24 at 5:30PM

MUB Alumni Lounge
Speaker and Topic
The plenary speaker is Dr. Kari Henquinet, Senior Lecturer in Anthropology at Pavlis Honors College and the Department of Social Sciences, Michigan Tech. She will speak on the topic "Centering and Experiencing Africa: A Journey in Researching, Teaching, and Learning". In this talk, she hopes to discuss "What is possible when Americans build personal relationships in and a deeper understanding of the African continent, despite its scant mention in American educational curricula and storytelling". She will use her own research engagements in "Niger on international development, human rights, and gender" as a case for deliberation. We hope the community will enrich its knowledge on diverse aspects of Africa and the relations between the United States and the African continent.
There will be food and social after plenary.
---
Enterprise Day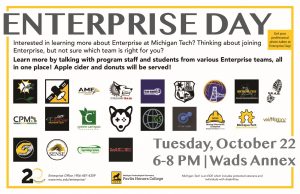 Tuesday, October 22 from 6-8PM at the Wads Annex
Interested in learning more about Enterprise at Michigan Tech? Thinking about joining Enterprise, but not sure which team is right for you?
Learn more by talking with program staff and students from various Enterprise teams, all in one place! Apple cider and donuts will be served! Also as this year's Enterprise Day, students can get their professional photos taken for free.
Participating Teams:
Robotic Systems
Blue Marble Security
Aerospace
ITOxygen
Consumer Product Manufacturing
Advanced Metalworks
Built World
Clean Snowmobile Challenge
Open Source Hardware
Wireless Communication
MIning INnovation Enterprise-  MINE
Innovative Global Solutions-  IGS
Green Campus Enterprise
Alternative Energy Enterprise
Husky Game Development
Supermileage Systems
BoardSport Technologies
Blizzard Baja
Formula SAE
Strategic Education through Naval Systems Experiences- SENSE
General Expedition Adventure Research- GEAR
Velovations
---
This year's Muck Run is being organized by the Copper Country Track Club as a fundraiser.  The trail 5K will start at the Tech Trails main trailhead off of Sharon Ave on October 19th at 10:00am (arrive to register or check in by 9:30am).  Please see the attached registration form.  Email bekluske@mtu.edu with any questions.
---
---
Upcoming Intramurals!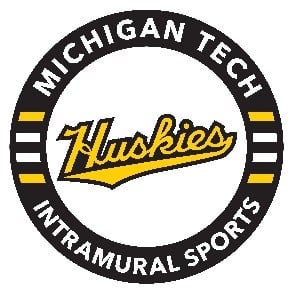 Please check out our Fall 2019 Activity Schedule for more details.
Intramural Sports is also HIRING! If you are interested in officiating, please email imsports@mtu.edu
Upcoming Entry Deadlines
Turkey Trot: Thursday, October 17th @ Noon
Race will start @ 4:30 PM
Register your team at www.imleagues.com/MTU
 
Click here to view our Intramural Handbook
If you have any questions, please contact Craig Pellizzaro at 487-3040 or crpelliz@mtu.edu.
---
Cookie Decorating Rush with Phi Delta Chi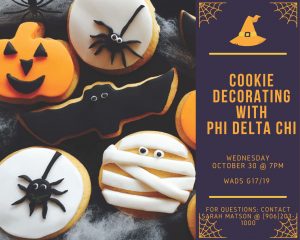 Event Name: Phi Delta Chi: Cookie Decorating Rush
Date: Wednesday October 30th
Time: 7PM – 8PM
Location: Wads G17/19
Description: Come get in the spooky spirit from cookie decorating with the sisters of Phi Delta Chi! We will provide all the necessary supplies, so just bring yourselves to Wads G17/19 for some fun! For any questions or concerns, contact Sarah Matson at (906)203-1000 or sjmatson@mtu.edu
---
 It's On Us Fall Week of Action
Domestic Violence Awareness Panel — 7 to 9 p.m. Tuesday, Oct. 22, EERC 103. The Domestic Violence Awareness Panel will provide the latest data on domestic violence, the signs of healthy, and unhealthy relationships, the resources available to survivors, how incidents of intimate partner violence may be handled through the Sexual and/or Relationship Misconduct Policy and the judicial system, and ways to support survivors of intimate partner violence. 
#PurpleThursday — all day Thursday, Oct. 24, campus wide. Join Sexual Assault and Violence Education (SAVE) in wearing purple on #PurpleThursday to take a stand against relationship violence and show support for survivors of intimate partner violence. Purple is the color for domestic violence awareness. Take a photo and share on social media with #PurpleThursday. Consider why raising awareness about domestic violence is important to you. #PurpleThursday is an event from the National Network to End Domestic Violence.
Walk a Mile in Her Shoes® at Michigan Tech — 6 to 8 p.m. Thursday, Oct. 24. The student organizations Sexual Assault and Violence Education(SAVE) and the Society of African American Men (SAAM), are hosting Walk a Mile in Her Shoes® at Michigan Tech. The event will begin with an opening welcome and stories from survivors of intimate partner violence. Then, the walk will start outside of the Rozsa near the front entrance and go to the Admin building. The walk will end at the entrance of the Rozsa. This event is to raise awareness of sexual and relationship violence and to give men the opportunity to put themselves in "her shoes." Following the walk, the event will conclude with a discussion on intimate partner violence. For more information visit the website, licensed by Frank Baird and Walk a Mile in Her Shoes®
T.E.A.L. survivor support group – Monday, October 21 at 7PM in the Wadsworth Hall Cherry Room. This free support group is offered by DIal Help, inc. Free, safe, and non-judgmental community support group for anyone who experienced sexual violence past or present, including childhood abuse. You are not alone. Future dates include October 23, November 13, & December 11 from  6p – 7pm in the Dial Help Portage Plaza Office. 
---