Welcome Back!
We hope that you had a great winter break and are ready for a new semester!

"And now let us welcome the new year, full of things that never were." —Rainer Maria Rilke
---
Dueling Pianos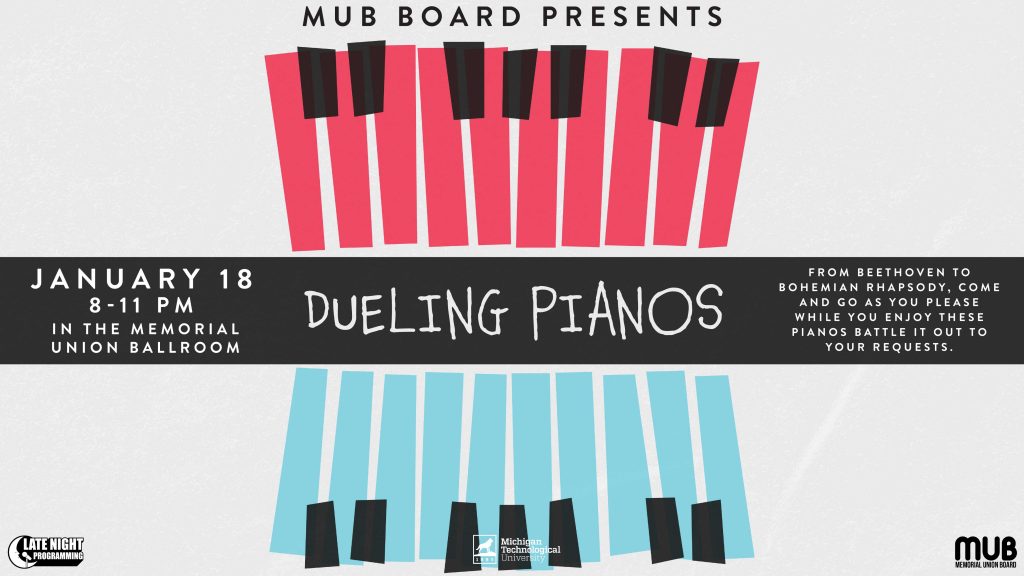 Join MUB Board and Late Night Programming for Dueling Pianos on January 18th from 8 to 11 pm in the MUB Ballroom. From Beethoven to Bohemian Rhapsody, these dueling pianos will be singing and playing requests from the crowd. Bring your friends, bring your family, come and go as you please while you enjoy some good food and even better music.
---
Spring HuskiesFIT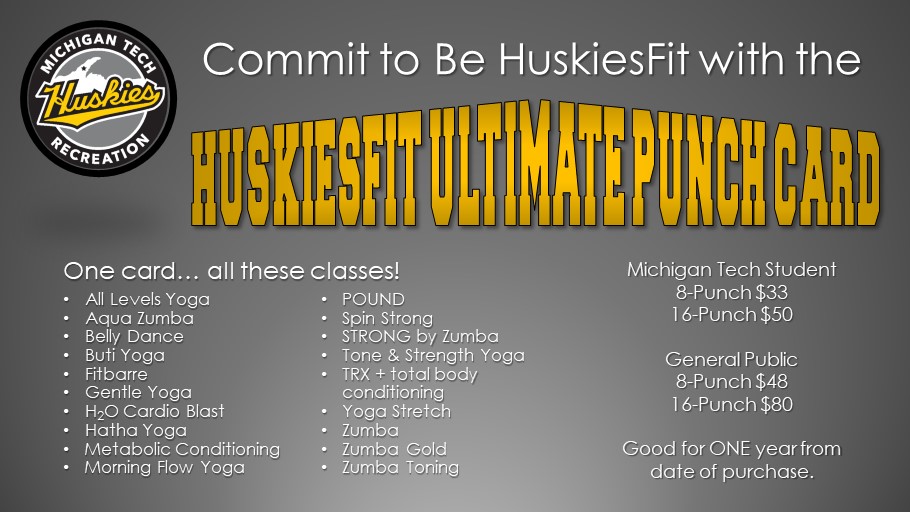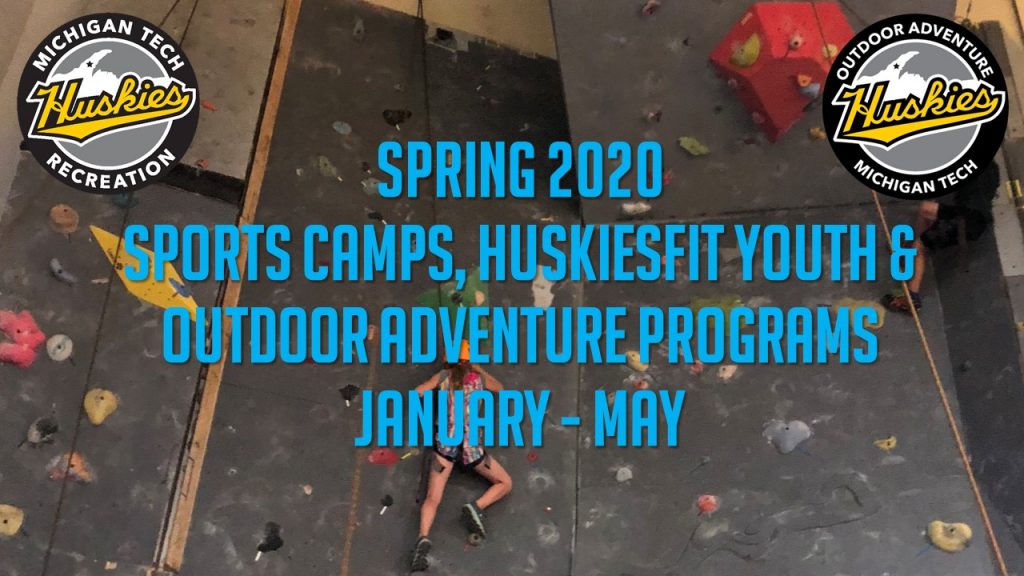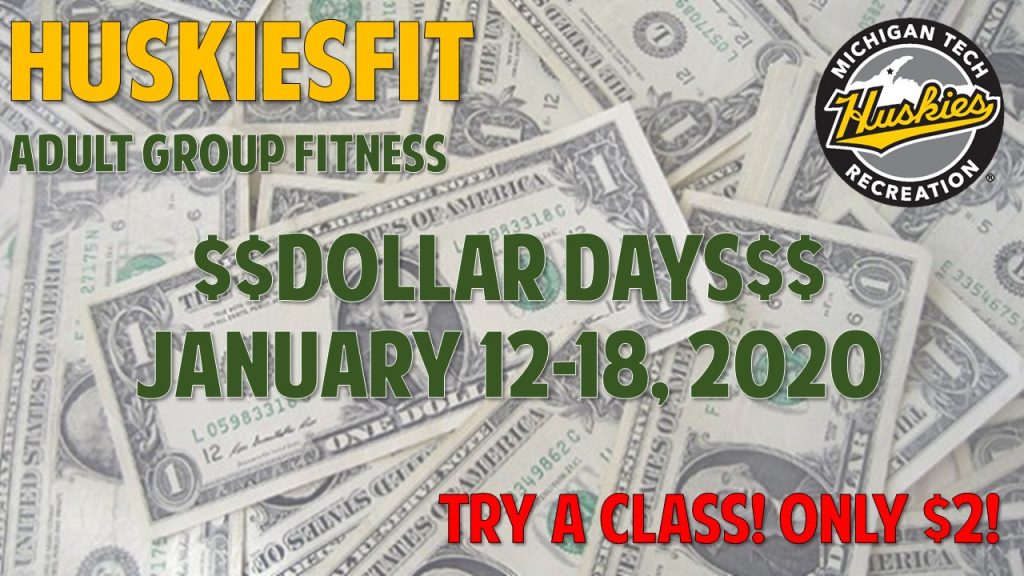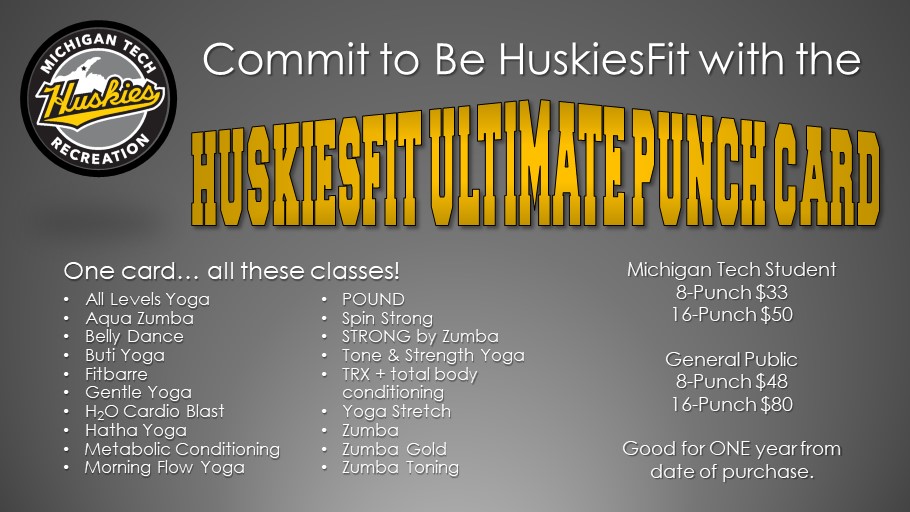 ---
Title IX Survey
On Friday, January 17, 2020, all students over age 18 will be invited to participate in the Michigan Tech Title IX Sexual and/or Relationship Misconduct Climate Survey. Students will receive an email with a link to the survey.
The goal of the survey is to provide Michigan Tech with important information on campus sexual misconduct prevalence and responses. Preventing and remedying sexual misconduct is essential to maintaining a safe environment in which students can learn. We are committed to ensuring that all students have the opportunity to fully benefit from our programs and activities.
If students have questions or comments about this survey, please have them contact Kirst Arko, Title IX Coordinator, 306 Administration Building, 906-487-3310, or titleix@mtu.edu.
---
HuskyLead
Join us in our first HuskyLead of the semester. College: Am I Doing This Right? will focus on your goals of the semester and give you the tools to say NO to over-commitment. This presentation is being held on Wednesday, January 15 from 4-5 PM in the Library East Reading Room.
---
Join our Team!
Are you interested in helping your fellow students? Looking for a fulfilling and challenging job working as a student leader on campus? The Waino Wahtera Center for Student Success is hiring new student employees for the 2020-21 academic year. We are looking for many new employees to work for us as Orientation Team Leaders, ExSEL Peer Mentors, Academic Success Coaches and Peer Teaching Assistants.
If you want to learn more, you must attend one of our information sessions where we will cover the position details and the hiring process. You will only be eligible to apply if you have attended one of these sessions:
Students can direct questions to success@mtu.edu
---
Spring Intramural Sports
REGISTRATION FOR SPRING 2020 INTRAMURAL SPORTS HAS STARTED
Please check out our Spring 2020 Activity Schedule for more details.
Intramural Sports is also HIRING! Interested in becoming an intramural official? If interested please apply at this site: https://uww.joinhandshake.com/jobs/2781710
Spring Basketball (Women's, Men's & Co-Rec):
Wallyball (Women's, Men's & Co-Rec):
Bowling (Women's, Men's & Co-Rec):
Intramural Sports Office
Student Development Complex Room 202
Office Phone: (906) 487-3040
Email: imsports@mtu.edu
WEBSITE: http://www.michigantechrecreation.com/IM/index
---