"Our greatest weakness lies in giving up. The most certain way to succeed is always to try just one more time." – Thomas A. Edison
---
Mub Board presents: Nick Thomas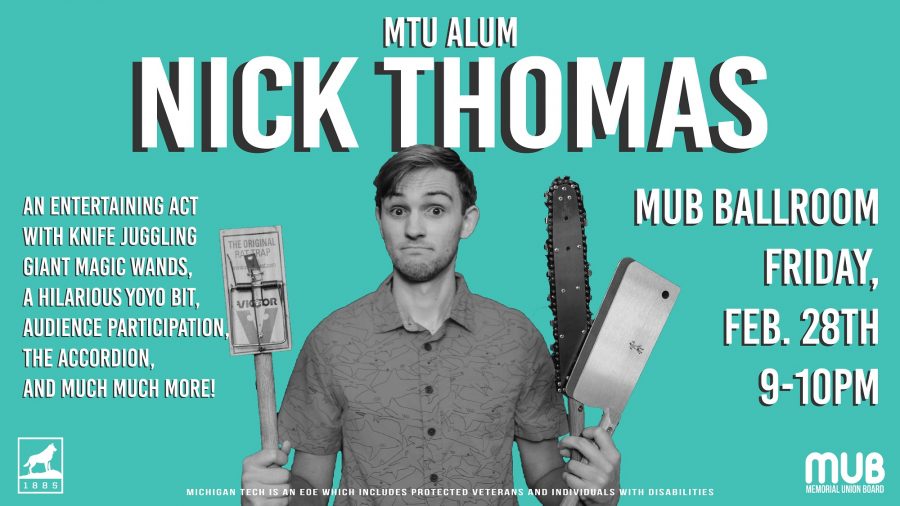 A recent MTU college graduate himself, Nick Thomas provides a fast paced variety show that will blow your mind. The act includes juggling, yo-yos, magic, comedy and more! As recently featured on ABC's "The Gong Show," this upcoming star will have you laughing with humor that every student can relate to. A 6 time world record holder, and gold medal winning juggler, Nick has performed internationally for companies like Comcast and Google. The unforgettable show has tons of audience participation, and a high tech LED juggling finale that you won't want to miss!
Follow us on Instagram and Facebook to keep up to date with our latest events!
---
Enterprise Day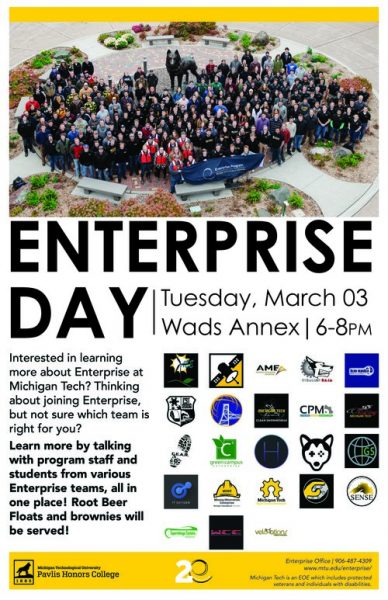 Interested in learning more about Enterprise at Michigan Tech? Thinking about joining Enterprise, but not sure which team is right for you?
Learn more by talking with program staff and students from various Enterprise teams, all in one place! Root Beer Floats and brownies will be served!
Find more information for each team here: https://www.mtu.edu/enterprise/teams/. For questions, please feel free to reach out to Bre Tucker, bctucker@mtu.edu.
Participating Teams:
Advanced Metalworks
Aerospace
Alternative Energy Enterprise
Blizzard Baja
Blue Marble Security
BoardSport Technologies
Built World
Clean Snowmobile Challenge
Consumer Product Manufacturing
Formula SAE
General Expedition Adventure Research- GEAR
Green Campus Enterprise
Humane Interface Design
Husky Game Development
Innovative Global Solutions- IGS
ITOxygen
MIning INnovation Enterprise- MINE
Open Source Hardware
Robotic Systems
Strategic Education through Naval Systems Experiences- SENSE
Supermileage Systems
Velovations
Wireless Communication
---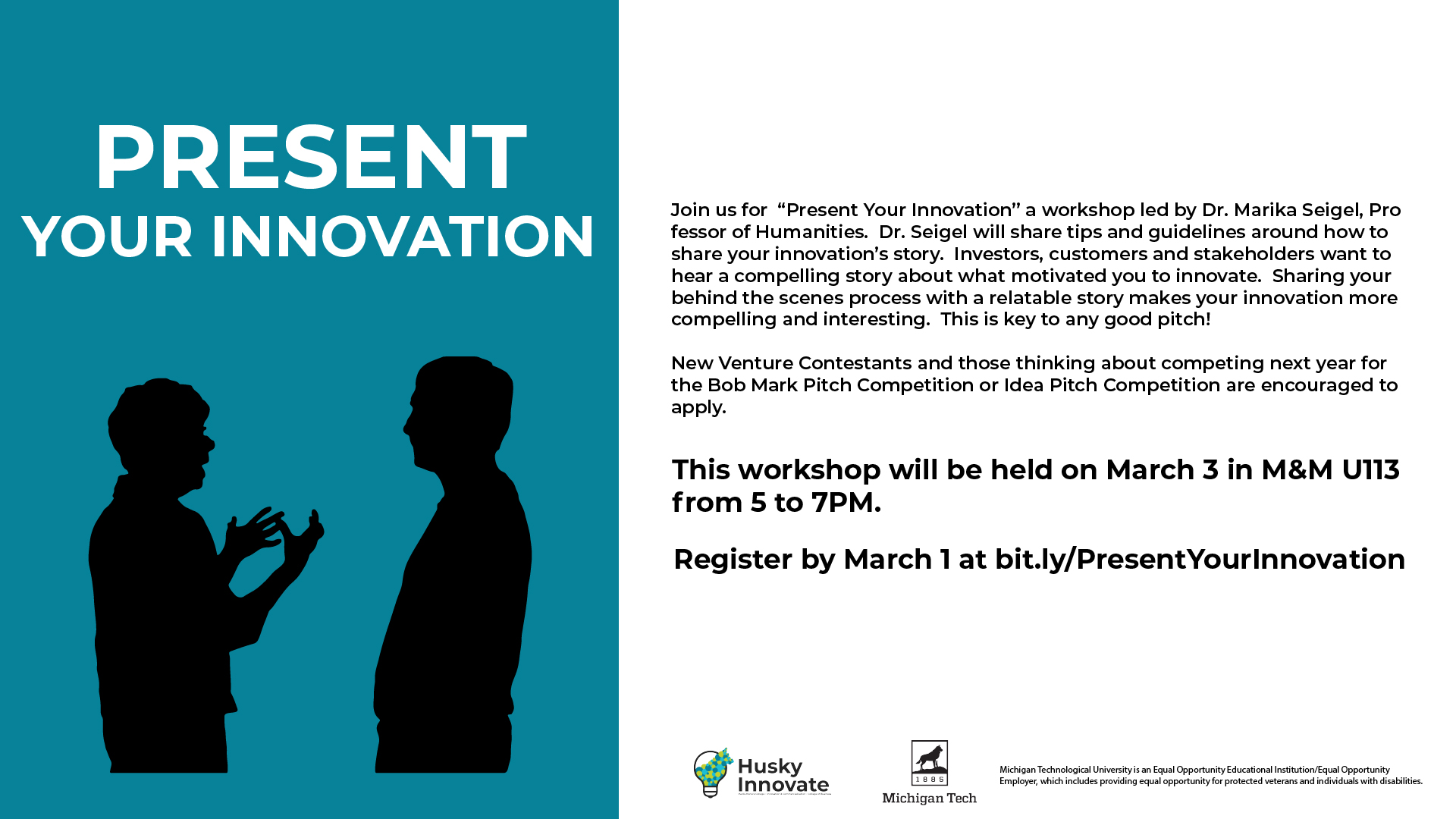 ---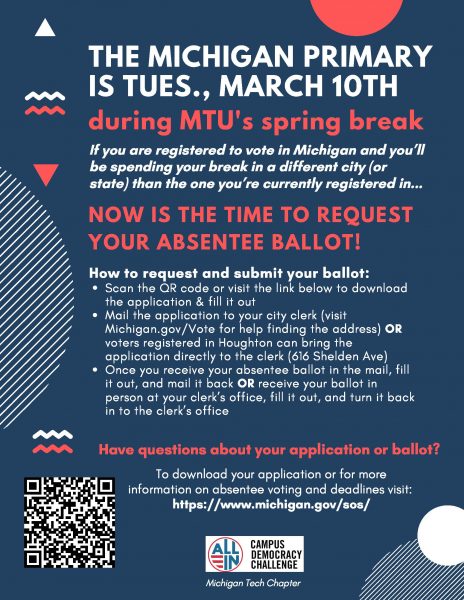 ---
University Innovation Fellows Applications are Now Open!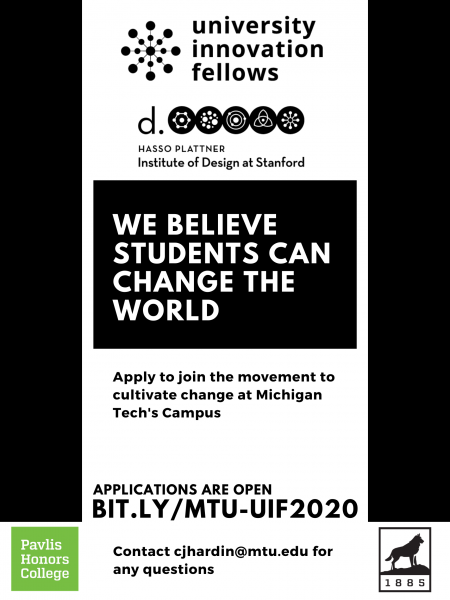 We are looking for students interested in becoming agents of change to become University Innovation Fellows! They will work on improving the innovation and entrepreneurial ecosystem here at Michigan Tech. We are looking for creative, action-oriented students who are passionate and excited about innovation, entrepreneurship, or making positive change.
The University Innovation Fellows is a 6-week training program administered by Stanford University's d.school (about the commitment of a 1-2 credit class at Michigan Tech). Through the fellowship, undergraduate and graduate students from across the nation are charged with cultivating a culture of innovation and entrepreneurship at their university. Fellows gain skills, tools and the networks crucial for their mission through online training and video-conferencing sessions. Fellows hone in on their leadership and communication abilities and broaden their understanding of experiential learning, design thinking, interdisciplinary education and, most importantly, student innovation and entrepreneurship.
Upon completion of training, Fellows may have the opportunity to attend a 4-day retreat at Stanford University and Google. The fellowship is an opportunity to enact meaningful change while being part of a national movement. Current fellows at Michigan Tech have been working on many exciting initiatives and can't wait to have your help in creating the future here on campus!
To apply just go to bit.ly/mtu-uif2020!
---
Husky Hour
Husky Hour: Rethinking Failure – March 3rd
Failure is a state of mind. Rethink how you can learn from failure.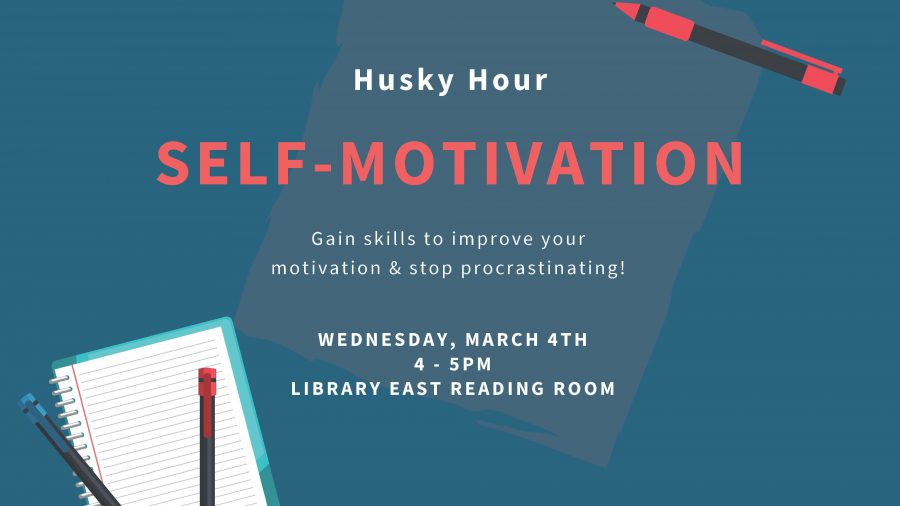 Husky Hour: Self Motivation – March 4th
Gain skills to improve your motivation and stop procrastinating.
---
Meckler to Headline Two Major Jazz Festivals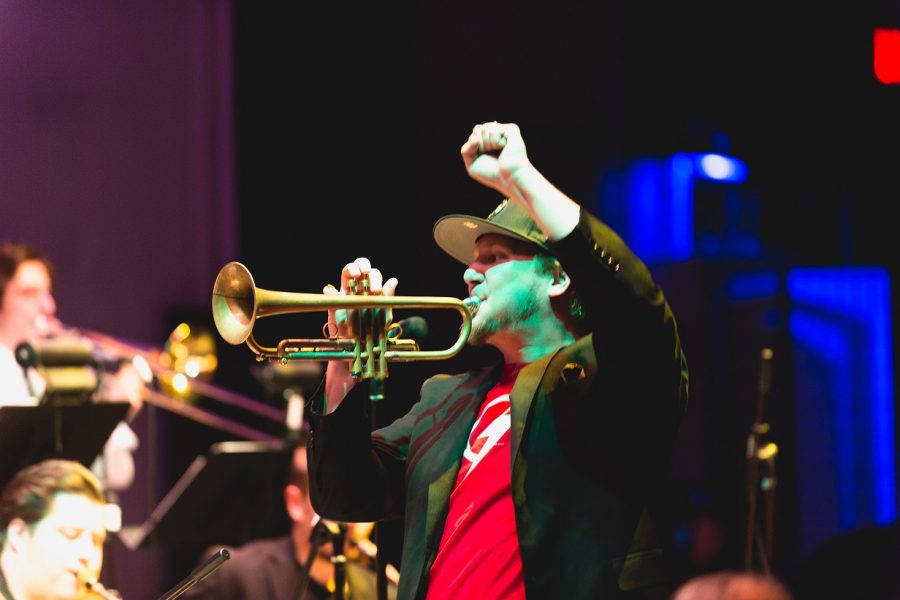 Adam Meckler, Michigan Tech's Director of Jazz Studies and Assistant Professor of Music, a gifted trumpet player, composer, and music educator, has been tapped to headline not one but TWO big national jazz festivals in the next seven days: First, he will head to Coe College, in Cedar Rapids, Iowa, for the largest annual jazz festival in Iowa, the Coe College Jazz Summit, Thursday, Feb. 27 – Saturday, Feb. 29. More than 90 high school bands participate, and he will be coaching the high school bands for the first few days of the festival. Meckler then will rehearse and perform as the featured guest artist with the Coe College Jazz Ensemble, doing a mix of his compositions and other big band music for their finale concert on Saturday, February 29, at 7:00 PM in Marquis Hall on the Coe College campus.
Then on Monday, Meckler will travel to Sioux Falls South Dakota for the Augustana College's 46th annual Jazz on the Upper Great Plains Festival, set for March 2-3, 2020, in Augustana's Hamre Recital Hall. The festival features Meckler and host of PBS' Sound Field, Arthur "L.A." Buckner.
---
Winter Carnival Survey
If you have a minute, please fill out the Winter Carnival Survey.
https://baseline.campuslabs.com/ntu/wintercar2020
---
Summer Youth Programs hiring staff for summer 2020
Are you a Michigan Tech student looking for a summer job that lets you channel your creativity, innovation, enthusiasm, and team spirit, all in a professional environment? Michigan Tech's Summer Youth Programs has just the job for you! All majors and levels are welcome and we are still looking for additional staff for summer 2020.
To apply, please visit our website and complete/submit your staff application to cpcojobs@mtu.edu along with your current resume, and someone from our office will contact you to schedule an interview.
If you have questions you can contact us at 906-487-2219 or email cpcojobs@mtu.edu to learn more.
---
Michigan Tech Choirs Present Benefit Concert: Music for a Sacred Space
Join the Michigan Tech Choirs at 7:30 PM Sunday, March 1, for "Music For a Sacred Space," an evening of sacred choral music presented in its natural habitat, the local treasure that is the magnificent space of St. Joseph Catholic Church in Lake Linden. "Music for a Sacred Space" is free and open to the public, and free-will offerings will be donated to the Society of St. Vincent de Paul.
---
Tchaikovsky's Fourth Symphony at the Rozsa
The Keweenaw Symphony Orchestra, its director Joel Neves, and special guest conductor Xun Sun bring you a captivating evening of orchestral masterworks, including Borodin's Polovtsian Dances and Tchaikovsky's thrilling Symphony No. 4. They will have the Rozsa Center stage on Saturday, February 29 at 7:30 PM.
---
Marketing your International Experience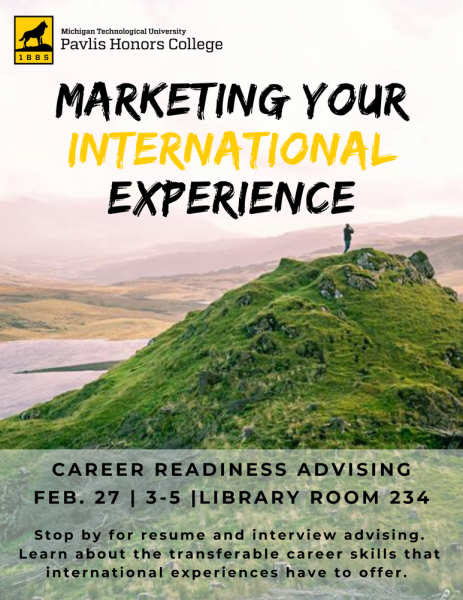 Marketing your International Experience
February 27th, 3:00 – 5:00 pm, Library 234
Having an international experience not only leads to significant personal growth, it also sets your apart from the rest of the applicant pool when applying for internships, graduate school and jobs.
International experiences make you desirable to future employers because of the skills and knowledge gained through valuable international exposure. The next step is to learn how to market these skills.
Drop in for an advising session to learn how to articulate your international experiences on your resume, cover letter, and during an interview.
Those who haven't had an international experience yet are encouraged to also drop in to learn about Michigan Tech's study abroad opportunities with International Studies Abroad (ISA).
---
MTU SDH Event: The Keweenaw's First Waste Reduction Drive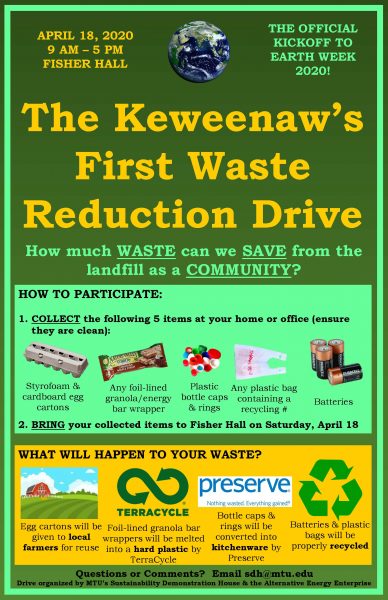 The Keweenaw's First Waste Reduction Drive!
Drive Date: Saturday, April 18th from 9am – 5pm in Fisher Hall
The official kickoff to the 50th anniversary of earth week!
Start collecting these five items now: granola/energy bar wrappers, batteries, plastic caps and rings, Styrofoam and cardboard egg cartons, and any plastic bag containing a recycling number.
How much WASTE can we SAVE from the landfill as a COMMUNITY?"
---
Join SIS for the annual Bra Show!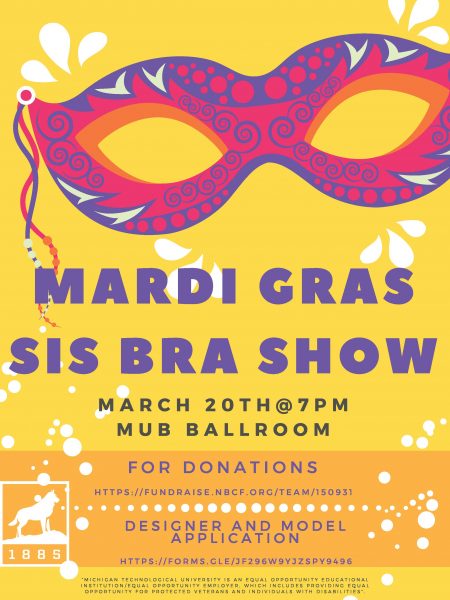 Join SIS for the annual Bra Show! This year's theme is Mardi Gras, so make sure to bring cash to vote for the people's choice bra and to donate. All proceeds will go to the National Breast Cancer Foundation! If you have any questions please email mharmon@mtu.edu
---
Nail & String Art Make Night at The Alley Makerspace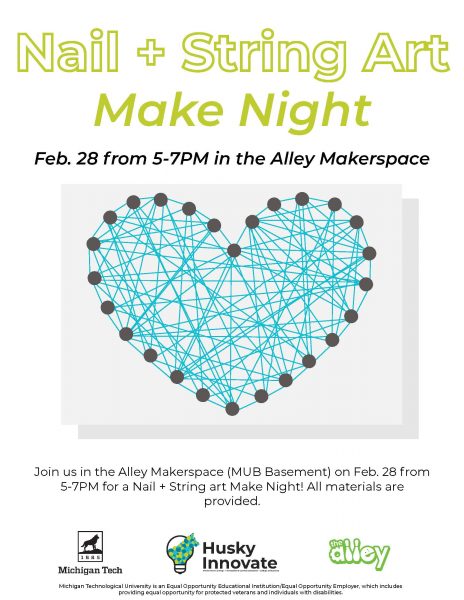 Nail & String Art Make Night at The Alley Makerspace
Friday February 28th, 5-7pm
Join us in the Alley Makerspace (MUB Basement) for a Nail + String art Make Night! All materials are provided.
---
Student Leadership Awards for SNB

Student Leadership Awards is a time to celebrate and reward the individual and group efforts of students involved in organizations across campus. At Michigan Tech we are blessed enough with students that are crazy smart. Now it the time to be recognized for your commitment, enthusiasm, and leadership.
On behalf of the University, we are seeking nominations for the President's Award for Leadership, Dean of Students Award for Service, and various other student leadership awards. The recipient of each award will be honored at the 26th Annual Student Leadership Awards Ceremony on Friday, April 17.
The nomination process is simple. All awards and information about each can be found online. For each individual award, simply click on the award title, then complete and submit the nomination form.
Nominations for the President's Award for Leadership and the Dean of Students Award for Service are due by 5 p.m. Friday, March 6. Nominations for all other Student Leadership Awards are due by 12 p.m. noon, Friday, March 20. Questions concerning the awards can be directed to Student Leadership and Involvement.
Take a minute to nominate a fellow student or organization today!
---
Spaghetti Bridge Competition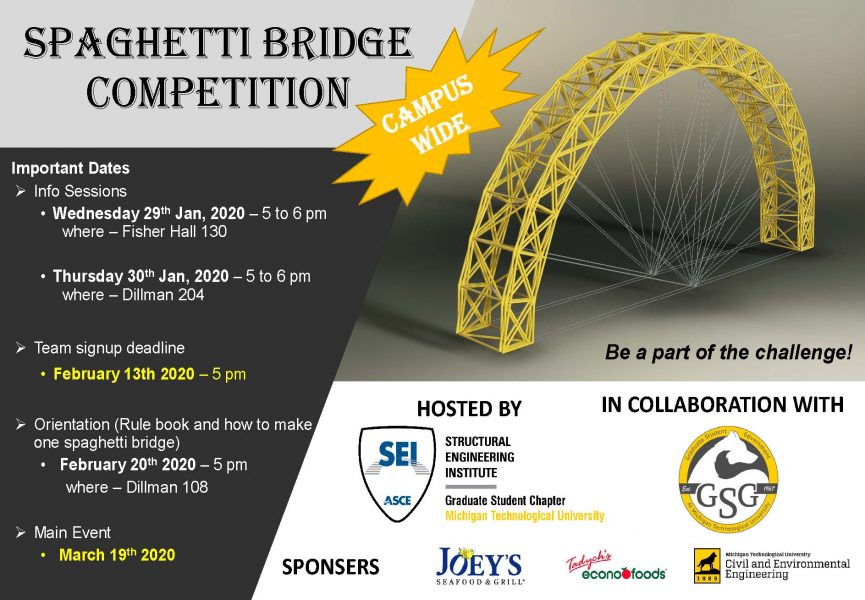 ---
2020 World Water Day Student Poster Competition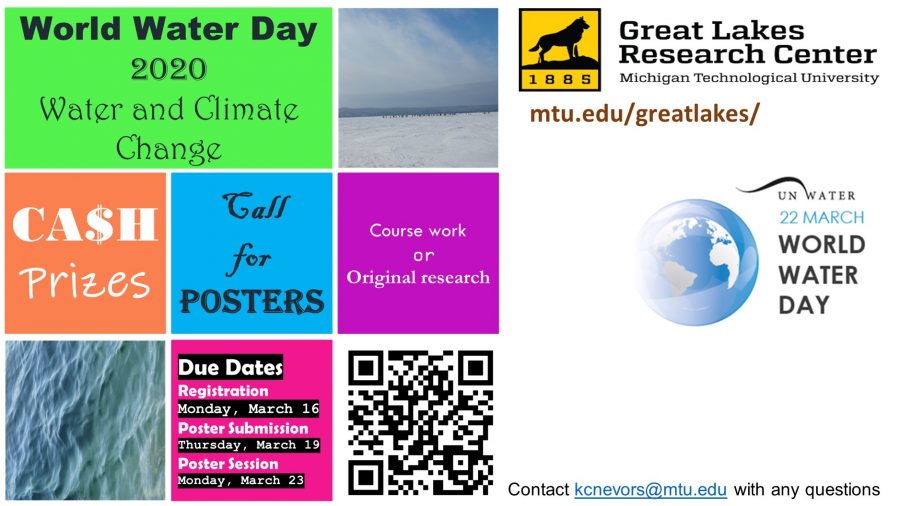 The 2020 World Water Day Student Poster Competition will take place on Monday, March 23rd as a part of Michigan Tech's World Water Day celebration. This is an excellent opportunity to highlight your work, practice effective science communication, and maybe win a cash prize!
Posters can be submitted in two categories: Original Research or Coursework-based Projects. Cash Awards will be offered in each category (1st-$300, 2nd-200, 3rd-$150), as well as one People's Choice Award ($$$). The poster competition will take place between 11:30-2:30 in DOW 804, 873, 875 – you DO NOT need to be available for the whole time period! You can register and share your availability using the link below.
Following your presentation to the judges, students are asked to participate in a public poster session from 2-4p in the MUB Ballroom. All posters (with a presenter present) are eligible for the People's Choice Award.
More detailed information can be found in the attachment. Thank you for sharing your exciting work with the community! Please contact Kevin Nevorski with any questions, kcnevors@mtu.edu.
---
StudentWatch Course Material Survery
by Campus Store
The Campus Store is participating in the 2020 StudentWatch Course Material Survey sponsored by the National Association of College Stores (NACS) and is fielded by OnCampus Research.
At the completion of the survey, participating institutions receive two sets of data on student course material attitudes and purchasing habits: nationwide statistics and more specifically, a subset of data submitted by that institution's students. The information collected is important to the University as we strive to provide the broadest course material options and most cost-conscious pricing through strategic partnerships, transparency, and industry awareness. In essence, the students' responses are helping steer the ship.
The Campus Store is using multiple promotional methods to encourage students to participate. As well, OnCampus Research provides a $50 gift card to one student at each institution and $1,000 award to one lucky student selected from all survey participants. Please check your email with the official survey link.

---
SDC Spring Break Hours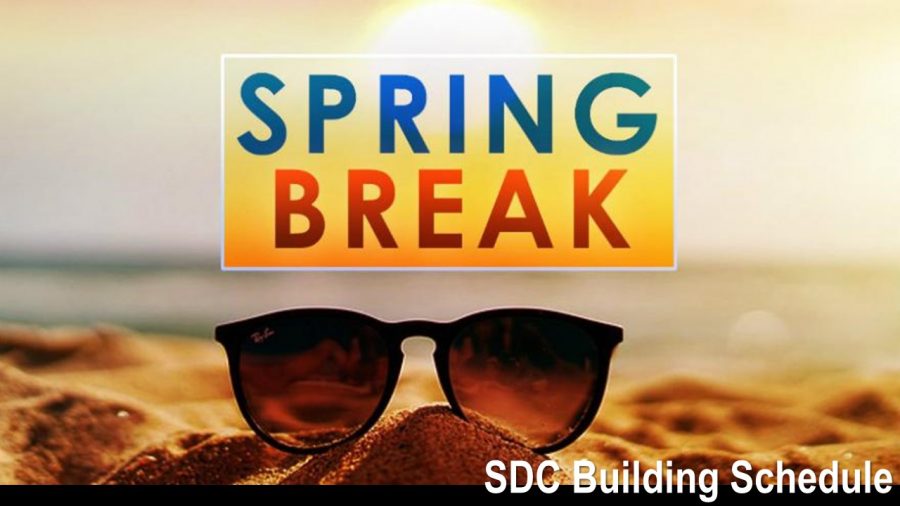 The Student Development Complex will have reduced hours during the University spring break, March 7-14. Note: The pool will be closed March 6 through March 15.