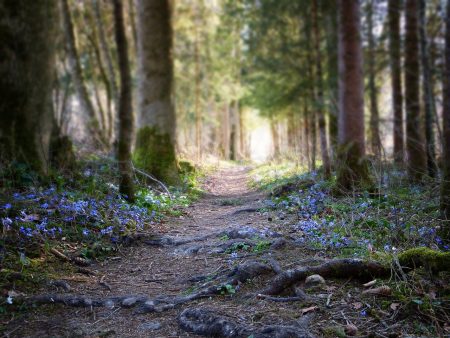 "You may not always have a comfortable life and you will not always be able to solve all of the world's problems at once but don't ever underestimate the importance you can have because history has shown us that courage can be contagious and hope can take on a life of its own." ― Michelle Obama
---
Comedy Magician Trent James – LIVE on your computer!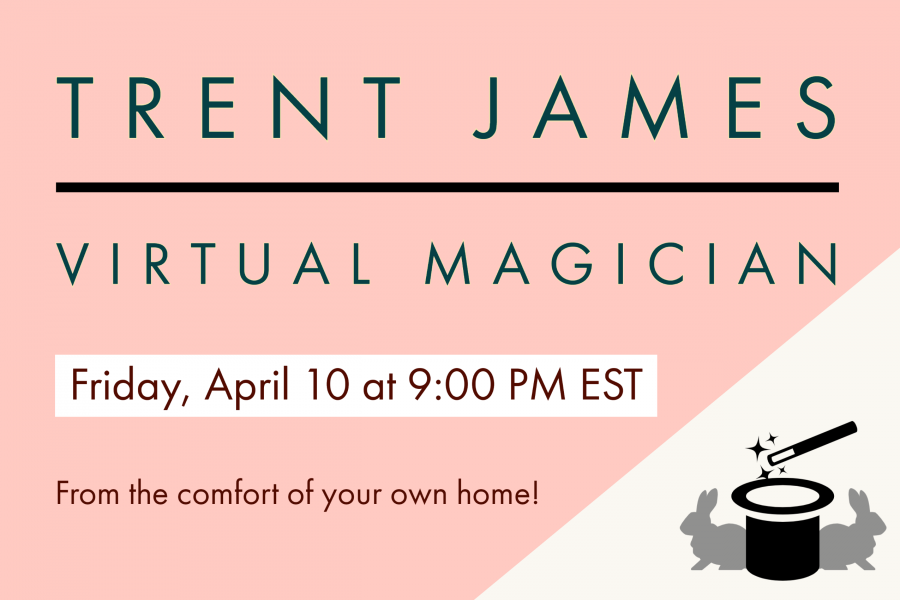 Join us virtually on April 10 at 9:00 PM EST for a night of laughs, magic, and fun!
Comedy magician Trent James is bringing a fresh new feel to the "classic magic show". Trent's high-energy performance combines mind boggling magic with gut busting humor that has earned rave reviews in seventeen states. Trent is now quickly becoming one of the top magicians in the country. Don't take our word for it…he has received top awards from both The International Brotherhood of Magicians and The Society of American Magicians, as well as being the youngest recipient of The Milbourne Christopher Award (Past winners Included David Copperfield and Penn and Teller). Trent's unique sleight of hand magic and hip vibe have made him a huge hit at colleges, comedy clubs, and corporate events.
Everyone is invited and the show is family-friendly. You will even get to learn a trick or two!
Watch on Zoom: https://zoom.us/webinar/register/WN_LZz9opwiR3GVUCkHH4GQ0g
---
11th Annual (first ever virtual) Feminists Reading Feminists on 3/31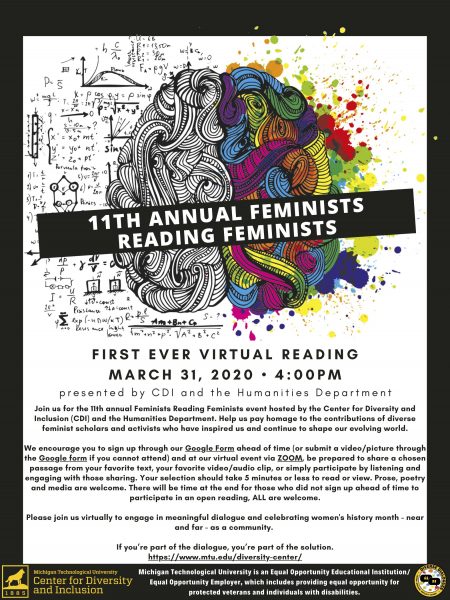 Join us for the 11th annual Feminists Reading Feminists event hosted by the Center for Diversity and Inclusion (CDI) and the Humanities Department.
Help us pay homage to the contributions of diverse feminist scholars and activists who have inspired us and continue to shape our evolving world. The event will be held on March 31, 2020 at 4pm via ZOOM. We in CDI know that community is important now, more than ever, so, join us!
We encourage you to sign up through our Google Form ahead of time (or submit a video/picture through the Google Form if you cannot attend) and at our virtual event via ZOOM, be prepared to share a chosen passage from your favorite text, your favorite video/audio clip, or simply participate by listening and engaging with those sharing.
Your selection should take 5 minutes or less to read or view. Prose, poetry and media are welcome. There will be time at the end for those who did not sign up ahead of time to participate in an open reading, ALL are welcome.
Please join us virtually to engage in meaningful dialogue and celebrating women's history month – near and far – as a community.
If you're part of the dialogue, you're part of the solution. https://www.mtu.edu/diversity-center/
---
Tech Arts Festival – Photography Contest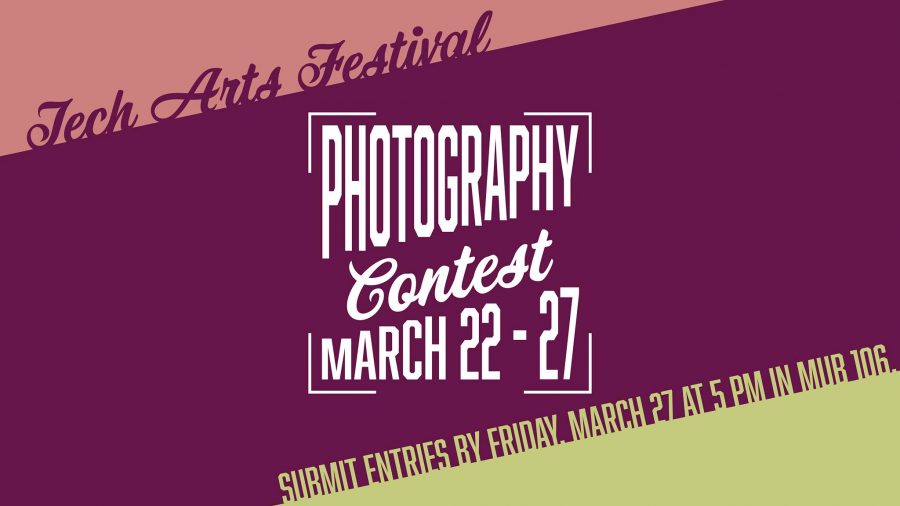 MUB Board is hosting a virtual photography contest and it is open to all amateur photographers within the Tech Community! You must be a student, faculty or staff to enter. Entries must be original and not previously submitted. Prizes will be awarded to four photographers. Judges will vote to decide the top three photos and there will be one audience choice photo winner. Audience choice will be awarded to whichever photograph gets the most likes on Facebook before Wednesday, April 7th at 5:00pm.

All Contest Photographs must be submitted to mubboard@mtu.edu and posted to the MUB Board Facebook. Prizes will be given to the top 4 photos, rules can be found on the waiver.

To participate, You MUST fill out a waiver which can be found here:
bit.ly/TAFwaiver
---
Student Org Spotlight

Student Leadership & Involvement is looking for organizations to feature each Wednesday. In order to nominate your organization for the Spotlight simply fill out this form: https://forms.gle/sUtoMkw16ZqoZoka8 This is a great opportunity to get the word out about your organization!
---
USG Representative Elections

Elections are now open for the USG Class and Year Representative positions! Head to Involvement Link to cast your vote!
---
New Deadline for Undergraduate Research Internship Program (URIP) applications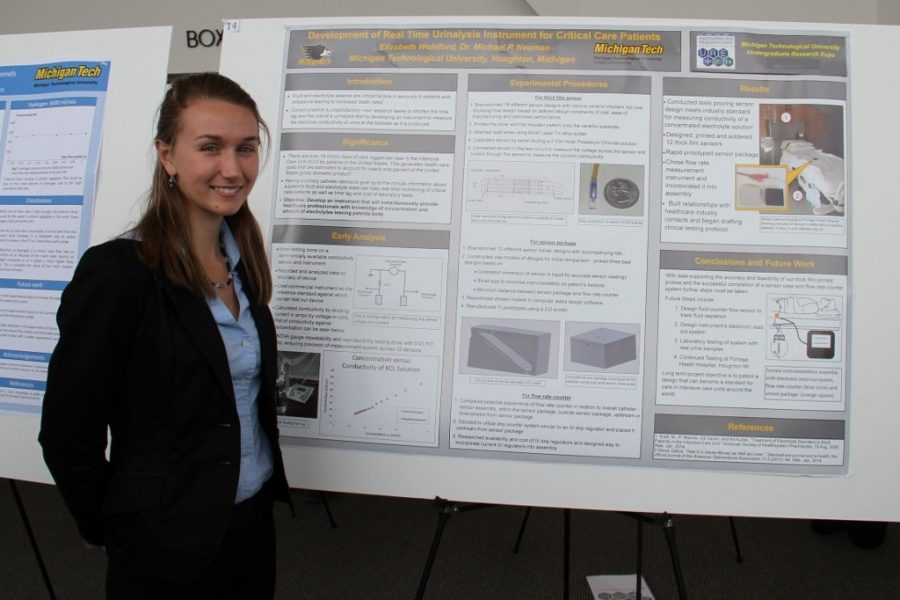 The deadline for Undergraduate Research Internship Program (URIP) applications has been extended to April 20th.
The program consists of a 20-week internship (Mid-September through Mid-March), a $1,600 stipend, and professional development activities centered in academic research and scholarship. The internship program is open to any undergraduate student on campus.
Applications are due by April 20 and include the following:
1. Online Application Form
2. Project Description
3. Faculty Mentor Letter of Support
4. Faculty Match Funding Acknowledgement
Details of these requirements can be found at mtu.edu/honors/research/urip/application.html.
This program is made possible by generous donations from the Portage Health Foundation, the DeVlieg Foundation and with the support of the Pavlis Honors College.
---
Campus-wide and Virtual Exhibit: The Art of Climate Change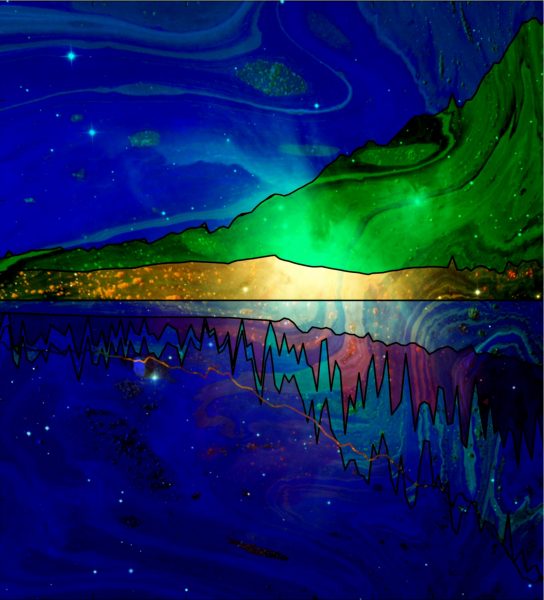 The work of Chicago-based artist Alisa Singer, Environmental Graphiti is a series of digital paintings created to enhance public awareness of the science of climate change. Each of the artworks is derived from a chart, graph, map, word or number relating to key facts about climate change. Michigan Tech's exhibit includes 23 pieces displayed at 10 locations across campus and virtually via the interactive campus map.
View the Tech Today article for more information
---
MTU SDH Event: The Keweenaw's First Waste Reduction Drive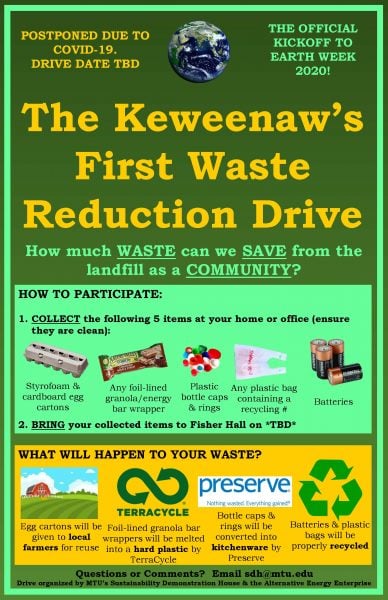 The Keweenaw's First Waste Reduction Drive!
*DRIVE DATE POSTPONED TO THIS SUMMER (OFFICIAL DATE TBD)*
*PLEASE KEEP COLLECTING THE 5 WASTE ITEMS*
Stay tuned for more information regarding the new Drive date. We are hoping to hold the drive sometime this summer when it is safe for people to gather in groups again. If you are no longer able to hold on to your items or you will not be in the Keweenaw this summer, please contact sdh@mtu.edu and we will work with you to take your items off your hands.
Please continue saving these five items: granola/energy bar wrappers, batteries, plastic caps and rings, Styrofoam and cardboard egg cartons, and any plastic bag containing a recycling number.How much WASTE can we SAVE from the landfill as a COMMUNITY?
---
Emergency Resources for Students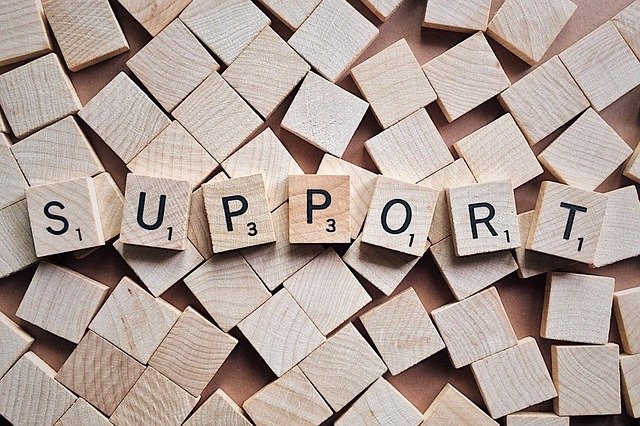 During the outbreak of COVID-19 students may be experiencing different types of needs. Michigan Tech has been working to develop a list of resources to address these needs.

Food Resources:
Husky FAN: Food pantry and emergency meals,
Western UP Food Bank (Houghton),
Meals for children: Houghton-Portage Township Schools are providing meals by order (email sturnquist@houghton.k12.mi.us or call 906-369-0449) to children 18 and unders.
BHK Community Action Agency can provide monthly food options to those in need: 906-482-5528,
Utility Resources:
Utilities: Some area utilities (electric, gas, water) can assist customers with payment plans or assistance with paying bills,
UPPCO is suspending non-payment cut offs until April 5, customers need to contact them to inform them of any changes to their income during this time,
Spectrum: Offering internet options for students who do not have access,
Medical:
Medical: Hospitals can offer payment plans or other assistance for payment,
Storage:
Uhaul: Offering free storage for students for 30 days
Job opportunities:
Area businesses are hiring extra workers during this time for deliveries, additional cleaning and stocking,
Emergency Funds:
Betty Chavis Emergency Fund
International Student Emergency Fund
Graduate School Emergency Fund (Loan Program)
There may be additional resources depending on your area of residence. Please refer to your city's webpage, local news, or social media.
We are continuing to add to this list, please check back on the Dean of Students Emergency Resources page for updates.

---
Success Coaching at the Wahtera Center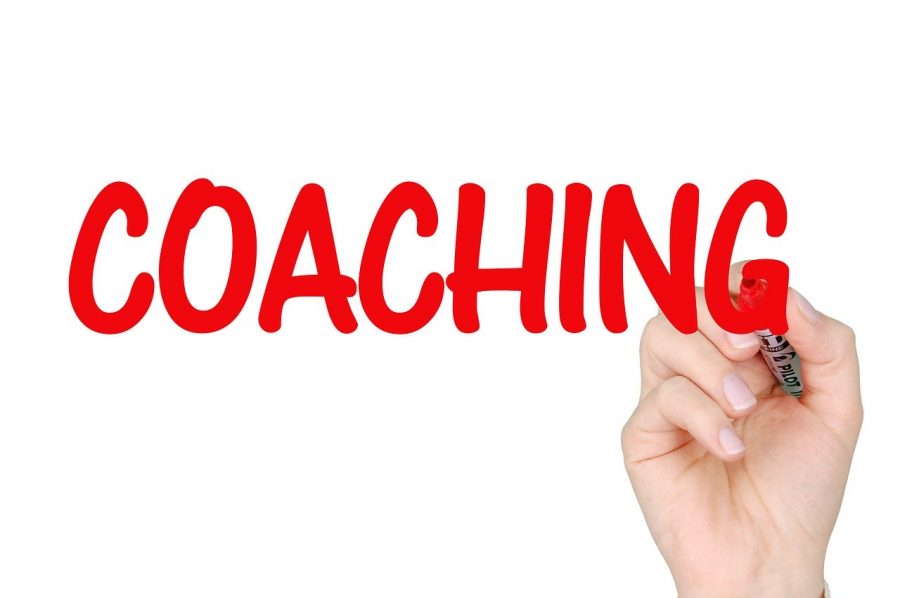 Success coaching is still available through the Wahtera Center. A lot of sudden changes have happened in the last couple weeks and you may find yourself feeling like you'd like some help with areas like refining your study techniques, beating procrastination, or taking care of yourself, a coach can provide direction. Learn more about success coaching here. Contact us at success@mtu.edu to schedule an appointment.

---
Student Wellness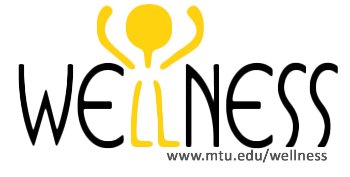 Stay up to date with what's happening on campus, resources for a successful virtual semester and practices that can be adopted to maintain good health and well-being.
Check us out on Twitter (@mtu_wellness), Instagram (mtu_wellness), and Facebook (Michigan Tech Wellness) or mtu.edu/wellness.
Be well!
---
Career Services is here for you
Virtual LinkedIn Session Wednesday, 25 March from 12-1
Virtual LinkedIn Session Thursday, 26 March from 5:30-6:30
Virtual Graduating and Still Looking Session Tuesday, 31 March 5:30-6:30
Virtual Graduating and Still Looking Session Wednesday, 1 April 12-1

These events are listed in Handshake, and a link is provided therein for students to join the sessions.
In addition, we're offering 50 hours of one-on-one appointment slots for students who wish to meet with us virtually. We're continuing to review offers on behalf of students and offer negotiation guidance when needed. Students can either schedule offer reviews through Handshake, or they can send an email to career@mtu.edu if there aren't appointment slots available.
Finally, students can send their resumes to career@mtu.edu for reviews and recommendations.
---
Portage Library Free Resources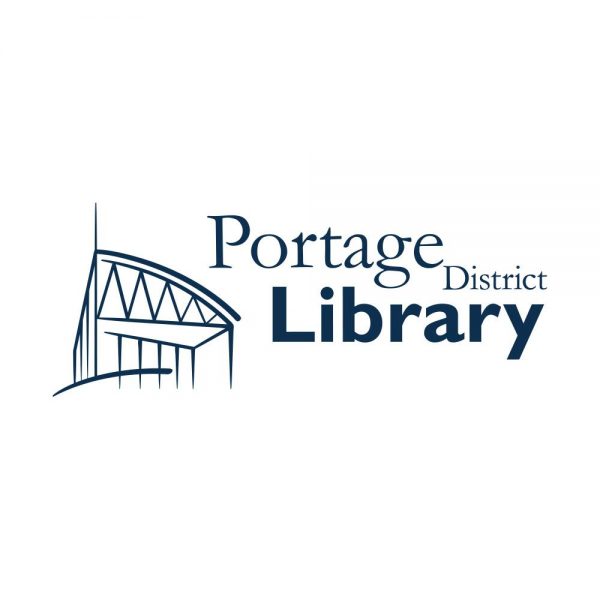 Now might be a good time to familiarize yourself with our 10,000+ digital books, magazines, movies and more. It's all free with your library card.
---